How do you overcome the psychological turmoil of war?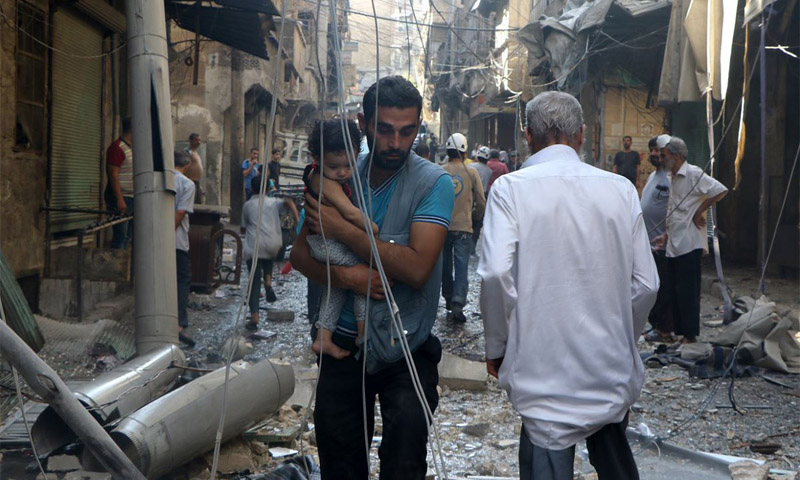 Tariq Abu Ziad – Enab Baladi
"Initially, I was not concerned about the raids nearby, nor did I curse the pilots." But after a bomb ripped through the home of Salem al-Bakry, nearly killing him and his family, Bakri developed a psychological condition. Nowadays, the sounds of planes are never far from his mind, in reality or imagination.
A few months ago, Bakry lost his home — and almost his wife and daughters, as well — an air strike hit the family home in Al-Zahraa in the western Aleppo countryside. Miraculously Bakry, in his 40s, and his family escaped. But now the question keeps plaguing his mind: 'Will there be a next time?'
Bakry describes the psychological condition as one in which he relives the horror in an instant, "The screaming of the women remains in my ears," he said. "The scattered dust covers everything my eyes see. I don't know whether my survival is a blessing or a curse, because now I have to live through these painful moments."Smiling though, he adds, "I was able to re-arrange my family, the home insurance, and start rebuilding a new life, though."
Bakry describes the horrors of the bombing and its aftermath, feeling stronger for having escaped this past time, but now preoccupied with the future.
"Maybe I'll face death again," he says. "We examine our thoughts, reconsider our relationships. Is there someone we wronged who I should apologize to? If I am unable to and I died, would my conscience be at rest?"
Bakry appears anxious; sometimes there is a tremble to his voice. To convey the suffering implicit, you can only say that he seems to have surrendered himself to fate once again.
What is this condition and what characterizes it?
To find out more, Enab Baladi spoke to Dr. Ghazwan Bweidani, a psychiatrist in Eastern Ghouta, Rural Damascus.
Bweidani originally diagnosed Bakry with Post-Traumatic Stress Disorder (PTSD), and describes the condition's roots "when an incident threatens the person's life or the life of one of his relatives, when he witnesses terrifying scenes, or when he experiences a potentially decisive or critical moment in his life."
PTSD affects people who experience these kind of dangers, and often occurs with anxiety or depression. Whenever something, such as an event, reminds the patient of this incident, the memories, pain and distress also come flooding back. In this way, PTSD continues to assault the mind, despite continuous efforts to dismiss it, explains Dr. Bweidani.
The doctor, who works in the hot zone under opposition control (Eastern Ghouta), explained that this condition may get worse in the event of exposure to similar circumstances, making it all the more difficult and intense than before.
What's the remedy?
Discussing possible treatments for such cases, Dr. Bweidani confirmed that most people afflicted with the disorder recover automatically after a short period of time. However, there is a small percentage of people who are badly affected by PTSD and for whom symptoms persist for more than a month. Dr. Bweidani recommends, in these cases, that the patient keep coming back for regular therapy.
Baraa al-Najjar studies in one of the legal institutes in Arihah, a city in the Idlib countryside.
Najjar believes the condition can be beaten by changing one's location. He believes that by moving to a relatively calmer region, you can improve your psychological condition.
"It's also necessary to stress the causes of this condition. There are some areas that are safer than others, such as underground shelters or caves, and these areas can provide a sense of relative safety despite frequent shelling."
Al-Hajj Sobhy al-Helu, on the other hand, believes in just one solution, that "you can escape fear with nothing but the conviction that you will not be struck, except by the will of God, and you will not die, except in your day. So, let tranquility sneak into your heart."
"Do not be afraid of yourself and do not be afraid of anyone, for God, who created you, will not strike you with what you cannot bear," Helu, an Idlib resident in his 60s, added. "Trust in God, live your life, and make sure that God is with you."
Residents in areas outside the control of the Syrian regime have lived with conditions like PTSD since the outbreak of anti-government protests in 2011. The regime may have changed its instruments of death and daily terror — from arrests, targeted elimination and torture to shelling, siege and starvation — but it remains to be seen if Syrian society will one day rebuild itself amid the extent of the suffering, physical and psychological, left behind by the war.
if you think the article contain wrong information or you have additional details Send Correction