Ibrahim Al Hussein.. the only Arab Syrian athlete in "de Janeiro"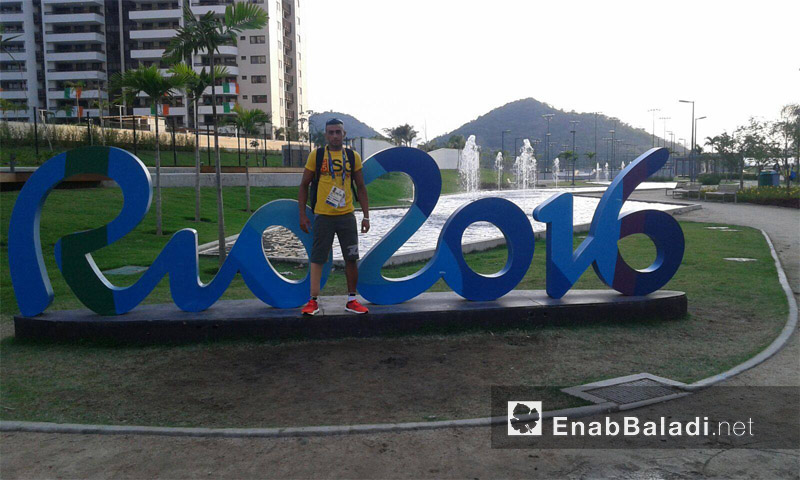 Hasan Motlak – Enab Baladi
"Messages of a tenor voice full of challenge, keep beeping on my personal phone. These messages carry pain within them and a persistence that embodies a painful success story that gave its owner the right to participate in the biggest and most important global competition for people with special needs."
The voice messages of the Syrian swimmer Ibrahim Al Hussein last for 20 minutes. The bearer of Rio de Janeiro Olympic torch in Greece and competitor in the 70 meter race last April tells Enab Baladi that those were the best days of his life.
Al Hussein works in a café in Greece for 12 hours a day; yet he runs for 12 kilometers, three times a day, defying his injury. His right leg is amputated and he uses an artificial leg to help him in his exercise, as he hopes to achieve his dream during the Paralympic Games, in which more than four thousands athletes with disabilities participate from a 160 countries. It which takes place between the 7 and 18 of September.
The Syrian athlete comes from the city of Deir Ez-Zour which was once the scene of his pain. He speaks of the injury he had in 2012, which did not hinder his persistence. He is today a member of "Porto Pori" club for swimmers. His trainer, Ilini Kokin, accompanies him to competitions and, as Al Hussein explains, has a great deal to do with his success.
Al Hussein lost his left leg's joint when, due to fear of security forces, he threw himself from the fourth floor of a building in April 2012. He lost his other leg because of a tank's shell, when he was trying to answer his injured friend's call for help. So he left to Turkey, driven by promises for help in his treatment; however, those promises did not help at all, they were more like "sedatives to his amputated leg", as he put it.
The 27 year old man gave up on getting treatment in Turkey, so he traveled to Greece with the help of a smuggler, reaching Samos Island early in 2014. He stayed there for 18 days, until he coincidently met a Greek woman who changed his life. Al Hussein believes that the time he met that woman was the first steps towards his success after going through such a bad time.
Even though the young man was not able to get his athletic identification documents from Syria, the Greek woman took him under her wing, supporting his treatment and training until he reached the he is at today.
The man from the Euphrates also plays basketball and is a member of "Maroussi" club, trained by Fios Yurus. He describes participating at the Paralympics as an achievement, hoping to win the 50 and 100 meter freestyle swimming competitions. Al Hussein spent 22 years playing sport, beginning at the age of five with his father, a swim coach. Enab Baladi spoke to many Syrian athletes who testify for Al Hussein's success.
Hussein's dream began on Friday, September 2nd, the day he travelled to Brazil to prepare for the tournament. This came at the end of a year in Greece, during which he came second in two championships and won first place in Athens in swimming, in addition to receiving an appreciation certificate in wheelchair basketball.
Al Hussein believes the inner "ferocity and persistence" needed for swimming come from the message he always tries to deliver to thousands of injured peers in Syria; "injury is in the mind, not in the body".
The young athlete only finished his primary school. After that, he trained as an electrician, before working on high-tension projects in Syria, alongside maintaining his passion for sport, before the revolution.
At the moment, Al Hussein only thinks of Rio, as he aspires to become a coach at one of the prominent European clubs. He wishes to compete with injured Syrian athletes he met earlier at one of the leagues.
if you think the article contain wrong information or you have additional details Send Correction