Districts of Al-Sukari and Al-Zourzour targeted by regime and Russian forces, killing and wounding civilian
Aleppo: Blood Bank Calls for Donations as Warplanes Carry Out Massacre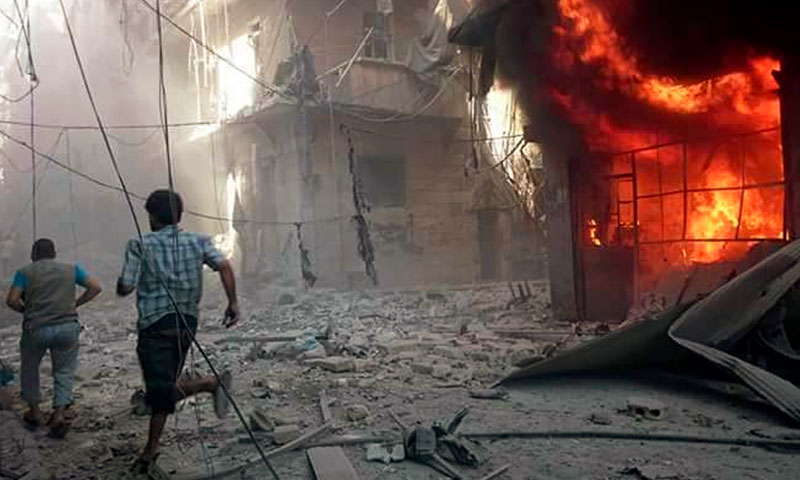 Scores of civilians were killed and wounded when residential districts in the city of Aleppo were hit by air strikes on Monday, August 22.
Enab Baladi's correspondent in Aleppo said that the bombardment hit the Al-Sukari district, which led to the deaths of 13 civilians, including four children, in addition to wounding more than 10 others.
The raids also hit the district of Al-Zourzour, killing six civilians as an initial toll.
The director of forensic medicine in Aleppo, Mohamed Kaheel (Abou Jaafar) confirmed that the district was struck, saying that Russian warplanes had hit the forensic medicine building as well, which wounded people in the area.
In a related context, the Aleppo Media Center quoted the administration of the blood bank in the city of Aleppo as saying they needed blood donations of all types.
The bombardment hit other districts inside the city and a civilian was killed when the Al-Ansari district was struck.
The bombardment meanwhile hit various districts in the countryside, and activists documented the death of four civilians in the Zahar Association Quarter in the western Aleppo countryside.
Meanwhile towns in the Aleppo countryside and districts of the city have been hit by dozens of rockets and barrel bombs daily, killing dozens of civilians as Assad's forces try to regain what they have lost since August 6 in southern Aleppo. However, government forces have not made any progress as rebel groups remain an obstacle in their way.
This article was translated and edited by The Syrian Observer. Responsibility for the information and views set out in this article lies entirely with the author.
if you think the article contain wrong information or you have additional details Send Correction