Away from TV… artistic and social subjects get popular through the internet
Syrians becoming stars in "YouTube"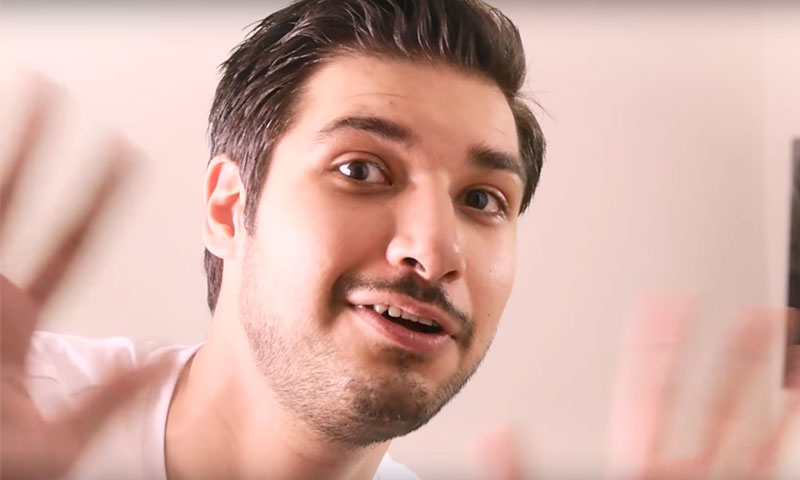 Printed Edition ‖ Art ‖ No. 229
Haneen Al-Naqri / Obada Kujan – Enab Baladi
Variety comic and social shows were exclusive preserve of local and Arab TV screens for years preceding the movement of "Arab Spring". With the emergence of electronic platforms and means of the social communication as entertaining and educating alternatives that are faster and more up-to-date, many emerging stars used these platforms as their theatres, through which they presented issues and problems in many different areas, including politics and art, using simple methods and techniques that were even closer to the audience.
Syria was no difference, even if they were a bit behind experiences in the neighboring countries, like Egypt, Jordan and the Gulf, however, Syrian expertise in the field of preparing and presenting variety shows through "You Tube" recently began to appear, and they got the interest of thousands of Syrians, to have the makers of these programs, or those known now as "You Tubers", become stars in their fans' eyes.
Four Syrian models got a great deal of fame, where their owners focused in their programs on different issues, which their audience say they have succeeded in choosing.
Walaa Mousli…"the young ladies'" star
The young Damascene Lady Walaa Mousli, residing in the UAE, began to run her program through "YouTube" in September 2014, targeting the young people in social subjects that focus largely on girls. She used simple and soft lightening décor, and had episodes of 5 – 15 minutes through her channel, in which she tackled art and social issues within a light comic framework.
Mousli's relatives assist her in delivering the episodes she presents. She has recently moved towards diversifying her production, between art, social and educational, "five activities to do in Eid, five things you do not forget in Ramadan, five movie directors not to miss their movies, suitors and Hijab (veil)".
The young expatriate invests social media intelligently; she has around 60 thousands likes in "Facebook", 51 thousands followers in "Instagram" and 28 thousands subscribers in "YouTube". One of her episodes (the simple way of wearing my Hijab) has been viewed by around 100 thousand people, most of which seem to be girls, as the comments show.
Firas Alshater owner of "Sukkar (Sugar)"
Firas Alshater
It seems that the Syrian refugee in Germany, Firas Alshater, is heading towards global fame as a result of the success of his program "Sukkar" that was unexpectedly well received by the Germans, especially after his first episode titled "Who are the Germans?"
Alshater relies on a sound German language addressing the Germans. His "YouTube" program aims at giving a positive impression for the Germans regarding the Syrian refugees, attempting to bring together different points of views and helping Syrians integrate within their new community.
Alshater's 'Facebook' page has around 45 thousands likes, while more than 18 thousand people subscribe in his 'YouTube' channel (Sukkar), his first episode was viewed by 720 thousand people, not to mention the interaction of German and Syrian media with the episode.
The refugee coming from the city of Homs and who has been previously detained by the Syrian regime, was able to penetrate the German community in an unprecedented way, listing himself in the American "Times" magazine's annual list for 2016 of "Leaders of the new generation", which was only limited to 10 names. Recently he participated in "Welcome Refugees" team, contracted with "YouTube" site.
The "funny" Taeem Henawe
Young Taeem Henawe succeeded in attracting thousands of fans through his presentation and style in tackling issues he carefully chooses and refutes within "YouTube" episodes presented in a comic style, a Damascene dialect and gestural – yet not vulgar – movements.
Taeem, the refugee in Holland, chose simple and at the same time attractive décor, placing pictures of Syrian artists, stars and poets as a background for the studio, on which the names of Syrian legendry art; TV series, movies, plays and programs, have been written.
"Bisclit or Misclit" (different ways of saying Bicycle in Syria), "Mekrab or Mabaed" (Syrian: having a flu or going away), "kings of songs" and "the Syrian elections"…and many other episodes prepared and presented by Henawe in a comic style, far from the complexity of the Syrian scene and the bitterness of asylum. His "YouTube" channel had around 28 thousand subscribers, while one of the episodes of his series "Express news" was viewed by around 155 thousand people. His "Facebook" page has around 75 thousand likes.
"Homswood… Happy every Wednesday"
Abdul Rahman Dandeshi… Homsi criticizing drama and brings back laughter to Syrians
With the phrase "Happy every Wednesday" and his arms' movement, Abdul Rahman Dandeshi commences most of his video recordings, using an original Homsi dialect, from which he got inspired to name his program "Homswood", making Wednesdays, the special day for Homsi people, a date to broadcast his weekly episodes on YouTube.
Abdul Rahman, a Syrian young man of a father from the city of Tal Kalakh and a mother from the city of Homs, who passed on her dialect to him. He graduated from the Film Directing College in Ukraine, and he says that he chose this department because he is fond of cinema since early in his age, "I always watched the American movies, and it made me upset to see what I see in the Syrian Drama. In the last two years of High school, I made my decision to study film directing in order to present something different in the field."
Why Ukraine?
After getting his High school diploma, Abdul Rahman contacted the Spanish Embassy in order to study film directing there. However, the admission conditions were difficult there "I had to wait for a whole year to get college admission, in addition to the requirement of passing a Spanish language test in the embassy", Abdul Rahman said to Enab Baladi.
Despite the need to wait plus the requirements imposed, Dandeshi began to follow the proceedings, until he was forced to change all of his plans overnight, explaining "a military soldier came to my house to give me the notification for military service, and since military service does not intersect with my current goals, I began to seek an alternative plan to finish my study."
After consulting an office specialized in helping students that are willing to study abroad, Abdul Rahman found out that getting a Visa to Ukraine was the fastest at that time, "my request was to get the fastest Visa to any country where I can study film directing. Indeed, within one week, I was in Ukraine."
Prior to "Homswood"…"Ukraniawood"
"Studying years were hard", Abdul Rahman describes his years, studying in Ukraine, he had to learn two languages, Ukrainian and Russian in one year, to get admitted after that to college and study the curriculum in two languages that are totally new to him, adding "it was very hard studying literary and poetic texts in a new language, but I overcame that difficulty upon mastering the two languages. I was top of my class in Ukrainian Literature, Hamdulil Allah (thanks to Allah)."
Regarding his art work, Abdul Rahman told us that he, as all students at his college, was to record a short movie in each semester, to have a total of eight movies in four years, in addition to movies featuring in festivals. He continues saying "I worked in the Ukrainian and Russian theatres as training, but even when training was over, I used to attend backstage because of my great passion for theatre.'
After working in theatre, Abdul Rahman moved to work in Ukrainian TV as on the air assistant director, then he moved to directing short movies with his personal efforts and participated with these movies in many festivals, including the short movie "A Syrian Wedding", which came in second in a festival that belongs to "Adobe" company.
"Homswood" with simple tools
The emergence of "Homswood" was when Abdul Rahman moved from Ukraine to live in Turkey, due to the lack of good opportunities to work with production companies, as he put it, he justifies that saying "I personally have interest in Humanitarian movies that talk about the Syrian Man without being directed or politicized, and I have not come across any production company that does that, therefore I did not have the chance to work with any."
The fact that Abdul Rahman did not agree with the agendas of production companies, as well as his desire to present some effort in his study field, pushed him to seek alternatives that would enable him to do so, adding "I follow the American, European and Gulf YouTube very well, which was launched in 2010, but since YouTube was blocked back then in Syria, Syrians were absent from this field…my residence outside the country enabled me to be acknowledged with work on YouTube, and after reading and searching, I found a job called the "YouTuber"."
Upon this, Abdul Rahman decided to move according to his specialty, to be the first Syrian working in "cynical criticism of local drama over YouTube", and thus was the birth of "Homswood" at that moment.
Dandeshi started his first episodes with "very simple" tools, as he describes them, using while recording a camera that does not feature high quality (HD) and no "microphone", he adds "the quality of recording was very low, I was forced to speak loudly in order for the microphone to catch my voice, in addition to the lack of lighting equipment, the thing that forced me to shoot next to the window during day light to make use of the sun light."
These difficulties were nothing compared to editing time, in which he used a computer of limited specs "while montaging a similar material using a good computer would take two hours, it took me eight hours to do so, not to mention the editing programs have big load on the computer, which will lead to disconnecting it and suddenly stopping."
Homswood filming set
Watching TV series, noting mistakes, writing scripts, preparing and filming, editing, uploading to the internet, as well as sharing videos on networking site channels, the tasks of a full team that Abdul Rahman used to perform on his own throughout his program until the forty-third episode, he says "I was the only person in Homswood, today I have a small staff of volunteers working with me; the script is now being written by three people, in addition to volunteers who manage social networking sites."
The Homsi "YouTuber" points out that the program's audience is involved today in preparing the episodes through a group on "Facebook" that was created for that reason, "we have created a group named (Homswood filming set) so that any follower from the audience can participate in preparing the episodes, by commenting and mentioning any mistakes that go unnoticed at any kind of TV series, in order for us to check later on and include in the script, if it fits the content of the episode."
Satire with no offense… the difficult equation
Abdul Rahman believes the most difficult obstacle that faces satirical programs is maintaining the limit and not crossing the thin line between humor and defamation, adding "the goal is creating a joke and shedding a light over mistakes in drama in order to pass them on to their makers. Here is where we face the greatest difficulty when writing the script, a process that requires a long time and accuracy."
He adds that things got more difficult with work pressure in Ramadan, "the challenge was to watch many episodes of a series, write a script without offending any character, prepare, record, edit and upload the material in one day; this was extremely exhausting."
About Homswood

• "Homswood" is the name of Abdul Rahman Dandeshi's "YouTube" channel, which broadcasts satirical episodes that aim at criticizing Syrian drama and pointing to the mistakes passing in these series.
• "Homswood" channel was set up in April 2015. The number of the program's episodes reached around 60, with each lasting between 4 minutes to half an hour.
• The number of YouTube subscribers is more than 40 thousand people, while views are more than three million views from different nationalities from around the world, in addition to 80 thousand likes for his "Facebook" page till the date of preparing this report.
An impact on the artistic community and a populist success
Abdul Rahman asserts that the impact of Homswood program a year after its launch is, directly or indirectly, present and distinct, "we reached the point where Homswood is mentioned on series filming sets, some from the artistic community contact me saying that they have started correcting some complacency in drama (because Homswood will pick up those mistakes) according to them."
Abdul Rahman asserts that the impact of Homswood program a year after its launch is, directly or indirectly, present and distinct, "we reached the point where Homswood is mentioned on series' filming sets, some from the artistic community contact me saying that they have started correcting some points of negligence in drama (because Homswood will pick up those mistakes), according to them."
Dandeshi points that a large number of workers in the artistic community have communicated with him to discuss the content of some episodes, "I do not want to mention names, but there are many actors, directors, assistant directors, writers and editing workers, many of whom communicate with me constantly."
With the increasing numbers of Syrian "YouTubers", we asked Abdul Rahman about his success factors and increasing popularity, his answer was "the audience", asserting that success comes from corresponding with reactions, as well as listening to and taking comments into consideration, rather than resisting them. He carries on saying "for instance, when we received comments regarding the quality of sound with a request to change the microphone used, we answered that immediately in the next episode. Also, there was a request to improve the quality of imaging or amending in the contents."
Abdul Rahman stresses that the audience is the main factor for his program to be what it is today, in addition to welcoming all kinds and means of criticism "we are never upset of any comment or criticism directed to us, on the contrary, we welcome and thank that person because he is a main reason to develop the program."
Despite the many criticism Abdul Rahman directed to Syrian drama, yet he believes that "it is a normal phase, considering the unusual circumstances" Syria is experiencing, and corrects "but it will be not normal to have chaos in drama going on like this, which is something that I exclude; this year's drama reached bottom in chaos, and I expect this situation to begin to gradually get decreased in the upcoming period."
"Homswood" will develop in the next season
Talking about "Homswood" season to come after Eid, Abdul Rahman says, it will expand to include series of Arab drama, as well as discussing American movies.
Dandeshi reveals his aspirations of lifting the program to a more professional level and performance, pointing to the necessity of having an integrated professional team, and that current discussions are going on with sponsors of the program in order to fund it and develop its potentialities, adding "Homswood is a light program based on volunteers, till now there are no specialists in Homswood team, like camera man or audio, lighting or editing professional, a weakness we are suffering from, but we look for a better future and currently try to compensate that with strengthening the preparation."
Many attempts failed to get to stardom, while others achieved that through focusing on an intensive presenting time that won't exceed minutes, bearing the characteristics of sense of humor and wit, relying on inexpensive techniques in editing, lighting and décor, not to mention addressing subjects of high interest for Syrians.
if you think the article contain wrong information or you have additional details Send Correction