Love of antique collecting pushes people in Idlib to preserve Syrian heritage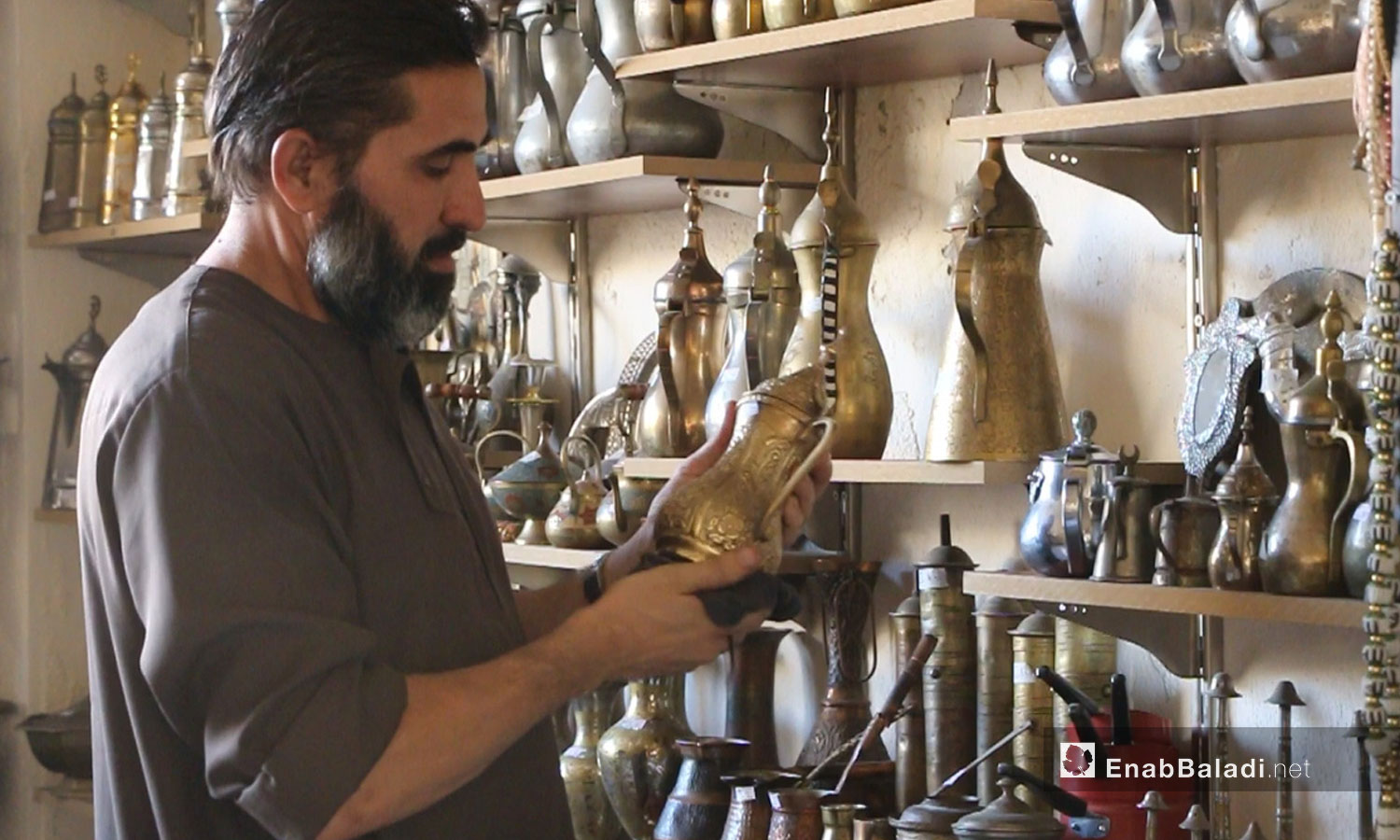 Enab Baladi – Idlib
Going inside any antique shop in Syria, one will be amazed by the scene of brass trays and ornate daggers next to ivory rosaries and other antiques. This scene forces its beholder to go back in memory to the beautiful old days, where art and beauty were combined with simplicity and perfection.
Syria is famous for its distinctive arts and antiques, such as the arabesque art, the Damascene broker, silk, swords, and antiquities. Some of these treasures were destroyed by the war, while others were stolen and sold abroad, or were lost without appreciation and attention in the midst of the Syrian people's ongoing suffering.
Despite the economic and security challenges, the destruction of infrastructure, and the overcrowding camps in the war-torn Idlib city in Syria, the love for antiquities that reek with heritage did not stop; however, it became limited to some amateur collectors, who could not imagine their lives without a blast from the beauty of the past.
Saving Syria's heritage
Haitham Abu Rashed, an antique shop owner, named "Bait Jeddi," said to Enab Baladi that groups for antique collectors and people interested in preserving the Syrian heritage had been formed through social media platforms.
Through the groups, the antique collectors share images of their artifacts and information about them. They also exchange art pieces and ask for help searching for missing items of rare antique sets. They also offer lost distinctive pieces found by chance, after Syrians' property and belongings were gone due to bombing and displacement.
Upon selling any of the antique items, Abu Rashed becomes haunted by the idea of replacing it with another piece in his shop. He always wonders about the fate of the sold piece of "whether it remained in Syria or was sold abroad."
Abu Rashed considers that his job as an antique dealer is not only to sell but also to "preserve the heritage" threatened by the nine years ongoing war in Syria.
The oriental antique collection profession began in particular markets in Syrian provinces, such as the "Souk al-Nahasin (Copper Market)" in Damascus. This profession included collecting ornate, hand-crafted artifacts that were very popular among tourists and rare antique collectors.
For Abu Rashed, his passion for antique collecting started from an early age, as he sought to gather pieces that he felt special and hold memories of the past.
In his shop, Abu Hashem assembled many different antiques that are not limited to one province or another. Such antiques included the "Mihbaj (vintage coffee grinder)," the Damascene swords, the daggers of Majdal Shams (a village in the occupied Golan Heights), and the Deir Ezzor brass "dallah (a traditional Arab coffee pot used to brew and serve coffee).
Unfortunately, antique collecting is no longer an affordable profession for those who love it, as the conditions have changed for those displaced or abroad, who cannot keep an ancient vase or a candle holder in a worn-out tent.
A passion suppressed by money
Abdullah al-Abdullah, an oriental antique shop owner, said to Enab Baladi that antiques do not have specific prices. He said, their value, appeal, and rareness are the factors deciding their price; nevertheless, the profession has its ethics for customers dealings.
Al-Abdullah worked in antique collecting for 18 years, and his passion for collecting rare pieces pushed him to tour Syria seeking antiques; however, the war stopped him from doing so.
The nine years of war in Syria caused human and financial hardship that has transformed the antique collection profession into a "luxury" that only the amateurs who consider antiques as an integral part of their lives can afford.
According to al-Abdullah, the antiques are subject to supply and demand, which decreased in the Syrian market, within the absence of a clear evaluation of the antiques' prices and value.
Al-Abdullah gave an example of a sword worth 10,000 USD, which could be sold outside Syria by one million USD. Syrians, on the other hand, would not desire the same sword even for a dollar, al-Abdullah added.
According to Abu Rashed, some of the antique pieces are stamped to prove their authenticity and age.
He added that the copper artifacts' color helps estimate their age, thus preventing him from polishing his antique pieces, as the dust over them becomes part of their charm.
As for glass artifacts, they are treated differently in Abu Rashed's small shop, where he takes care of his items with "love," as per his expression.
Abu Rashed described his profession as "his entire life," where he enjoys seeing his artifacts every day, which is a "meaningful blessing," as he put it.
Despite the difficulties faced by antique collectors, quitting this passion is not an option for them.
Today, the Syrian heritage lies beneath the rubble of destroyed houses. It is scattered on the weary roads of displacement and long battles in a condition described by Abu Rashed as "painful" for those passionate about heritage, the past, and the beauty of antiques.
---
This report was prepared with the contribution of Enab Baladi's correspondent in Idlib Anas al-Khouli 
if you think the article contain wrong information or you have additional details Send Correction