Handicrafts in Idlib threatened with demise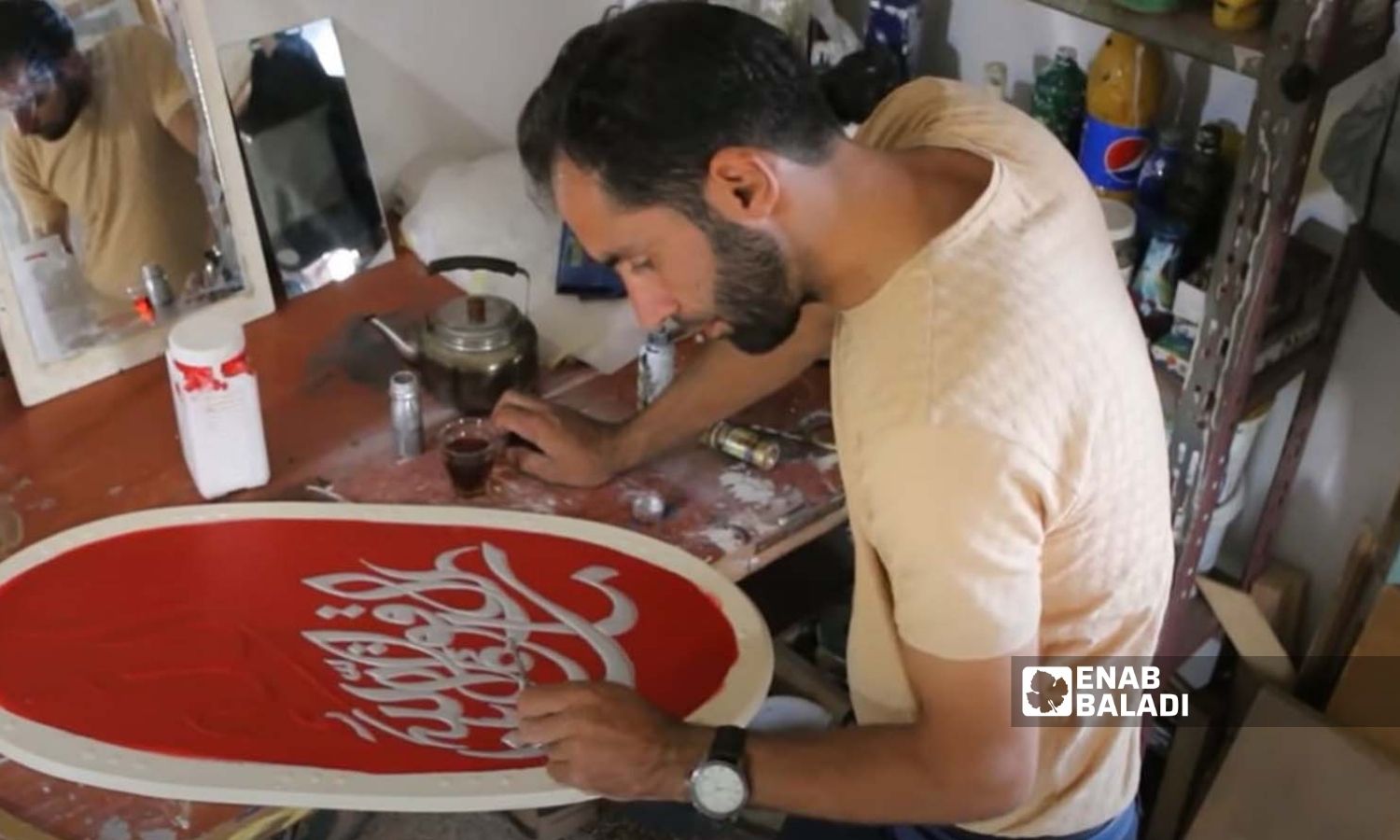 Enab Baladi – Anas al-Khouli
Jihad Abdulhai wanders the courts in Idlib, hoping to get what is rightfully his as the young man was subjected to fraud after he sold one of his paintings of Persian embellishment art without getting anything in return, according to him.
Abdulhai, 35, complains to Enab Baladi about the absence of official bodies protecting the craftsmen, as there is no union that defends their rights nor an association that gathers them to protect their businesses.
He believes that crafts in Idlib are menaced with extinction, and they are in urgent need of a body that protects the rights of craftsmen, works to promote their artworks, helps them secure their supplies, and holds training courses for young people in the field of crafts related to Syrian culture and the ways to preserve them.
Decline of handicrafts
The handicraft business in Idlib is witnessing a significant decline, with the weakness of internal demand, the absence of foreign orders, and the rise in the prices of raw materials, which prompted many artisans to refrain from working.
Mazen Massoud, 44, an Idlib-based copper engraving craftsman, said that the valuation of handicrafts is subject to the law of supply and demand, and the continuation of these works depends on the presence of a buyer who appreciates the artistic value of the craftwork.
Under the deteriorating living conditions, demand for some crafts falls, while others are completely neglected.
Speaking about foreign orders, Massoud told Enab Baladi that craftsmen had previously relied on the presence of tourists who valued their artworks and paid good sums that helped craftsmen keep their businesses.
According to Massoud, today's craftsmen suffer from difficult financial conditions and little appreciation for the value of their work, which has prompted many of them to abandon the craft and look for different jobs for sustenance.
For his part, the Director of the General Directorate of Industry in the Syrian Salvation Government (SSG), Abdallah al-Masry, told Enab Baladi that the directorate is seeking to form handicraft associations for all the crafts in the region in preparation for the establishment of a craftsmen's union.
Meanwhile, an opinion poll conducted by Enab Baladi, which included eight craftsmen, showed that there is a government failure to provide facilities to craftsmen in the region and to tend to their needs.
Young people reject heritage
Although most families used to inherit crafts, financial conditions and young people's lack of awareness of the importance of crafts, coupled with their difficulty, led many of them to refrain from learning crafts from their parents and grandparents.
Saeed Imran, 51, an Idlib-based displaced person, is a skilled potter. He attributed the youth's refusal to learn these crafts to the high costs of their production and the low financial returns, pointing out that he was unable to secure all his supplies after he left his workshop in the Damascus countryside.
Jihad Abdulhai considered the reluctance of young people to learn crafts to an utter neglect of their historical and cultural status. He said that this was due to young people's fears as a result of the absence of an official body that protects and encourages craftsmen, holds art exhibitions for crafts, and promotes artwork at home and abroad.
Abdulhai noted that the income of some crafts such as his is good, but the absence of authorities protecting the rights of craftsmen renders such work dangerous for many.
During the past years, hundreds of craftsmen have been forced to stop practicing their crafts as a result of frequent displacement.
Although many artisans reside in northwestern Syria, most have not found the right conditions and sufficient support to pursue their work.
Northwestern Syria is experiencing deteriorating living conditions, with some 4.1 million people needing humanitarian assistance and some 3.1 million being food insecure, according to a report released by the United Nations Office for the Coordination of Humanitarian Affairs (OCHA) on 11 August.
if you think the article contain wrong information or you have additional details Send Correction