If you were in Rome, do not bet on Romans
Where did the Syrian "Ya Batel" tattoo disappear in Europe?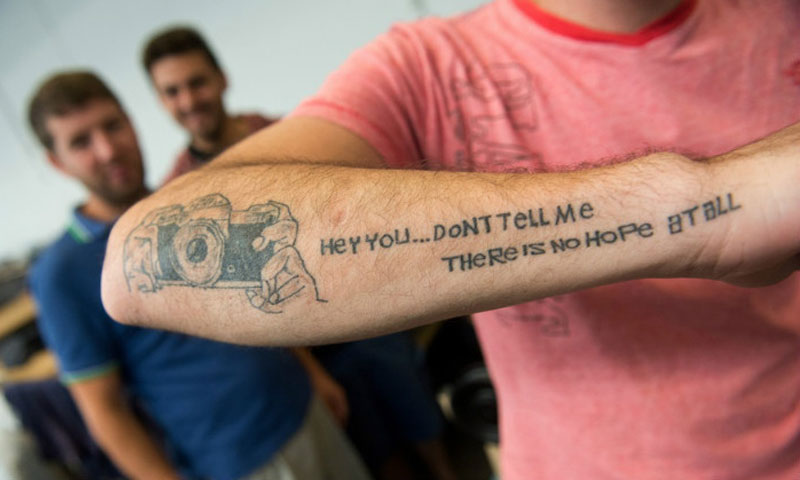 *Ya Batel (what some men used to say to express "no way!")
Printed Edition ‖ Refugee Life ‖ No.: 229
Ammar Ziada – Enab Baladi
"May Allah have mercy on your grandfather, who used to think Dettol was Tamarind", a phrase widely spread among young Syrian refugees in Europe, to mock those exaggerating in their behavior, thinking that what they are doing is "integrating in the host communities."  
The very old popular proverb, "if you were in Rome, do as the Romans do", has been subjected to a lot of criticism, as psychologists consider it an encouragement to get drifted behind the group without thinking. However, this criticism has no status today with biddings from some refugees who altered the proverb from a community tradition to demanding not to bid on it.
Strange hair-cuts replaced the "school" or "military" ones that men used to have in Syria, an earring for the young man, who never wore it before, placed in unimaginable places, tattoos of "Ya Batel"(meaning: No way!) and "Your satisfaction, Mom" turned into sexual drawings or other exotic tattoos that even those having them, do not understand what are they about.
"An inferior feeling or a fascination with the huge cultural difference", is what pushed these young men to follow this kind of behavior, as the psychological specialist, Asmaa Rushdi, says to Enab Baladi.
The conservative religious commitment in Syria might be considered "Dashneh" (i.e.; derived from Daash behaviors) in Germany, from the left-wing extremists' point of view, which prompted some refugees to behave in a certain way to refute the charge, and might at times get to the "moral decay" point, Mohammad Bash, a university student who sought asylum in Germany, says. Germany also welcomed more than a million refugees over the past year.
The "Church asylum" is something also considered by some a manifestation of abandoning the Islamic creed, as Germany witnessed a number of refugees embracing Christianity, believing that it will facilitate getting asylum. Evangelical Church of Trinity, near Berlin, includes some 1200 refugees in its membership, who recently embraced Christianity, according to German media.
However, some believe that the irony lies in the purpose behind the religious conversion, whether it is reflecting a spiritual trend or it is all about creating a reason not to go back to homeland, since officials of Migration and Refugee Federal Office in Germany take into consideration, when making a decision of grating or refusing the residency, the danger that lives of those who converted into a different religion might be exposed to, in case they return to their country.
Converting creed is not the only change, as many behaviors have changed, "Peace upon you" (Greeting in Islam) changed into "hi and Bye", even though these words are not in the language of the host country. The "Short Hamra" cigarette pack is replaced with bottles of whisky and other drinks that fill the houses and evening gatherings of some young refugees.
Some refugees try to show the largest amount of weirdness and uniqueness, but some Germans are not accepting these behaviors and are feeling that they are weird of their community, Yasse Bawaaki says, a young Damascene Oud player who arrived to Germany this year, "those following weird behaviors are aware that they are bidding over residents of the country", pointing to the proverb that says "more royal than the king."
Personal freedom and integration? Perhaps, we do not interfere with others' choices, but appreciating the host incubator of the refugees is represented in respecting their identities, culture and their belief in their right to return to their country, in addition, every community, whether it be western or eastern, believes in what seems to be the habits that govern and distinguish it from other communities.
"These kinds of behavior were shameful and forbidden in Syria by the same people who exaggerate, they would scold their peers if they sensed any inclination towards such behavior", Bawaaki says… holding on to what he believes in as nostalgia for the homeland and a way to return there, and playing a tune that reminds him of "the good old days".
if you think the article contain wrong information or you have additional details Send Correction