Officially…for the first time
Syrian refugees register their club in German final division league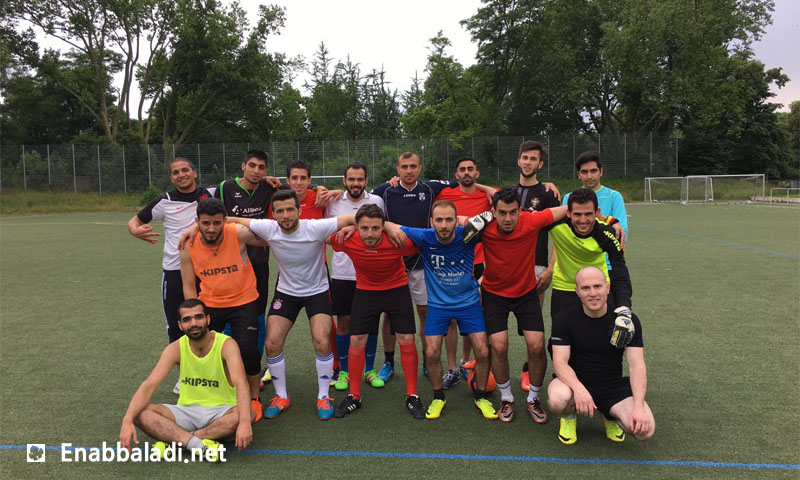 Printed Edition ‖ No.: 227
Enab Baladi – Germany
Football Club "Qasioun" made an accomplishment after around 8 months of founding it by Syrian refugees in Germany. The club is officially recognized, as they wait for their first participation in the final division league in Germany "Kreis liga c".
The Syrian club is run by Ahmad Al Masri, who recently fled to Germany, and he tells Enab Baladi that his club has officially become a second team of the German "bva altenessen" club mid-June, explaining that "we have sent the players' documents to the German Sports Federation and we are currently waiting for their identities."
The league begins next August
Once players' identities arrive, then "Qasioun" club will be officially among the teams of the German final division league "kreis liga c", which will begin next August at the level of the city of Essen. Al Masri considers this step an accomplishment for the club, adding "since we are a new team, we should start from zero and seek wining the league in order to rise a step and increase the features that we can benefit from."
According to Al Masri, "bva altenessen" club undertakes full responsibility of trainings, his "Qasioun" players will get new uniforms and will be exercising every week, benefiting from the German's club stadiums and their training equipment.
The club manager explains that "Qasioun" club currently includes 15 players, and he will register 4 more players within a period of 20 days, in order to be within the formation, pointing out that he is seeking to register another independent team within "kreis liga a" division, while Al Masri, who is going to be a coach and a player, waits to be admitted to training sessions sponsored by the German Club, as he described.
All of "Qasioun" players are Syrians with the exception of one player, Mohammad Al Banna, who is originally Lebanese. In his interview to Enab Baladi, Al Masri pointed out that Hajj Adeeb Madinli, originally Lebanese and a former referee in Germany, has helped the club at the beginning of establishing it, through providing a gym to accommodate the players.
At the beginning, the team collected some money from the players with which they bought essential training equipment, in addition to uniform shirts for friendly matches. Being officially registered at the moment, the club members can establish reserve teams and register players of different age groups.
The step is considered a first of its kind achieved by Syrian refugees outside their homeland's borders, among many attempts by sports teams that have been established in a number of European countries.
ع  ع  ع
if you think the article contain wrong information or you have additional details Send Correction