Cases of asphyxiation reported after district inside the Syrian capital bombarded with poison gas, activists claim
Activists: Regime Targeted Rebel-held Jobar With Poison Gas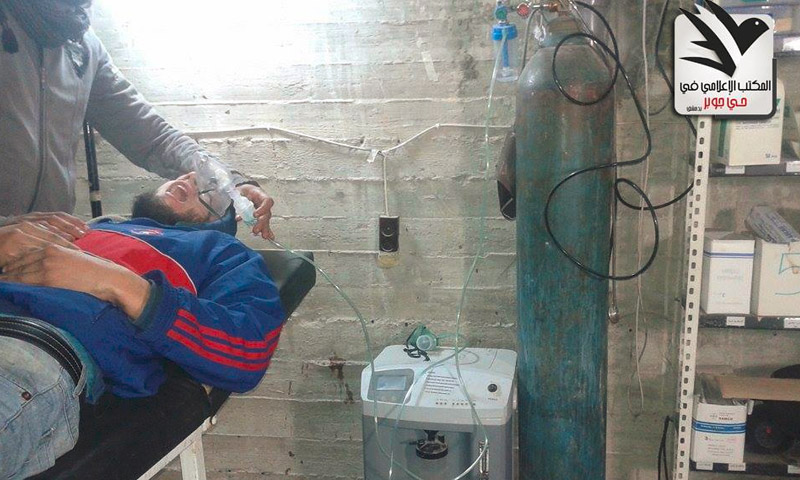 The Jobar Media Center reported that regime forces targeted the district of Damascus with poison gas from the direction of the southern highway Wednesday, June 29.
A member of the media bureau of the local council in Jobar, Mohamed Abu al-Yeman, told Enab Baladi that the bombardment caused nine cases of asphyxiation with gas including four serious cases. All victims were militants.
Abu al-Yeman said that Assad's forces blew up a building in which opposition fighters had been holed up in the area of the Karash company in the district, without any injuries, adding that another building was blown up this afternoon from the direction of the southern highway.
Regarding the nature of the symptoms that the victims were suffering from, Abu al-Yeman noted that they included shortness of breath, asphyxiation, and red eyes, adding that the cases were distributed throughout two medical points in the district.
Sources from the medical bureau in the district told Enab Baladi that most of the cases suffered from labored breathing, increased bronchial secretions, and bronchospasms.
The Jobar district of Damascus is under the control of armed opposition factions and is considered the gate to the eastern suburbs. Assad's forces have tried to storm the district from the area of the southern highway continuously but without success.
This article was translated and edited by The Syrian Observer. Responsibility for the information and views set out in this article lies entirely with the author
if you think the article contain wrong information or you have additional details Send Correction