"50%" of Syrians' divorce cases in Europe result from "infidelity"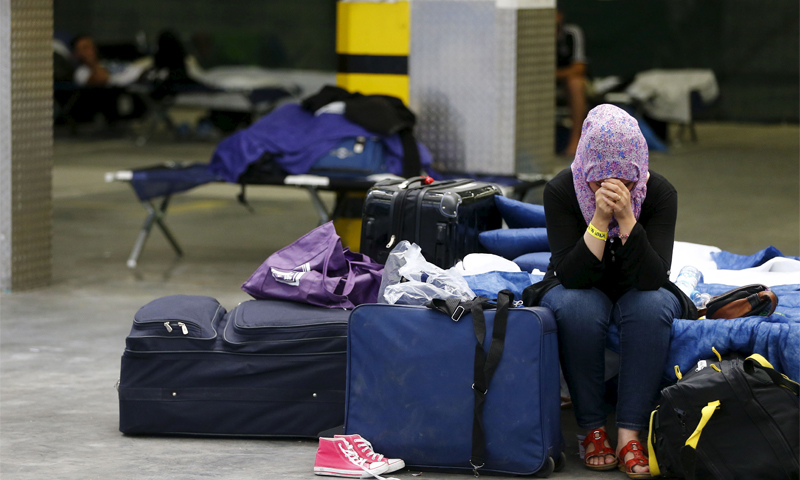 Printed Edition ‖ Refugees' Life ‖ No.: 226
Young Syrian lady Hasnaa Al-Ashtar, was murdered in the city of Munich with 20 fatal knife stabs, mid-May. Accusations have been circulated indicating the involvement of her ex-husband, after the family recently arrived to Germany through Turkey and Greece.
A number of news sites classified the crime as the ugliest/most hideous in the asylum countries. It could be one of the most dangerous consequences that followed/suffered by the divorce phenomenon, which is growing badly (getting worse) among Syrians in the whole of Europe.
During the war, the social ties collapsed and fell apart in Syria, after the majority of Syrians were forced to flee their country and seek asylum in different countries around the world, leaving behind their society with its customs and traditions, and opening up to other societies, where they began to face urgent problems alien to their culture and lifestyle.
According to the opinions survey of Syrian refugees by Enab Baladi, the family has lost its independence and stability, which once was the essential pillar of marriage. Many Syrians were forced to share housing with relatives, in addition to the deterioration of financial conditions and fear of the mysterious future, which resulted in increasing divorce cases that almost became a widespread phenomenon in many asylum countries.
In search for divorce reasons and phenomenon growing causes, specifically to see whether it has spread to the point of threatening the Syrian family to really collapse. We examined Syrians' condition in two kinds of countries; the first: Lebanon, considering that it is a state that does not provide support for refugees, where their majority suffer from unemployment and hard living conditions, the second: European countries that provide financial and housing support, and provide the woman seeking divorce a separate housing from her ex-husband and a comfortable income for her and her children.
"Unemployment" a main cause of martial disagreements
Refugee families in Lebanon share the unemployment phenomenon of the father and his stay at the house, upon which problems with wife begin. What made this situation even worse was the Lebanese government imposing having a Lebanese guarantor in order to grant residency for the refugee, which would then allow him to work, and the problem starts here.
Psychiatric specialist Maha Atasi, who dealt with a lot of Syrians in her field, refers to the dilemma of obtaining a residency, saying to Enab Baladi "it is very rare for Lebanese to guarantee Syrians for many reasons, since the Lebanese society refuses the large Syrian presence, and citizens believe that the Syrians' population exceeded that of the Lebanese themselves, not to mention that they have shared their livelihood and jobs."
In Atasy's opinion, the unemployment, staying at home and the lack of a source of living, have caused many psychological pressures that man always unleashed in the weakest ring, his wife, in addition to other psychological and social factors that created problems between the couple.
Despite all mentioned by the specialist, yet the Syrian woman cannot get separated from her husband, due to the lack of a place she could resort to, as she either lost her family because of war or detainment, or that her family itself does not have the ability to support her with her children because of displacement, the thing that would force her to stay in this marriage, which is becoming fragile and vulnerable to collapse.
Atasy believes that these factors reduced divorce cases to be limited to individual cases, however, on the other hand, marital infidelity "unfortunately" increased of both sides, as she put it, adding "maybe for each of them to compensate for the passion or tenderness missing in their house."
She stresses "we are facing a real disaster; the Syrian family is lacking its principles, morals and values… what is even greater is the collapse of that family."
European Countries supporting the oppressed woman, or provoking divorce?
Samah, a Syrian refugee who arrived in Sweden almost two years ago, says "when I first applied for asylum in Sweden, the investigator (who met me in private) asked me if my husband hits me, or if I had any problems with him that I would want to tell him about, promising me absolute secrecy."
"They gave me a separate bank account from my husband's, which made me feel financially independent, not to mention looking at the life of Swedish people where a man helps his wife with all kinds of responsibilities; life, children and house, which also made me more daring to hold my husband responsible for bigger responsibilities, which, in turn, created some kind of problems between us", Samah says.
The lady believes that the state encourages women to divorce, if she was willing to do so, considering that divorce cases spread widely in the Syrian society after asylum, especially among young aged women, explaining "a lot of problems that escalated to the point of scandals and shouting in camps or residential buildings took place, which led to police intervention, most of these problems were caused by immature women, who found in the state or the (social) office a protector and defender."
The "Sosial (amt Sosial)" Foundation is concerned with people who are incapable of working, so they offer those financial help and an annual clothing allowance, in addition to providing housing and other in-kind aid. The offices of the Foundation interferes to protect children, something that many refuges see as annoying.
Divorce cases decrease with more mature woman, according to Samah, especially with the interference of elder people to resolve the disagreement and calming both husband and wife. She believes that having children is a key factor for the married couple to refrain from demanding divorce.
She adds "once arriving to Sweden, a woman is capable of staying in a separate (camp) allocated by the state for women willing to get a divorce…the (Sosial) office also encourages woman, especially if her children suffer from the marital problems, and promises her a house away from her husband."
'Comfort' after divorce
Hadia, a Syrian refugee in Belgium, who recently got separated from her husband, thinks that most of the women who file for divorce, were unhappy with their husbands in Syria, but there was the society and its view, the word "divorced" that used to haunt the Syrian woman, all of which prevented women from divorce.
Hadia tells about her experience "I used to consider divorce ever since I was in Syria, I was not sure if I would really do it, since the society's view and supporting myself after divorce were a huge obstacle for me…but here in Europe there is no such thing as people's talk and society's restraints, not to mention that the state provided me an independent house and salary. I cannot deny that these factors encouraged me to take this fateful decision."
In her opinion, many women, who she knew and heard of their divorce stories, were prevented by the same obstacles, which they got liberated from in asylum countries, believing that most divorce cases are requested by the woman, because she thinks it is hard "for a man to abandon his wife and children, or to throw them to their own destiny", as she put it.
Divorce cases drew Dutch attention
In Holland, the divorce phenomenon began to draw Dutch's attention and attract the interest of researchers in the Syrian matter. Enab Baladi was able to get information from many Syrian organizations that are concerned with Woman and Child matters. This information stated that some psychological and social Dutch researchers began research regarding the phenomenon of divorce and collecting statistics around this case.
However, Enab Baladi was not able to get the results of these statistics, being under research.
President of Eman Association in Holland, Eman Saad El-Deen, acknowledged the spread of divorce among Syrians, yet she does not think that it reached the state of a phenomenon, as by nature of her work, she communicates with a lot of refugee women. She believes that awareness spreads among people in a way that it overcomes disagreements and divorce. The thing she describes as "goodness always overcomes dispute".
Saad El-Deen says that "50% of divorce cases are caused by marital infidelities, unfortunately, and the other 50% is caused by disagreements", adding "many divorce cases I encountered, as a must in my work, were based on a fragile marriage that was not established on love or understanding, but the woman had to stay with her husband as imposed by her parents, since they won't allow her divorce, which they named a (disgrace)."
Saad El-Deen, a graduate of the Faculty of Sharia at the University of Damascus, believes that moral decay that prevailed in our society in the last period, which the media and TV programs played a major role in, affected the Syrian society's culture and values, which led to a tangible collapse in values and principles for a specific segment of people, the accumulations of this matter played a role in the spread of divorce.
However, she rectifies "awareness is predominant for the majority of the Syrians' thinking. I have met many cases where a woman endures her husband's bad temper and ill-treatment, and does not file for a divorce because she is aware of the fact that her children will deviate with the absence of a father monitoring their upbringing."
Children are the biggest losers
Psychological specialist, Asmaa Rushdi, believes that the "social tragedy" is not limited to the parents, but it goes far beyond that to children who are forced to continue their lives away from one of their parents.
According to Rushdi, children establish new problems they suffer from, varying according to their different ages and to the way parents deal with this incident.
These problems begin with sadness, deteriorating school performance, social difficulties in mingling with friends, all the way to feelings of loneliness and isolation for the children at primary level.
As for teenagers, they may interact with their parents' divorce with depression that is represented in their concern about their future and inability of getting and keeping a marriage, according to Rushdi.
Rushdi adds that loss of psychological security and the emergence of inner conflicts load a child with aggressive motives against his parents and the rest of the society members, which tremendously affects the child's personality, creating an unstable and shaky personality.
"Violence" and past memories cause the divorce of "Rafif" once she arrived to Germany
Rafif let out a sigh of relief saying "the dream of past years became a reality today, I finally asked for divorce, despite marks of his beating showing on different parts of my body, however, I have taken this step."
The 29-years-old girl, a Syrian refugee in Germany since a few months, is a married woman and a mother of two children, who have been the obstacle that forestalled any of her attempts to get rid of her husband.
"Marriage is a safety"
Rafif married through her family in a traditional way "I was on my second year of university, Department of English literature. However, getting married and having a baby a year later, cancelled any opportunity for me to continue my study and I was stuck at home."
Rafif describes her ex-husband saying "he had a temper. He was 13 years older than me and worked at an electronics shop. He hated seeing me talking over the phone to my friends or watching a program, even though he told me otherwise when we were engaged."
Problems began after their first baby, but her family were the source of her patience, "my mother was a key factor for me to stay married, what else do I want? As she used to say to me, a house, husband and a baby. She used to say that all of my friends would dream of a life like mine. She used to undermine any new problem of any size, repeating that (marriage is a safety)."
Rafif says that "hell" opened in her face, when she asked her husband to continue her university study "my life was so empty; my friends stayed away from me after my marriage, and except for my visit to my family, activities were missing in my life. So I thought that continuing my study is the solution, especially that my specialty does not require attendance." However, her husband strongly opposed the idea; "he replied saying that I could learn English through the internet and the available sites for learning English, since my time was supposed to be devoted for him and our child, not to mention the (moral decay) in universities."
Therefore, instead of finishing her study, Rafif had a second child to "fill the void in her life", as she put it. But things began to change, yet further, they were getting worse, "one time we had a small disagreement, so he started shouting in my face, and when I did not keep it quiet, he attacked me and started beating me up. That was the first time he hit me, but not the last one till soon."
After five years of marriage, Rafif told her family that she cannot bear living with him, asking them to help her get a divorce and separate from him, "but, as usual, they took his side, because men are a mercy even if they were a coal (an old saying that means no matter how bad man was, having one is mercy), and because there was nothing wrong with him."
Are you being subjected to violence?
When her husband suggested traveling to Europe, Rafif did not object to that, since she thought that any change in her life, may do her good and break the routine in it "after a 24 days trip from Syria to Turkey, and from there to Greece and then the long march, we arrived at Germany."
Upon registering the asylum applications, the employee asked Rafif about her husband, but she did not dare telling her about her bad life and about him hitting her, "we were tired and I did not want to offend him. I thought they will expel him from Germany, if I told them about him abusing me, so I did not say a thing, but that was the first time that I have been asked about being exposed to violence."
Violence against women in Syria
The Syrian commission for Family affairs has published a research regarding violence against women in 2012. The research included 5 thousand women and showed that rates of the women who have been subjected to any form of domestic violence reached 22%; with 26% of psychological violence, 18% physical violence and 4% sexual violence.
According to the study, the most spread methods of physical violence is hitting, punching and slapping. The percentage of women who experience this kind is nearly half (45.1%), while the majority of women in the study are exposed to violence repeatedly.
Official statistics indicates a significant increase in divorce rates in the Syrian society after the revolution, as the number of divorce cases in each of Damascus court and its countryside reached more than 8 thousand cases in 2015, whether was it administrative divorce or legal separation, noting that these statistics do not include the liberated areas.
Financial independence, house and children's custody
At the camp, Rafif met a number of women, who told her many divorce cases where the judiciary was by the woman's side "a refugee from east of Europe told me about a divorce case before my arrival to the camp, when a husband assaulted his wife by beating her, so the police intervened to protect her and moved him to another camp, so that he would not come near her. I was pleased to know that law in here is on the women's side, when they are being wrongly treated."
Rafif began to seriously consider divorce. She became more hung on that thought, when she learnt that custody is her right in case of divorce "one of my neighbors told me about many divorce cases among refugees. The law grants custody for the woman, in addition to providing an independent house for her and her children and expenses by the state, what more would I want?"
A quick divorce
Rafif consulted a German lady, who comes to help her in legal affairs at the camp, about divorce in Germany, "she told me that one of the couple can request a (quick divorce) according to the German law, if it was proved in court that the continuity of marriage is bound to cause trouble or unbearable hardship by the divorce applicant due to the behavior of the other party."
Rafif decided to file for a divorce during an interview with the social worker. She told her about the beating marks on her body and asked her to help her separate from her husband. Rafif says "financial, social and legal obstacles always stopped me in Syria. Who will support me financially? Where will I live? Will the society respect me even if I were divorced? Will my husband be able to prevent me the children's custody? Questions like these always prevented me from taking any step towards separation, despite the fact it was my constant obsession."
After asking for divorce, Rafif's husband was moved to another camp. The social worker asserted that she will get a separate house after leaving the camp. Rafif says "my husband went crazy when the employees came to move him to another camp, and he started calling me all different bad names. I really do not care, because the voices of our problems and marks of him hitting me witness for me."
With a hoping look for the future, Rafif adds "I won't waste my time listening to abuses, I had enough of it. I only want to raise my children, learn the German language and live with dignity…with peace…only."
Hana Al-Halabi – Haneen Al-Naqri
if you think the article contain wrong information or you have additional details Send Correction