A "graphic" Project decorates the walls in "Salah Ed-Din" in Aleppo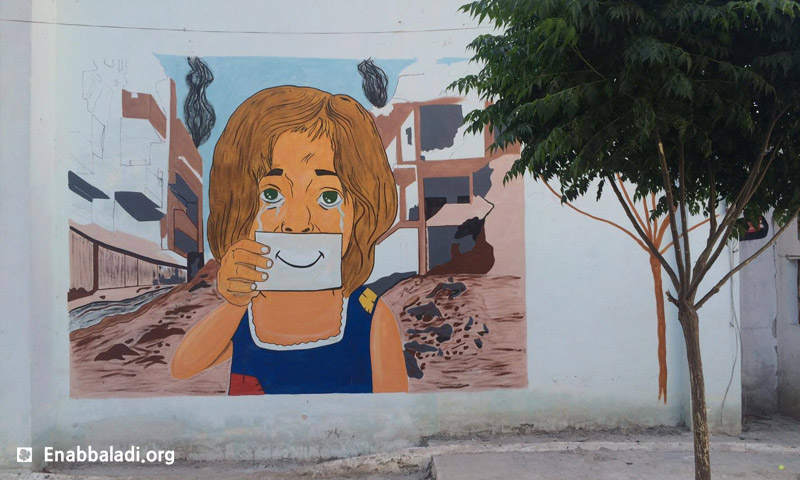 The council of "Salah Ed-Din rebels" organizes a graffiti campaign on the walls of Salah Ed-Din neighborhood, which was launched on the anniversary of the Syrian revolution in March, in order to commemorate the stories and events of the revolution, to be moved to other neighborhoods.
Activist Salem Al Atrash, who is painting the graffiti with the help of his friends, says that his aim is "to tell the next generation about the history and stages of the revolution through these drawings, since most of the earlier revolutionaries were martyred."
In his interview to Enab Baladi Al Atrash, who is known by "Abu Modar", adds saying; "I want people to constantly remember the detainees and the martyrs in a way that immortalize them unlike the demonstrations… I want to tell about the amount of their sacrifice, which they might not know."
The project's launch was in the neighborhood of Salah Ed-Din, where Al Atrash lives, because of its revolutionary symbolism (significance), in which the number of paintings was 10. Atrash asserts that "I will finish my work here and move to other neighborhoods."
The graphics tell stories about displaced communities and handle the instant subjects and events of the revolution, according to "Abu Modar". They also focus on the detainees' case, immortalize martyrs and give images of the destruction in Syria in light of the war.
The neighborhood of Salah Ed-Din holds a great symbolic meaning for the "revolutionaries of Aleppo", especially at the beginnings of liberating the city, since it is the first neighborhood for revolutionary fighters to get in from the countryside in June 21, 2012, besides it is the first headquarters for battalions and medical points. 
Atrash describes the last air strikes campaign as "fierece" and says that he continued to draw during those strikes. He concludes saying; "if we stop working, despair will kill us."
if you think the article contain wrong information or you have additional details Send Correction