"Children at the UN, between dream and reality"

An artistic heritage Exhibition in the city of Duma in Al-Gouta As-Sharqia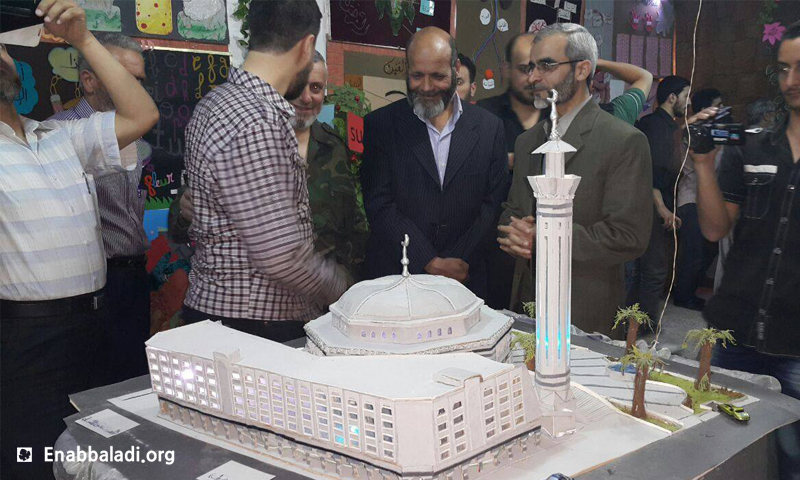 Printed Edition ‖ No.: 222
Enab Baladi – Special
"When I see the buds in my city bloom and produce under these conditions and the war, I become certain that these people are titans, invincible and will not retreat a single step," that's how artist Akram Sowaidan expressed his opinion about the artistic heritage exhibition, hosted by "the first Duma's girls" school, Saturday 21st of May, sponsored by the Office of Education in the city of Duma in Al-Gouta Al-Sharqia in the presence of a number of civil  personals.
The exhibition hall included drawings, artifacts and models, some models showed samples of the city's neighborhoods, also it included a seminar entitled "Children at the UN between the dream and reality," delivered to the attendees by the school girls.
Dozens of photographs were distributed on the walls of the hall, including pictures of the massacre that took place at the school some time before, while some of the models presented embodied the heritage work of the city of Duma; such as, the traditional bread oven and the Great Masjid. Folkloric dresses were displayed, during the exhibition, showing the outfit of the inhabitants of the city.
Munir Abdul Aziz, the director of Public Relations at the Office of Education in the city, talked to Enab Biladi and explained that the aim of the seminar "is to send a message to the world that the paragraphs they have put in order to protect childhood were not observed in Syria, rather they were overthrown and violated."
Abdul Aziz demonstrated that the seminar was launched from a school that has been targeted many times, "in which students and teachers were martyred," hoping that the UN will hear them, put an end to the war and alleviate the suffering of children.
Artist Akram Sowaidan, owner of the art works "drawing on the death" in the exhibition, said that he noticed through the drawings and designs of the children within the exhibition, "a long awaited dose of hope" he added to Enab Baladi "What caught my attention in this good forum that there are some models that carry within it an intellectual look of art, "adding that the selection of topics was technically beautiful and so were the touches and lines.
At the end of his interview, the artist wished that some party would adopt the talents in Duma, and support them in all respects, calling for "the creation of a generation that gives lessons for future generations through their paintings and art piece which tell the story of a child and a revolution."
if you think the article contain wrong information or you have additional details Send Correction