A Syrian Film Director wins Best Independent Documentary Prize in Hollywood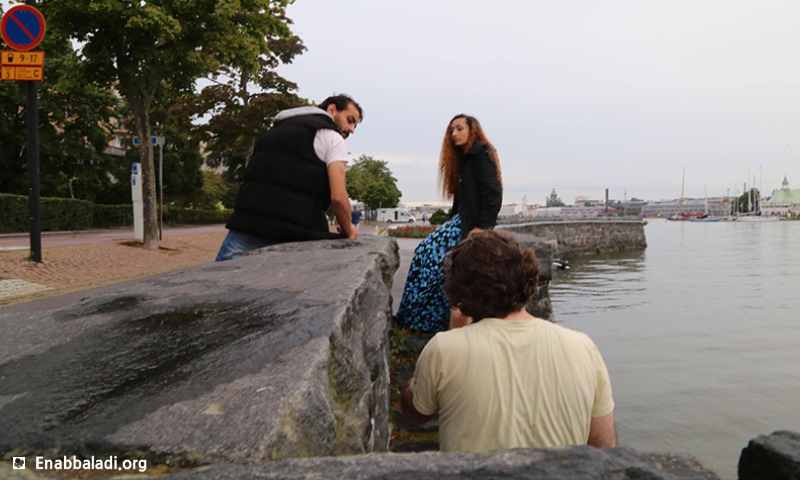 The Film "Moon in the Skype", by the Syrian Director Ghatfaan Ghanoum, has been awarded Best Documentary Film in Hollywood Film Festival. Ghanoum is to receive his award in Los Angeles next June.
Ghanoum filmed his movie in different countries including Syria, Greece, and Finland. It took him a year to finish the technical processes. The movie, filmed in a story kind of way, included a number of interviews with some refugees whose hopes of reaching Europe have failed, while other stories show some who have actually reached Europe and began to adjust to their new reality.
The movie is a real example of independent cinema
In his interview with Enab Baladi, Ghanoum says that he has received the news of the nomination for his movie a while ago, pointing to an invitation he has received Saturday, April 2nd to attend the ceremony and receive the award in the US or sending it to Finland, if he wished for.
Ghanoum is recently trying to get a visa to the US. He expressed his happiness saying; "on a personal level, happiness would be the feeling of any director, but most importantly is shedding the light over the movie through the award."
The movie is an hour and five minutes. Ghanoum considers it a real example of what is called Independent Cinema considering the production's low costs, which did not exceed 500 Euros, not to mention that it is a personal vision of the "miseries" that take place in the Mediterranean Sea with the immigration flow to Europe.
The Syrian director addressed a message through Enab Baladi to every Syrian who is fond of directing as the cinema conveys fundamental causes, "When one carries the concern of making good work, nothing will stand in his way, even if movie making requires high costs."
Winning; "one of the revolution's profits"
Some famous Syrian people, like the intellectual and Syrian opposer Burhan Ghalyoon, commented on the awarded movie with a post on his Facebook Page saying; "Acknowledging the creativity of Syrians, who were attempted to be buried alive in Syria by Al Assad's regime, which he turned into a cemetery, would never stop after today."
Ghalyoon expressed his admiration of this Syrian director pointing to that by saying; "these are some of the profits of the revolution and also the creativity of freedom", he added saying; "salutation to Ghatfaan Ghanoum for the gift he presented to his people in times of calamity and distress."
Ghanoum was recently appointed manager of the Scandinavian International Film Festival in Finland which takes place in September of every year. He is also a member of the Finnish Film Foundation. He aspires to make the great calamity which the Syrian people are exposed to known in a way that the free world would accept, which would be art, as he puts it.
Ghatfaan Ghanoum, born in Homs in 1976, studied film directing and graduated in 2006 from the Motion Picture Academy of Arts in the Republic of Moldova. Last year, he finished filming his feature movie "faces" in Finland, which a number of Syrians participated in.
Ghanoum went back to Damascus after his graduation and stayed there for the first two years of the Syrian revolution. Later in June 2013, he filmed his first documentary movie "A portrait of a revolutionary city" in Al Qusair city during its siege and before the Lebanese militia of Hizbullah and Al Assad forces stormed through the city. He also filmed another movie "Boarding" which talks about the displaced people. He participated in many festivals.
if you think the article contain wrong information or you have additional details Send Correction