Syrian Family Crosses 1,000 km by Bicycle to Meet Turkish President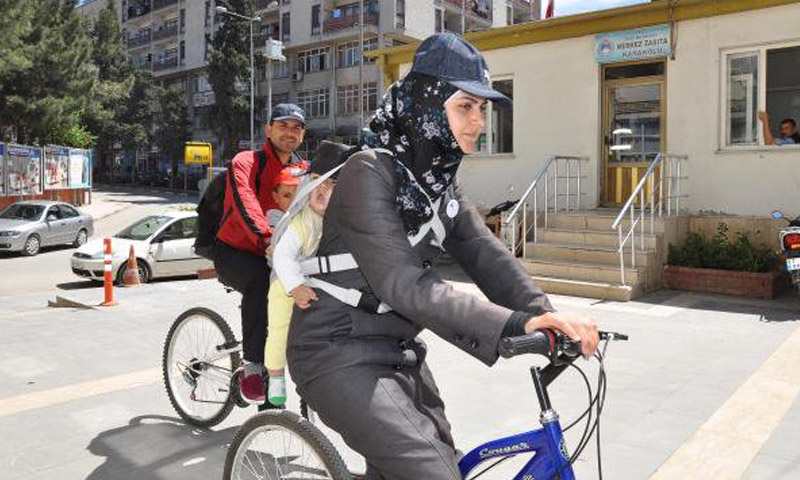 Syrian youth Mulham al-Seid and his family are travelling across Turkey by bicycle toward the capital Ankara to thank President Recep Tayyip Erdogan for the "efforts he's made for Syrians."
The trip began from Mardin province around two weeks ago, with the family stopping in the city of Gaziantep on Monday, April 18, to meet the deputy mayor of the city of Nizip, Salih Uyghur, where Mulham delivered his request and the message he will present to the Turkish president, according to the Dogan news agency.
Accompanying Mulham on the long trip are his father and his wife, Mai Burseini, and their children Hamza (3) and Huzaifa (six months).
The total distance the family will cover is around 1,042 kilometers – the journey takes a car on the international highway about 11 hours.
Mulham said that the trip aims to "thank the Turkish president for his response to all the requests from Syrians and his support for refugees." He added: "We will apologize on behalf of all Syrians who have made mistakes. The trip is exhausting, no doubt, but beautiful. We thank the Turkish people for all the welcome we've received everywhere we passed through."
For his part, the deputy mayor of Nizip thanked the Syrian family, describing them as "the family that went out without waiting and without any request from anyone … their only aim is to meet the Turkish president and thank him by way of a tiring journey. I thank this family."
A number of Syrians have tried to meet the Turkish president, most recently Rowda Nour Jumaa (20) who realized her dream of meeting Erdogan in the presidential palace in Ankara last October 29. Turkey's cabinet gave her Turkish citizenship last month, based on her efforts to learn the Turkish language during a short period and her dream of becoming a worldly politician.
This article was edited and translated by The Syrian Observer. Responsibility for the information and views set out in this article lies entirely with the author. 
if you think the article contain wrong information or you have additional details Send Correction