Women of the Syrian Revolution gather in Turkey for International Women's Day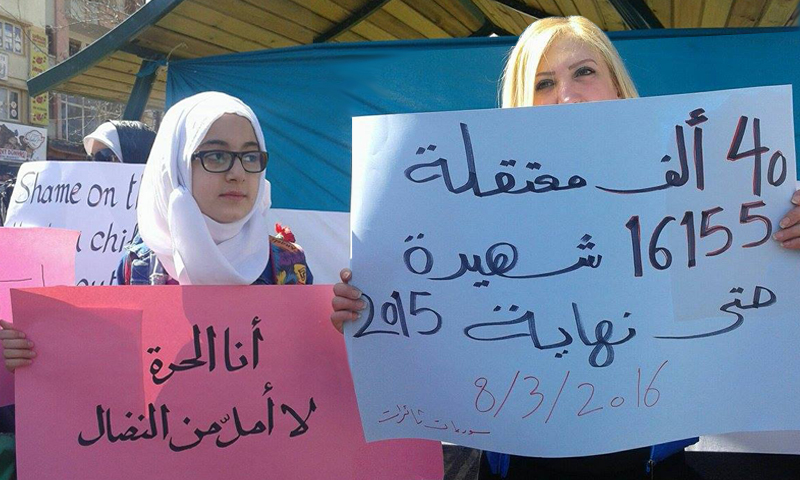 To mark International Women's Day, a group of Syrian women organized a solidarity rally on Tuesday March 8th in the Turkish City of Gaziantep.
According to a statement from the group that Enab Baladi received a copy of, "a group of women from all over the world gathered to remember the first strike of American female workers at the beginning of the past century, which was the beginning of a struggle for political, social, and economic rights for women in all the world's nations."
The statement continued "a number of Syrian women gathered on land that wasn't our own, hearts heavy with concern for a country we hope to be reunited in, to commemorate five years of Syrian women's legendary resolve in front of the most notorious criminal regime humanity has known, one that has inflicted scourge and disaster on its own people and women. They gathered to demand freedom and salvation."
"In being the first to shout for freedom, Syrian women earned an honorable place," according to the statement, which noted that "60% of local revolutionary committees were women."
Although the increasing military element of the revolution has changed the role of women, "they continue to resist and pay a cost twice as high politically, economically, and socially," the statement added.
In its conclusion, the statement called on all the women of the world, and the organizations that work with Syrian women, "to say that our struggle is a struggle for freedom, and dignified freedom is a basic right of life," and called for "serious efforts to end our ongoing suffering."
if you think the article contain wrong information or you have additional details Send Correction