Aleppo Province Council Operating Out of Tent Near Azaz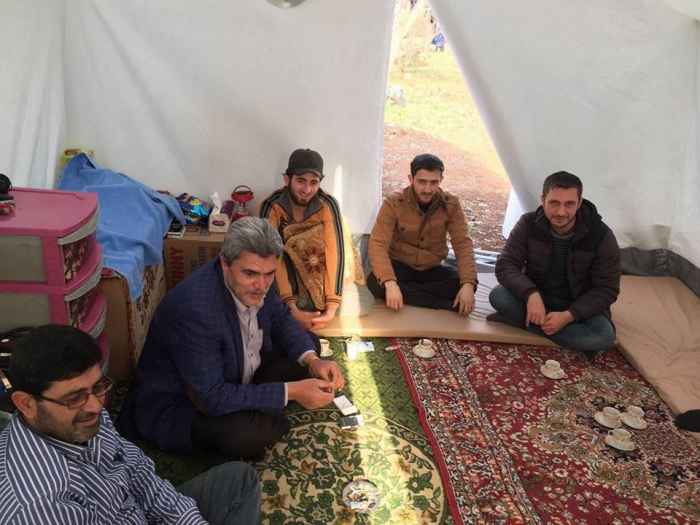 The Aleppo province council has been forced to leave its main base in the town of Hreitein and carry out its work from inside a tent east of the city of Azaz on the Turkish border after its members and their families were displaced from the northern Aleppo countryside.
Head of the council, Bashir Alitou, was displaced with a group of council members, from his house in the town of Tel Rifaat, which the Western-backed Syrian Democratic Forces seized in mid-February.
The most recent headquarters of the province council in Hreitein stopped work after the recent attack by Russian warplanes on the town and the villages of Andan and Beyanoun, coupled with the advance of Assad's forces in the area.
The displacement of the province council's team is not the first instance, as it was preceded by the displacement from its previous base in the town of Deir al-Jamaal, which the Kurdish People's Protection Units seized months ago, as a result of Russian aircraft targeting the base, according to the council's general secretary, Mohamed Fadeeleh.
Fadeeleh told Enab Baladi that the council is trying to start working from several bases dispersed throughout the province, adding, "We're now planning to open three offices: one in Azaz, where the governor lives, the second in Aleppo, and the third in the western countryside of the province."
For his part, Alitou explained the nature of the council's work in light of the new conditions, saying that after the displacement of residents from the villages of the northern countryside, it will focus on cooperation and coordination with humanitarian organizations "to provide as much as possible to the camps."
The head of the council said: "Our work is now in the field more than in the offices, so we share people's problems and concerns through our presence with them in the camps."
if you think the article contain wrong information or you have additional details Send Correction