Islamic Sharia: Military Brigades Reject Legal References and Insist on the Implementation of Sharia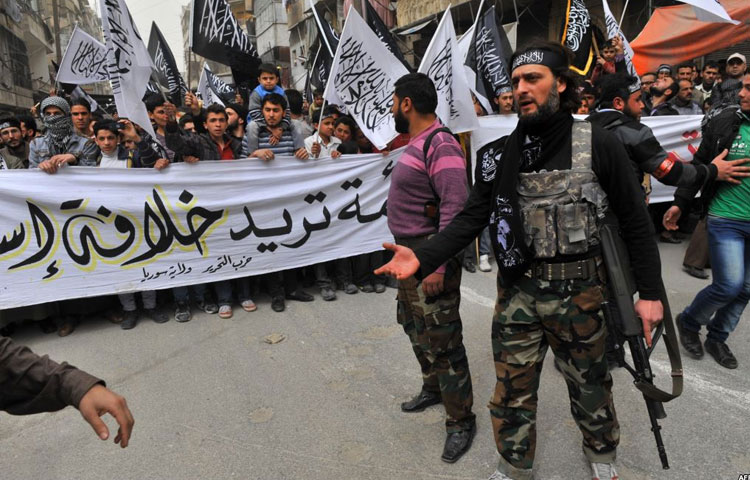 Certain brigades in Syria refuse the existence of legal references for the judiciary. They call for the sole use of Islamic Sharia in courts. They also reject the texts and registries which the judiciary and jurists use as references. They approach legal references and texts with the idea that "legitimacy cannot become canonical". In their opinion, every jurist adjudicates based on his vision and reading of the Sharia and he must study in depth issues pertaining to jurisprudence.
Jurists consider this approach as exemplary of "ignorance, arrogance and an exaggerated aloofness." As those factions are rejecting a science and the efforts of all the Umma's scholars and jurisprudents throughout history. In this regards, Dr. Zakariya Malahfji, a research expert in history and thought, explained that originally canonization was "undertaken by jurisprudential experts who recorded the essence of their experiences of jurisprudence to leave it as an inheritance (for those who proceeded them from students and trainees who were less experienced jurisprudents). They left texts and their experiences to serve as references for those who proceeded them."
Regarding the history of law during the Islamic state, al-Malahfji clarifies, "Throughout Islamic history, jurisprudence in law is delegated to those who are in the standing of Abi Hanifa or those who were of equivalent standing in their scholarship. Not every student was qualified to study jurisprudence and in-depth reading/interpretation from Sharia. Later during the time of the Ottoman Empire, during Sultan Abdul Hamid's rule, the "Journal of judicial adjudication" was issued. Major scholars participated in the publication and many Arab Muslim states adopted it that time. It served as a judicial reference. It was not considered a transgression on Islamic Sharia, but a record and canonization to regulate those who were of less qualification and so that adjudications were clear for judges.
Khaled al-Helou, assistant to the Minister of Justice in the Interim government, commented, "The origin of law is people's knowledge of it, and its values lies in its dissemination between people. Laws should not be implemented before they are broadcasted through media outlets in the country. It is not possible to try a human being by a law if he had no prior knowledge of its sentence. As Allah has said, 'We were tormented until we sent a prophet'."
The Syrian Islamic Council: There are no Scholars in Syria Qualified to issue Fatwas
Abdullah Al-Othman, member of the Syrian Islamic Council, argues for the necessity of adhering to one unified law. The multiplicity of fatwas, scholar's adjudications, and the four strands of Islam necessitate unifying legal texts to ensure justice, reject contradictions or multiplicity of adjudications.
The Council accepts the canonization of Islamic Sharia based on adjudications and fatwas that were the essence of jurisprudents' knowledge and studies throughout history. Especially in the absence of scholars in Syria qualified to issue fatwas. The Council approaches the journal of Judicial Adjudication as the creation of an elite of scholars during the Ottoman period as an example of the canonization they which to promote.
The scholars of the Syrian Islamic Council agree, along with most of the judges and jurists inside Syria on adopting the Unified Arab law that is 90 percent drawn from the Islamic Sharia and only contradicts it and is drawn from other sources in the remaining percentage. The implementation of the law should happen under the umbrella of the Arab League.
continue all topic:
Prominent Judicial Bodies Formed in Liberated Syria
The Phase of Regression: 'Sheikhs' Replacing Judges
Peoples' Courts in Autonomous Administrated Regions
Free Independent Syrian Judiciary Council
Three Authority References Warn of the Division of Syria
Syrian State Law: will its continued implementation help maintain the unity of Syrian territory?
Islamic Sharia: Military Brigades Reject Legal References and Insist on the Implementation of Sharia
The Unified Arab Law: Demands for its implementation as a Middle Ground between Syrian State Law and Islamic Sharia
Judicial Schemes and the Shape of Laws in Areas outside the control of the Syrian Regime
Judiciary in Aleppo is unable to counter the Hegemony of the Military
Rehabilitative Program for Prisoners in Aleppo
Deraa: The Judiciary Scheme, Shape of laws in it since its Liberation
Eastern Ghouta: Foundation of Independent Judiciary following Liberation
Judiciary is absent from Western Ghouta and Sharia Implementation in Qalamoon
Jaysh al-Fateh Promises to implement a Unified Judicial Reference in Idlib
Al-Nusra Front Controls Judiciary in Lattakia Countryside
Hama Countryside: Absence of Judiciary and Subordination of Khan Sheyhun court
Al-Waer court and resolving dispute by consensus in Homs
Judiciary in Deir ez-Zor terminated by ISIS
Attempts at founding Judiciary in Raqqa were terminated by ISIS
Judiciary System under Baath Rule
 How do Syrians value courts' performance and Judiciary in their liberated areas?
Killing Justice in the North of Syria
Higher Judiciary Institute in Aleppo: First Graduates in Liberated Areas
if you think the article contain wrong information or you have additional details Send Correction