Abjad Cultural Club Opens in Aleppo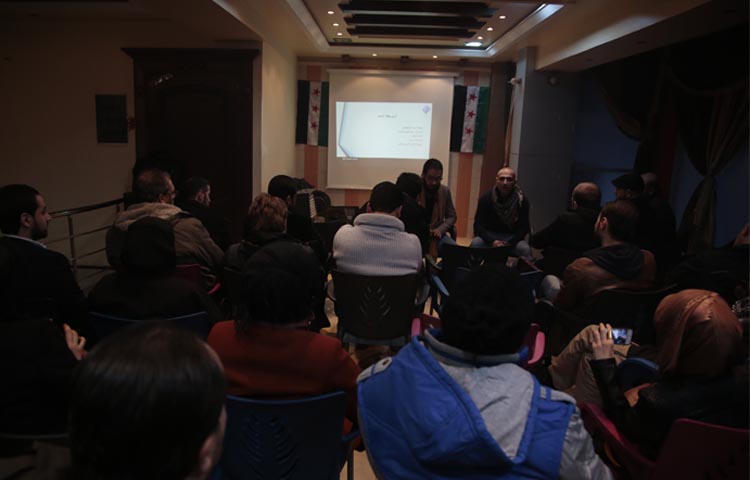 Enab Baladi-Aleppo
'The idea of Abjad club started two and half years ago in al-Sukri district in Aleppo. Back then Abjad was supposed to be a newspaper project in addition to a cultural club involved in revolutionary activity in literary, scientific and cultural ways,' member in the administrative council of the club and manager of 'a space for hope' organization in Aleppo, Ahmad said.
'Just before announcing the newspaper, the vehement shelling on the district where the club is located destroyed the first hall in the club and turned it into a heap. The dream did not come true,' Ahmad added.
He said the pioneers who founded the project insisted on making it successful. They met last year and planned to open a cultural club and started to equip the place in the last few months.
Abjad cultural club opened Friday 22 January with an ceremony which started in an opening speech about the club followed by poetry recitation by poet Yousef Musa.
The ceremony included a discussion of main challenges for theatre production in the revolution times presented by theatrical director, Salman Ibrahim.
Abjad has a library that contains approximately 600 books from different cultures. Abjad will organize weekly seminars and book discussions.
Ahmad told Enab Baladi Abjad hosts other activities like movie nights, and the priority is to exhibit 'activists' films'. In addition, Abjad will host a cinema festival every three months. The festival aims at encouraging and developing cinema production skills.
A specialized committee will judge the participating movies in the festival. The awards include the best film award, best text, and best direction. Club officers will organize championships in chess in addition to training workshops.
Activist Basel al-Ayubi expressed his admiration for the club saying, 'we missed being able to access cultural centres. Since brutal shelling campaigns launched on the district, we have not been able to connect in these ways. The significance of the club is that it targets cultured youth who missed poetry recitations, literature and reading.'
Ahrar ash-Sham Movement (Islamic Movement of the Free Men) stormed Abjad during the opening ceremony and detained club's director, Muhammed Qauas.
Ahrar ash-Sham y took him to 'Islamic police' station in al-Sukri district under the control of the movement. Later some revolutionary figures intervened and he was released two hours following his detention.
Abjad is the third cultural club in Aleppo after Jadal and Waraqa. These clubs aim at building awareness for the youth generation in order to rebuild the country and fulfil Syrian people's aspirations.
if you think the article contain wrong information or you have additional details Send Correction