The Night of the Fall: The First Drama Film to Depict the Fall of Assad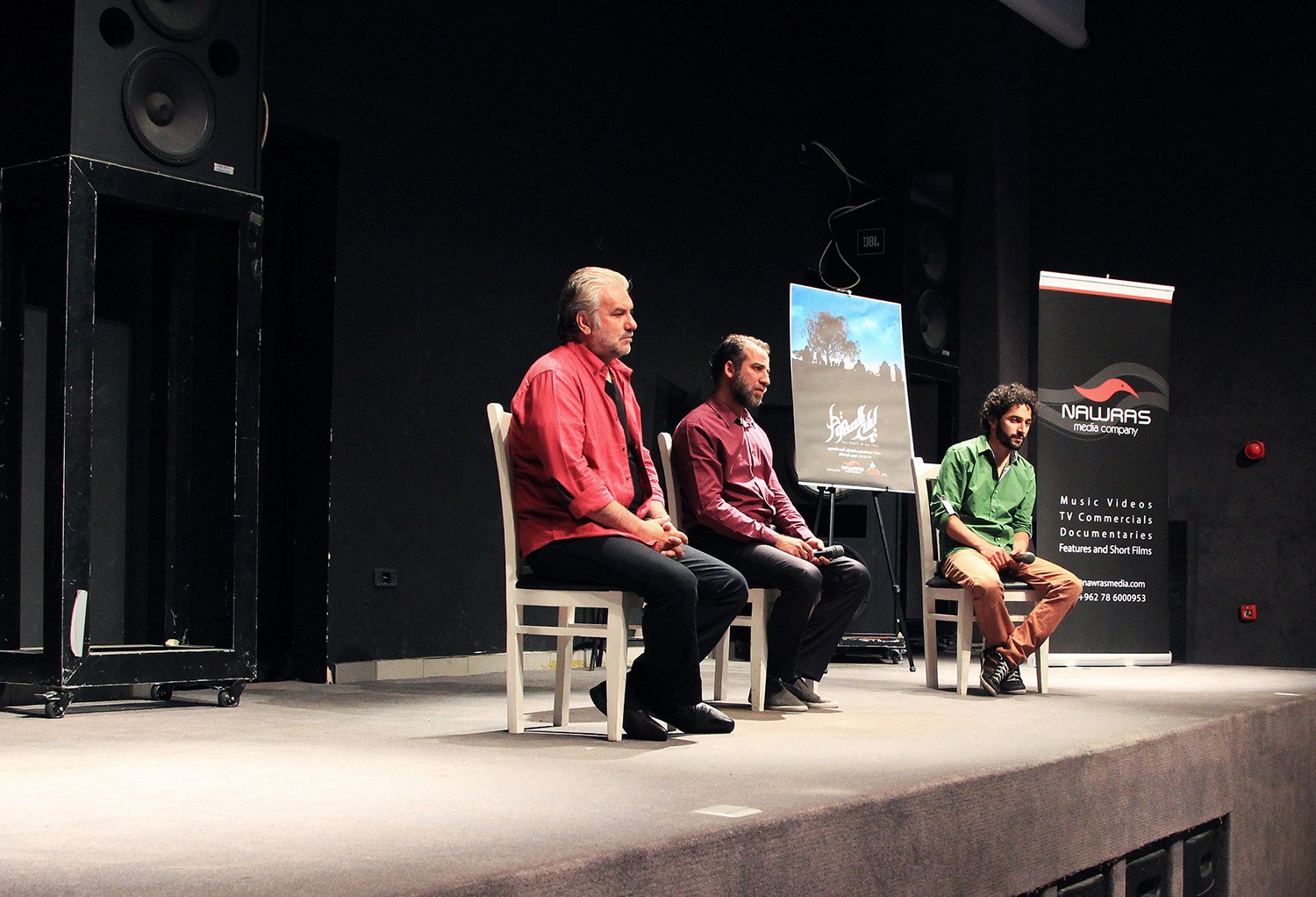 Enab Baladi Issue # 116– Sun, May. 11, 2014
Raghad Tayan
The Syrian revolution needs professional media to represent the Syrian reality faithfully. The revolution, however, lacks film industry as an effective weapon in defining the international point of view. In the past, some artists who oppose the regime tried to transfer the voice of the revolution via modest works, but they could not reach the desired level.
Laylat Al-Sokoot, or The night of the fall, is the first short drama film which discusses the falling of the reigning regime in Syria, starring the Syrian artist Abdul-Hakim Kotaifan and the Jordanian artist Ahmad al-Omari. Palestinian filmmaker Nawras Abu-Saleh worked on screenwriting and directing the movie. The actors were a group of Syrian and Jordanian volunteers.
The happenings of the film, which lasts for 23 minutes, discuss the night when the Syrian regime falls, and imagines the state of joy that would follow; it also recalls the history of the revolution by evoking different scenes that summarize to an extent the most important scenes in Syrian reality since the revolution started.
The debut was yesterday, Saturday May 10, in the Rainbow Art House Theater in the Jordanian capital Amman. The screening was followed by a discussion in the presence of the director and the film stars. The film will be screened in different Arab cities before it is published on YouTube, in order to be available for all viewers.
During the discussion that followed the screening, Abdul-Hakim Kotaifan stressed that he is happy with this new experience, and that he wishes for more films that would convey the message of Syrian people to the world at large. But he expressed his discontent because of the difficulty to provide the adequate fund for similar works.
"The experience of acting in The Night of the Fall was tiresome, but it is my honor to defend the case of any nation asking for freedom," artist Ahmad al-Omari said. Filmmaker Nawras Abu-Saleh in his turn clarified that his method of delivering facts was a humanitarian one, based on the dramatic element. He expressed his desire to introduce more works that relate to the Syrian issue.
Meanwhile, the audience reception varied in the screening room.Some applauded the film for its "accuracy, professionalism, and the hopeful mission it spreads." But one attendee criticized it for "its terrible clarity and its lacking of symbolism," and another for "its blurred plot."
Most attendees, however, agreed on the necessity to translate the film into different languages because despite its short length, "it could draw attention to a lot of scenes from the Syrian revolution in an interesting, humanitarian, and dramatic style."
if you think the article contain wrong information or you have additional details Send Correction