Latakia residents depend on firewood despite risks to health, life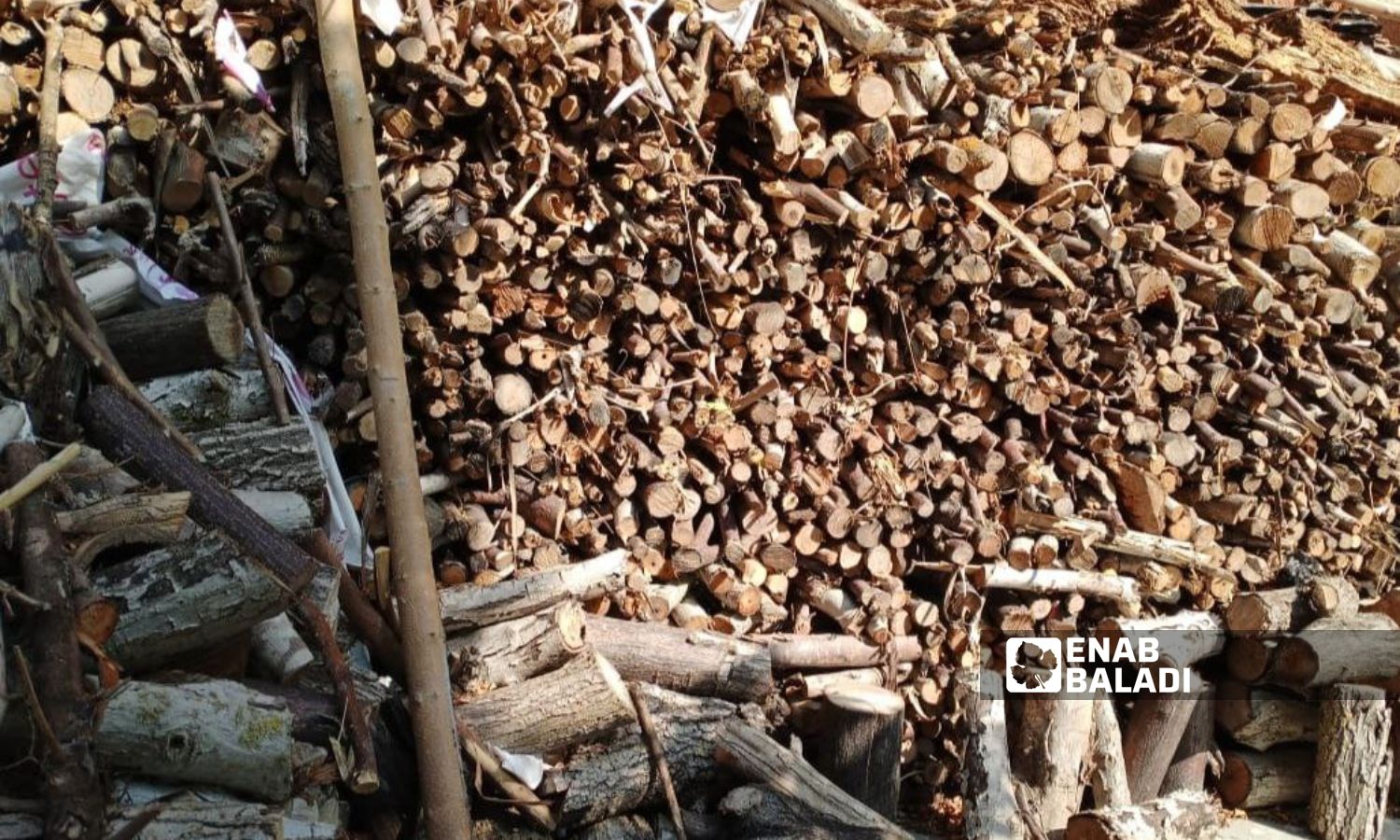 Latakia – Linda Ali
After much discussion with the seller, Abbas succeeded in purchasing 20 kilograms of firewood at a price of 3,000 Syrian pounds per kilo after the seller asked him for 3,500 pounds per kilo.
Abbas, 38, an employee in the private sector in the coastal Latakia province, said that he has no other choice but to buy firewood by the kilo and save it for the cold of winter, as the amount of 50 liters of diesel subsidized by the government is not enough for more than ten days at the maximum, no matter how much his family tries to ration it.
He added that diesel is available on the black market, but a liter costs 16,000 pounds, which is a very high price.
With a simple calculation, Abbas needs at least five liters of diesel per day, in order to provide warmth for his three children in the morning before going to school, and when the cold is severe, which costs him 80,000 SYP per day.
If he uses firewood, the cost drops to about 20,000 pounds, and although it is not a small amount compared to his salary, which does not exceed 500,000 pounds, it is still the best available option, as he told Enab Baladi.
In Latakia, as in all of Syria, firewood is an alternative option for heating, but it is expensive, carries health risks, and causes fires and property damage. People resort to it and buy it by the kilo due to the financial inability to buy it by the ton at a time when residents in regime-controlled areas are accustomed to waiting for their allocations of heating diesel, with less hope that they will receive it.
The allocation of heating diesel per family for last winter amounted to 200 liters, distributed in batches of 50 liters each, but annually, with every announcement of the amount of allocations, citizens complain that they only received the first batch, while many of them received their share after the end of winter, according to what Enab Baladi monitored.
The minimum salary for workers in the public sector is about 186 thousand Syrian pounds ($1 is trading at 13.850 pounds).
One ton costs 3.5 million pounds
Magda, 42, a public sector employee who works part-time as an extra job, has no choice but to buy firewood and diesel in preparation for the coming winter. Warmth for the family is a dire need given her daughter's sickle cell disease, which requires constant heating; otherwise, she will be vulnerable to many setbacks and continuous pain.
Magda succeeded in purchasing 50 liters of diesel at the beginning of the summer from the black market at a price of about 8,000 pounds at the time, while today the price ranges between 16,000 and 17,000 pounds and sometimes 18,000 pounds, which she cannot afford, as she is the sole breadwinner for her family, which consists of two teenagers and an 11-year-old girl.
In addition to the diesel fuel that she bought, Magda decided today to buy a ton of firewood, but she did not realize that its price had risen to this extent. She asked several merchants and found that the price ranged between two and three million pounds, depending on its type, so she started buying it by the kilo at a price of 3,500 pounds, and this will force her to buy a wood-burning heater at a price exceeding 175,000 pounds.
Magda said to Enab Baladi after a sigh of sorrow, "The ability to secure living expenses has become impossible. We no longer know what to pursue: food, heating, or transportation fees."
The price of a ton of firewood rose from one million pounds last winter to 2 million pounds in mid-September, reaching about 3.5 million pounds today for completely dry types, as a result of the increased demand for it with the approach of winter and the lack of allocations for heating diesel.
Forests are desecrated
A large number of people were waiting for the olive season to prune the trees after the end of the harvest and to benefit from them for heating, but the scarcity of the olive season this year forced them not to prune so that the trees would not be damaged next season, which led to this group losing its logs.
Fouad, 45, a government employee, has been using his time after work for about a month to search in his village in the Jableh countryside for any firewood in the nearby forests and save it for the winter, despite his great fear that someone might report on him.
"We want to keep warm, so what should we do?" Fouad said, adding, "I am not the only one who does this. Sometimes, my neighbors and I go out to look for firewood, as we have no other alternative."
Abu Salim, 58, a firewood merchant in Latakia, justifies the high price of firewood with the great risks involved in harvesting it. He said, "If we are arrested, we will pay all the money we have until we are released."
Firewood trade is not prohibited in Syria, provided that the merchant does not resort to cutting down trees in forest areas belonging to the state, meaning that the firewood should result from uprooting trees from his land, for example.
This is what often raises "corruption" because if any firewood merchant is reported to the relevant authorities, he will be interrogated to announce the source of his firewood, and here he may be exposed to blackmail if the source of the firewood is forest lands, according to the merchant.
The merchant indicated that he buys firewood from some farmers who uproot their trees, especially citrus trees, adding that the price of a ton of firewood from lemon trees from his land is 1.5 million pounds, and with transportation fees and adding profits, its price ranges between 2.5 and 2.8 million pounds, while oaks are considered the most expensive and reach about 3.5 million pounds.
According to Article 32 of the Forestry Law, anyone who uproots, cuts, or destroys trees in the state's forests will be punished by imprisonment from six months to two years and a fine between 500,000 and one million pounds.
There are always ways to circumvent the laws when the violator is "generous" in paying, which is common in Syria.
On the other hand, many people attack the imposition of a penalty on those who carry out wood cutting because how would Syrians get warmth in light of the high price of diesel and its scarcity, and the harsh power rationing at a rate of one hour of electricity for every five hours of cut, with the people's expectations that rationing will increase during the winter, as electricity was available for only a quarter to half an hour last winter.
"Its protector is its thief"
The head of the forestry department in the Latakia Agriculture Directorate, Jaber Saqqour, told the local newspaper, al-Wehda, on October 5 that they face a challenge with a shortage of personnel, which leads to not achieving full protection of forests.
He added that the number of forest control elements does not exceed 136, which is a number that cannot cover even a small part of the region's geography.
There is a common belief in Latakia that "The protector is the thief," meaning that the forest police officers are the same ones who work in "logging" and selling firewood. Government salaries do not cover a small part of the basic needs, which opens the door to corruption for male and female employees.
Although there is no concrete evidence for these accusations, many residents confirm the matter, and some of them say that a number of elements facilitate the tasks of firewood merchants in exchange for a cash benefit.
According to Saqqour, the Agriculture Directorate sells each family a ton of firewood at a price of 500,000 pounds, but obtaining it is very confusing, as it requires a long time and many procedures, amid accusations of selling these quantities to firewood merchants, so that they can benefit from them.
The price of 500,000 pounds is not considered small for the majority of Syrians, as a result of the bad economic conditions, as the amount is equivalent to two and a half salaries for a public-sector employee.
It is expected that the ton of firewood will rise to 5 million pounds with the actual start of the winter season, and the need for the material increases, which means an increase in demand for it.
On September 1, the Ministry of Oil and Mineral Resources in the regime's government announced the start of registration for heating diesel for the winter, starting with an amount of 50 liters as an initial batch for each family, without announcing the amount of batches allocated for the winter season.
The Ministry's statement stated that priority for delivery after registration will be for families who did not receive their allocations during the last season, and this is determined based on the last purchase of heating diesel.
Deaths due to wood stoves
Relying on firewood as a heating material causes damage and death as a result of inhaling the smoke emitted or the outbreak of fires.
Although there are no official statistics on the number of victims of wood-burning stoves, hardly a year goes by without news of deaths spread as a result of suffocation by a wood-burning stove or as a result of a fire caused by a firewood stove.
In 2019, the head of forensic medicine in Tartus, Ali Saif al-Din, said that two brothers, a 10-year-old child, and a toddler, died as a result of a fire that broke out in their house in the village of al-Mjaidel in the countryside of the Sheikh Badr region, after being exposed to severe burns.
Samir Shamma, commander of Tartus Fire Brigade, said the cause of the fire was a wood-burning stove.
A pulmonologist, who preferred to remain anonymous, told Enab Baladi that exposure to a wood-burning stove is quite similar to smoking, as inhaling its smoke contributes to its deposition in the lungs, just as smoking does.
The physician added that although firewood is the only option for heating, it is not desirable at all, and he advises using a fireplace because it is designed in a safe way, pointing out that he realizes how high the price of a fireplace is but scientifically, it is the least harmful compared to the heaters currently widespread.
He also warned asthma patients against exposure to a wood-burning stove or sleeping in the room where it exists, even after turning it off, adding that a wood-burning stove in the long term could lead to lung cancer or accelerate its appearance if it is present, and is also one of the causes of clots and vascular problems.
The doctor confirmed that there is no safe way to use a wood-burning stove, but there are some procedures that can be followed to mitigate its damage, such as leaving an air vent, such as opening the window slightly, ventilating the room at a rate of once every hour, and trying to go out and breathe the air outside, even if the weather is cold, pointing out that "exposing yourself to a cold is much better than basking in the warmth of a wood-burning stove."
The doctor concluded that you must ensure that the firewood is completely dry before purchasing it, meaning that it should not be used for heating before a full year has passed since it was cut.
if you think the article contain wrong information or you have additional details Send Correction