Child content creators isolate kids from their real social environment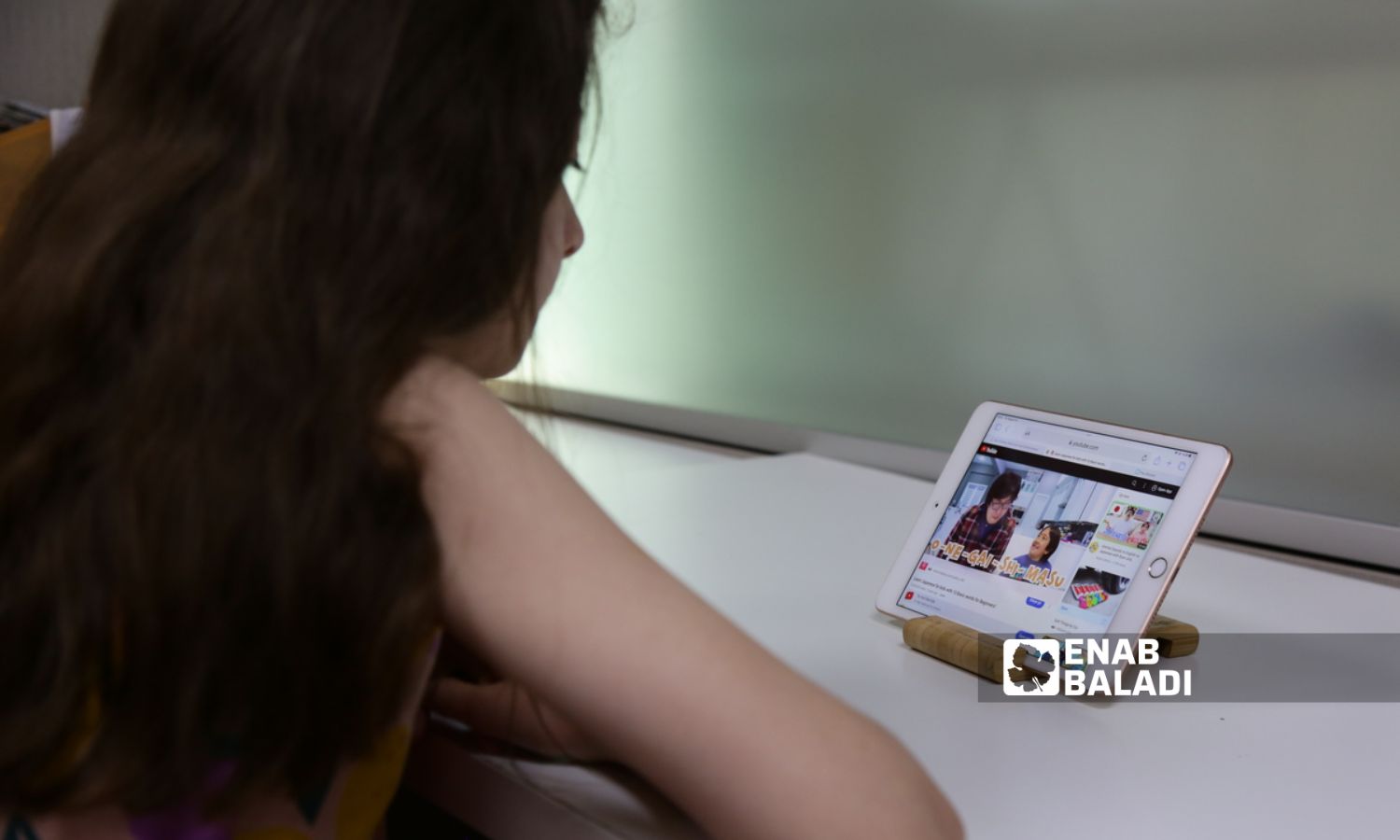 Enab Baladi – Fatima al-Mohammad
At young ages, content creators appear on the screens of their smart devices, sharing with their audiences, whether through video recordings or live broadcasts, their entertainment activities, games, celebrations, and some of their life circumstances and events.
These recordings, which have received millions of views, include conditions of luxury and extravagance and may be a dream for children and families in a reality exhausted by fatigue, poverty, and long years of war, which threatens to leave a negative impact on the behavior and psychological health of the children watching.
In this report, Enab Baladi discusses the impact of this digital content on the personality of Syrian children, their behavior, their acceptance of their society, and the best way for parents to deal with them.
Complains, Influence
Children are active on YouTube and other platforms, showing video recordings of various recreational activities within luxuriously furnished homes, traveling to different places, holding lavish parties, and buying and displaying toys.
Fatima Bakir, a Syrian mother of four children, told Enab Baladi that her daughter, at the age of four, began watching video clips on YouTube by young Arab and foreign bloggers without feeling any harm from that until she noticed bouts of anger, dissatisfaction, and behavioral and personality changes in her.
She added that she noticed changes in her daughter's requests, including an increasing desire to buy expensive toys and hold a specific-style party like the one done by the video blogger her daughter follows.
The state of complaining and anger for the little girl increases with any refusal or failure of the mother to fulfill or purchase the desired request, despite the family providing her with toys and basic necessities.
Fatima, who lives in Hatay in southern Turkey, noticed the waves of sadness and anger that were affecting her child, in addition to her lack of appetite for food, regardless of her favorite food, and she tried to enhance dialogue with her after understanding the nature of the problem occurring, that what she saw was different from reality. She reduced the hours of viewing and directed her to more useful content.
The situation of the five-year-old Remas is similar to Fatima, as she spends a long time on YouTube, which is reflected in her behavior, as she performs strange behaviors, some of which do not fit with the family's culture and customs.
Remas's sister, the young woman Rayan Tamro, told Enab Baladi that her sister used to spend her time playing with family members or with the neighbors' children, but since she started following child YouTubers, she no longer feels satisfied and began to imitate everything she sees, and asks for a specific type of food and refuses others and wants to go to places they did not know before.
Rayan mentioned that her sister used to show them pictures of the toys she saw on YouTube and ask them to buy them, noting that if the request was refused, she would say that the family members did not love her.
"A gap and change in identity"
Psychologist Nour al-Mohammad told Enab Baladi that it is important for families to realize that the Internet has provided great openness to diverse cultures and societies with different values and principles and that what is considered inappropriate in one society is completely normal in other societies.
Al-Mohammad added that this difference in values led to the leakage of negative values and their reinforcement with this type of content, and material and consumer values and unhealthy behavioral and nutritional habits have become very widespread among children today.
The psychologist believes that the difference in the living and cultural situation between the reality of the content creator and the follower has formed a large gap between the child and his reality and has created anxiety and a sense of guilt and negligence among the parents in their attempt to please their children and bridge the gap.
The psychologist considered that the child's lack of awareness due to his lack of sufficient mental judgment to filter and classify this content constitutes a great danger to him and leaves negative physical, psychological, social, and cultural effects that harm the child's development.
Internet content that is far from reality affects the child's identity. The influencer, the content maker, and the means of communication shape children's identity and beliefs, how they dress and eat. This long-term effect cannot be seen directly, and here lies its danger.
Nour al-Mohammad – Psychologist
The psychologist pointed out that the percentage of children suffering from mental disorders and diseases has risen to 20%, which is a "frightening" percentage, as the psychologist described it.
She stated that these disorders include depression, anxiety, distorted body image, and eating disorders.
The psychologist added that recent studies have proven that children exposed to social media suffer from behavioral problems, severe mood swings, and tantrums.
This is also accompanied by problems with concentration, isolation from reality, low self-confidence, quick deception by appearances, and problems with self-esteem and social skills.
Physically speaking, these children suffer from poor vision, migraines, fatigue, and cognitive problems, according to the specialist.
Reality rejection 
The assistant fellow at the Omran Center for Strategic Studies, Hala Haj Ali, told Enab Baladi that a child who sees this ideal image in video clips develops a state of rejection of the society in which he lives because it is less than this image.
This child is not able to analyze the content in a proper way like adults who recognize exaggeration and fakeness, realize the existence of "filters," and refilming the video several times to come up with this perfect and wonderful image.
Haj Ali added that this leads to the formation of hatred towards the surrounding community because it is unable to provide such an ideal environment.
Much of the visual content has become meaningless, and the culture of consumption and the pursuit of luxury, danger, and adventure, which attract the attention of children, has strengthened.
Children's rejection of their reality translates into rebellion against their parents or a type of undesirable behavior, or it can cause a state of isolation from the outside community, whether school, friends, or relatives. The girl or boy child may reject the lifestyle in which they grew up and lived, said Haj Ali.
Omran's fellow warned that recent statistics showed that watching this content repeatedly causes children to decline interacting within classroom lessons and a decline in their academic level in general, in addition to atrophy in thinking skills.
Awareness of the problem is half the solution
Psychologist Nour al-Mohammad stresses that the most important step in treating the problem is awareness of it, pointing to the necessity of using techniques to manage the content that the child watches. Just as there is negative content, there is also positive content that the child can watch in moderation.
Parents must set a period of time for the child to use smart devices in agreement with him, review the content before watching it, and use modern technologies to activate parental control over the content of YouTube and other sites that the child uses, al-Mohammad told Enab Baladi.
The child must also be encouraged to mix with the outside world, build real friendships, and develop his critical sense by asking him about his opinion and feelings and what is right and wrong with this type of content. Adults should talk with the child in a simplified way to build his awareness about the negative effects of the content, and real and effective communication between the parents and the child contributes fundamentally to building his character and protecting him.
Ads under the guise of entertainment
The European Commission says that around one in three Internet users is a child and that these children are accessing the Internet at a younger age than ever before through a variety of devices.
Children spend a lot of time online, browsing social media, playing games, and using mobile applications, and this often happens without adult supervision, the Commission confirms.
An exploratory study by Kara Chan of Hong Kong Baptist University in 2021 on 30 children between 10 and 12 years old revealed that most children are unable to distinguish whether videos include advertisements or understand the presence of an intention to sell and promote the product.
These ads influence children by providing enjoyable content so that children make an unconscious decision to buy it, and the rate of purchasing the product among children is higher when the blogger displays it in the video.
The children participating in the study reported that they would ask their parents to buy the product or brand after watching it in the video clip.
The study found that some children buy specific products after watching entertainment videos promoting them and negotiate with their parents to fulfill their purchase requests in exchange for academic excellence or a specific achievement.
if you think the article contain wrong information or you have additional details Send Correction