"Back to School": Syrian parents suffer as studying supplies out of reach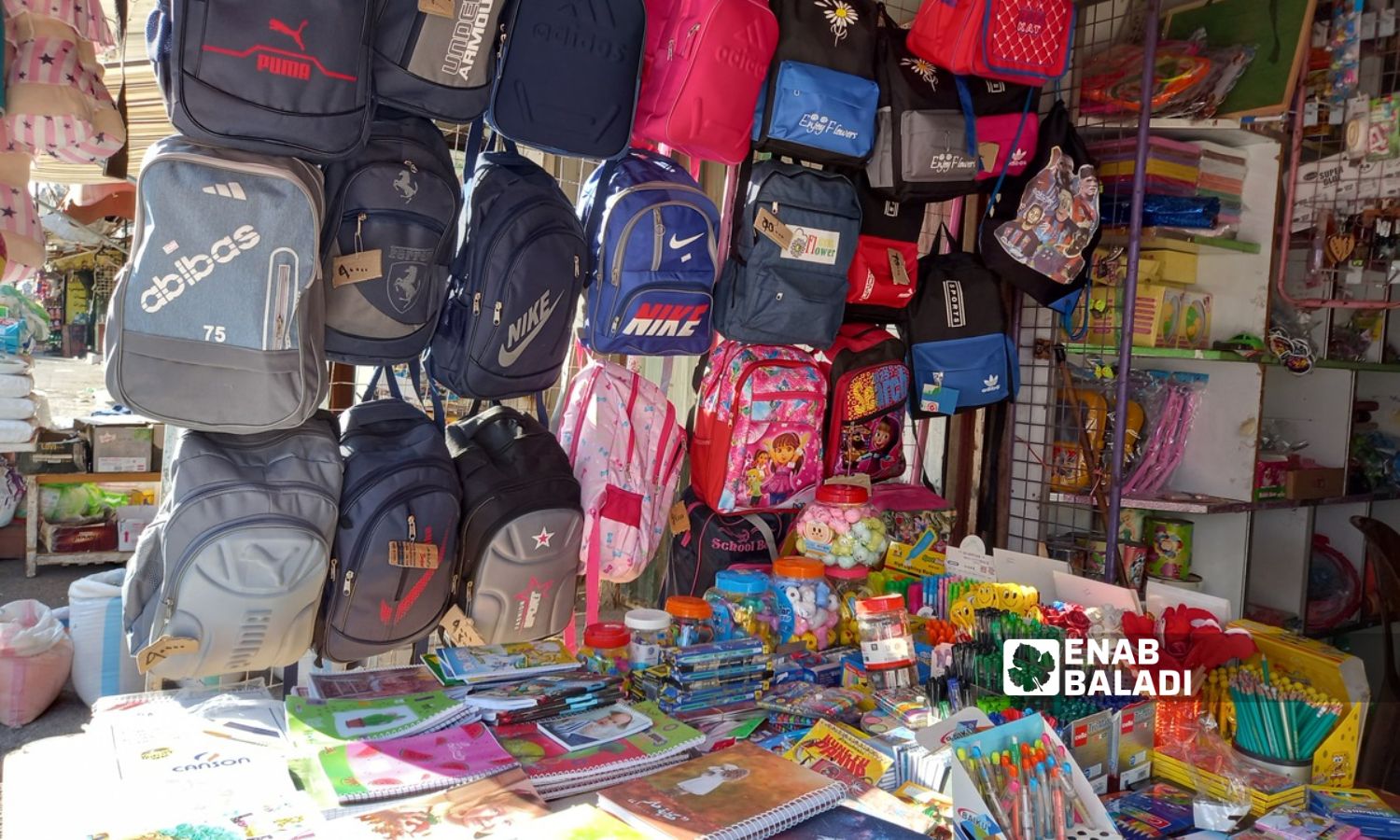 Enab Baladi – Baraa Khattab
The 45-year-old Ghada al-Sarfi returned to her home in Damascus empty-handed because she was unable to buy her children's supplies of stationery and school bags due to the high prices, as the price of a large notebook for her daughter, a primary school student, reached about 7,000 SYP, and the price of a regular notebook reached about 3,500 SYP.
Al-Sarfi, an employee in the state-run Commercial Bank in Damascus, with a monthly income that does not exceed 147,000 SYP, went around many stores to buy school supplies for her children and was surprised by the double price hike, as the price of a regular bag ranged between 100,000 SYP and 175,000 SYP, and it was of poor quality.
The mother went with her friend to a factory that manufactures bags, as she heard from one of her friends that the prices of bags in it amount to about 75,000 SYP, and she bought two bags at a price of 145,000 SYP. Al-Sarfi told Enab Baladi that it is a better option despite the poor quality of the bags.
Stationery stores witnessed a great stagnation with the approaching start of the new academic year due to the high prices of stationery and school bags and the inability to purchase them.
At least half a million SYP to equip a student
Wissam al-Masalmeh, an employee in Daraa governorate and a father of five children in the primary, preparatory, and secondary stages, spoke to Enab Baladi about the huge difference between his salary, which does not exceed 115,000 SYP, and the "extremely high" price hike, pointing out that his salary is not enough to buy shoes for one of his children.
​​($1=13,750 SYP) according to the S-P Today website, which covers the trading rate of the Syrian pound to the dollar.
Al-Masalmeh said that preparing each of his children for school costs him about half a million Syrian pounds, on average, if the purchase is modest, according to his description, without buying stationery and shoes.
He added that the school supplies for his children are equal to his work of five months or more, but he has many obligations, including food, paying bills, and many other things that must be taken into consideration during daily life.
The public employee added that the equipment available in his financial situation is not practical, and the cheapest school bag costs 120,000 SYP, which is of poor quality, and the cheapest notebook costs 4,000 SYP.
For his part, Jamal Zain al-Abidin, the owner of a stationery shop in Daraa, justified to Enab Baladi the rise in prices between last year and the current year by the rise in the exchange rate of the US dollar against the Syrian pound, which witnessed a historic low against the dollar that reached 14,000 SYP.
Zain al-Abidin explained that sellers are unable to reduce the prices of stationery, "especially since we cannot compensate for the loss, because the exchange rate is changing," adding that the price hike has doubled from last year and then doubled again in some supplies.
He added, "There is no demand for buying school supplies this year because of their high prices and the markets have not witnessed such stagnation before, and the prices are not suitable for low-income people, despite the increase in salaries because they have risen dramatically," and few residents go to the market where some of them ask about prices only without buying.
Al-Baath newspaper, the mouthpiece of the ruling party, quoted shopkeepers in the coastal city of Tartus as saying that the high cost of school supplies and the chaos in prices are due to the global rise in paper prices and the "exorbitant" financial costs imposed on the merchant by the main supplier, thus controlling the market and imposing whatever he wants.
The same applies to school uniforms and the rest of the stationery, such as pens and others, said al-Baath.
The price of a pen and pencil reached 4,000 SYP, which is four times its price last year. As for the eraser and sharpener, the price of each piece was 1,500 SYP, according to the owner of the stationery shop.
Flexibility in checking school supplies
In southern Daraa governorate, the teacher, Siham al-Rifai, indicated that most students cannot allocate a notebook for each course.
Al-Rifai confirmed to Enab Baladi that she and all her colleagues do not impose needs that the student cannot secure because of the families' financial situation.
The teacher gave an example that the students of the first stage need three notebooks of 100 sheets for almost the entire year, and a notebook of 200 sheets for all Arabic subjects such as reading, spelling, grammar, written composition, and poetry, and two 100-sheet notebooks for mathematics, science, physics, and chemistry for middle school students.
Before the economic crisis left by the war, teachers used to require notebooks for each course, but now, with the deteriorating financial conditions, teachers have become more flexible in this matter, as they accept dividing one notebook into more than one subject while pens are limited to the blue pen.
With regard to school uniforms, the Ministry of Education showed flexibility in checking them and accepted any clothes available to students, according to the school.
The Ministry of Education in regime-controlled areas previously issued a circular on August 22, 2021, not to stress the school dress code and allowed the school principal to accept any close or suitable dress while being satisfied with the minimum school stationery.
Al-Rifai added that all male and female teachers do not impose any needs on their students, as was the case before 2011, but rather try to negotiate with the administration permanently to ease their burden and not make too many requests from students and ignore some of them when they bring two notebooks for all subjects.
Jumana al-Hassan, who lives in the Golan camp in Daraa, justifies her 14-year-old boy dropping out of school due to high prices, poor living conditions, and her inability to meet her children's school needs.
Al-Hassan told Enab Baladi that she used to work in a clothing store in the city of Daraa, but it was closed recently without giving any reason.
Al-Hassan is a widow and a mother of two children. One of her children works as a carpenter in the industrial zone, and the other is a third-grade student. She is trying to secure for him what he needs for the school year, including notebooks, pens, colors, and bindings for books and notebooks, as the price per meter has become 4,000 Syrian pounds.
What her son earns is not enough for their daily sustenance, and some people who have old bags or school clothes are trying to help her by securing what is left to complete the basic supplies for her son.
This situation does not apply to al-Hassan only but also to many of the families that Enab Baladi interviewed, as most of them suffer difficulty in securing their needs, especially the supplies that guarantee them continuity in school.
The prices of school clothes for middle and high school range between 70,000 and 100,000 Syrian pounds for a normal shirt. As for the good type, the price of a shirt reached 150,000, and the price of pants exceeded 100,000 pounds, depending on the type and quality. As for the school jacket, it is very rare to find it in the market because it is not worn.
The price of school uniforms for the primary stage reached 50,000 SYP for the regular type and exceeded 70,000 SYP for the good type.
Hanadi al-Jamous from Dael town in the countryside of Daraa, a mother of three children and a widow for seven years, told Enab Baladi that two of her children are in elementary school and the third is in middle school.
Al-Jamous cannot buy school supplies for her children because there is no work to support them, and at the beginning of each school year, a financially capable family secures these school supplies for them, she told Enab Baladi.
She gets help with some money from her relatives to meet the basic needs of her children, saying, "I find it very difficult to meet all their requirements throughout the year, so sometimes I have to buy for them on credit and then pay when I get some money."
The prices of school clothes range between 500,000 SYP and 600,000 SYP for middle and high school, according to what Sahar al-Attar from Daraa governorate told Enab Baladi.
Al-Attar contented herself with buying shirts only for her children, saying, "Because of the high cost this year, I and many of the families will not adhere to the full school uniform."
On August 15, the head of the Syrian regime issued a decree stipulating a 100% increase in salaries and fixed wages for state workers. This increase was accompanied at the same time by the Ministry of Internal Trade raising fuel prices, which also led to an increase in most types of commodities.
According to the exceptional Qasioun index of the Popular Will party, the cost of living in Syria increased by 58.3% from the beginning of last July until the second half of August.
The average cost of living for a Syrian family consisting of five members was 10.3 million SYP, and the minimum wage for a worker was about 185,000 SYP, which is equivalent to $12.6 per month.
if you think the article contain wrong information or you have additional details Send Correction