Syrians cannot afford their children's back to school supplies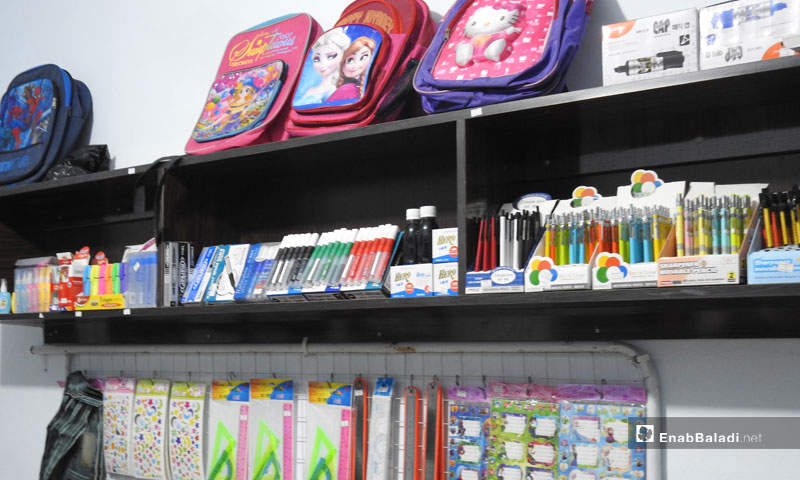 Enab Baladi – Zeinab al-Masri
As governorates throughout Syria prepare to kick off 2020-2021 school year early next September, Syrian people find themselves in an unfair confrontation between the high costs of school supplies and uniforms that they must pay for their children, while their monthly income or salaries barely meet the basic needs, amid uncontrolled inflation and price escalation.  
With a monthly salary of 67,000 Syrian pounds equal to about 31 US dollars (1 USD = 2,120 SYP), Mazen Mando tried to provide for his family of his wife and five children, through working in a factory in Hassia, south of Homs. 
Hunger or study?
Mando was unable to find additional work in order to ensure food supplies for the cold winter months, and stationery and back-to-school essentials.
Mando made a final decision that the back-to-school essentials are his last priorities because, as he told Enab Baladi that " feeding and keeping his children warm over the cruel winter is more important than sending them to schools."
Nahid Qajo, a mother of three children originally from the village of Farhaniya, north of Homs, is trying to calculate the costs of her children's school supplies, as two of them go to primary school while the older brother goes to middle school. 
Each one of them needs a minimum of three notebooks with pens and stationery, and they need new school bags because their old ones are torn, and with a quick calculation of the costs,  Qajo finds that she needs at least 150,000 SYP to be able to send her children to school.
 Qajo told Enab Baladi that school supplies have become very expensive, as the price of a 70-page notebook of a medium type is 700 SYP, and a school bag costs 14,000 SYP. "The cheapest" pen costs 200 SYP,  while the school uniform costs 20,000 SYP. This means that each child needs 50,000 SYP to be able to go to school. 
Stationery in installments
The prices of stationery items in the areas controlled by the Syrian regime have increased by up to 400 percent over the 2019 prices, and as a solution to "ease the financial burden on citizens," on 17 August, the Syrian Foundation for Trade announced that stationery items, school uniforms, and bags will be sold in installments, at a value of 100,000 SYP, to employees in state-owned institutions, without interest.
 Ahmed Najm, Director General of the Syrian Trade Foundation, confirmed in a statement to the local newspaper "Al-Watan," on 18 August, that school supplies are sold in installments for public sector employees only, with the beginning of the new academic year 2020-2021, for "easing the financial burdens on citizens, especially those with low incomes." However, the statement does not say that private-sector employees can buy school items in installment because "there is no possibility." 
Each government employee (whether he is a contractual or permanent employee) can buy schools supplies, bags and uniform in installment after he gets a copy of his printed payroll pay stubs by contacting the payroll department, provided that the school supplies are to be paid by the accountant in each institution. In turn, the accountant can transfer its value to the account of the Syrian Trade Foundation.
Najm added that the prices of the foundation are "competitive" and for half their price in the market, as they decrease at rates starting with 30 percent and reaching 50 percent for some products, indicating that they need time to know the indicator of demand for products, as sales are still in their infancy and the demand is gradually increasing.
Receiving requests for buying back to school supplies in installments have begun since 18 August. However, people's response to the decision was reflected in comments made by users on the foundation's Facebook page, arguing that the school items will not be available till the beginning of September. 
Users denounced the non-inclusion of private-sector employees in the decision. For instance, Heba al-Qudsi commented on the decision, asking: "What are the non-employees going to do, and are all Syrians employed?!" 
On the other hand, the employee, Areej Younes, asked in her comment about the possibility of including retired public sector employees in the decision.
The Syrian government underscored that students will not be held accountable for not wearing school uniforms in the new academic year, taking into account the living and economic conditions of citizens and focusing more on the educational process, as reported by the state-owned Syrian Arab News Agency (SANA) on 9 August of this year. 
The Minister of Education in the Syrian government, Imad al-Azab, denied the postponement of the opening of schools for the new academic year after news spread on social media sites, due to the novel coronavirus (COVID-19).
He added that the ministry issued health and safety protocols for the students' return to schools after it published, on 12 August, instructions for enrollment and admission to the first grade of high schools in the state schools for the new academic year.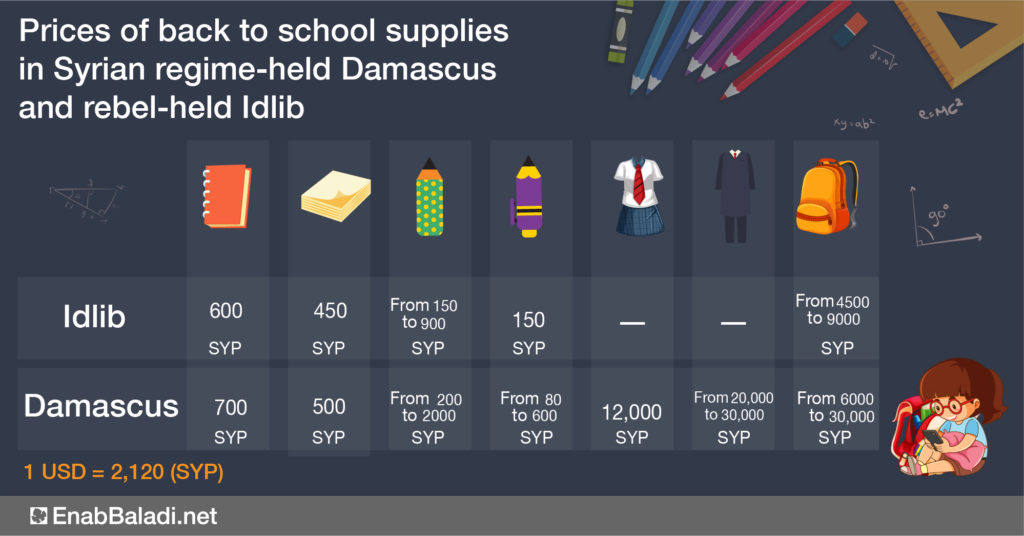 if you think the article contain wrong information or you have additional details Send Correction