Two Syrians recount horrors of migration journey through Libya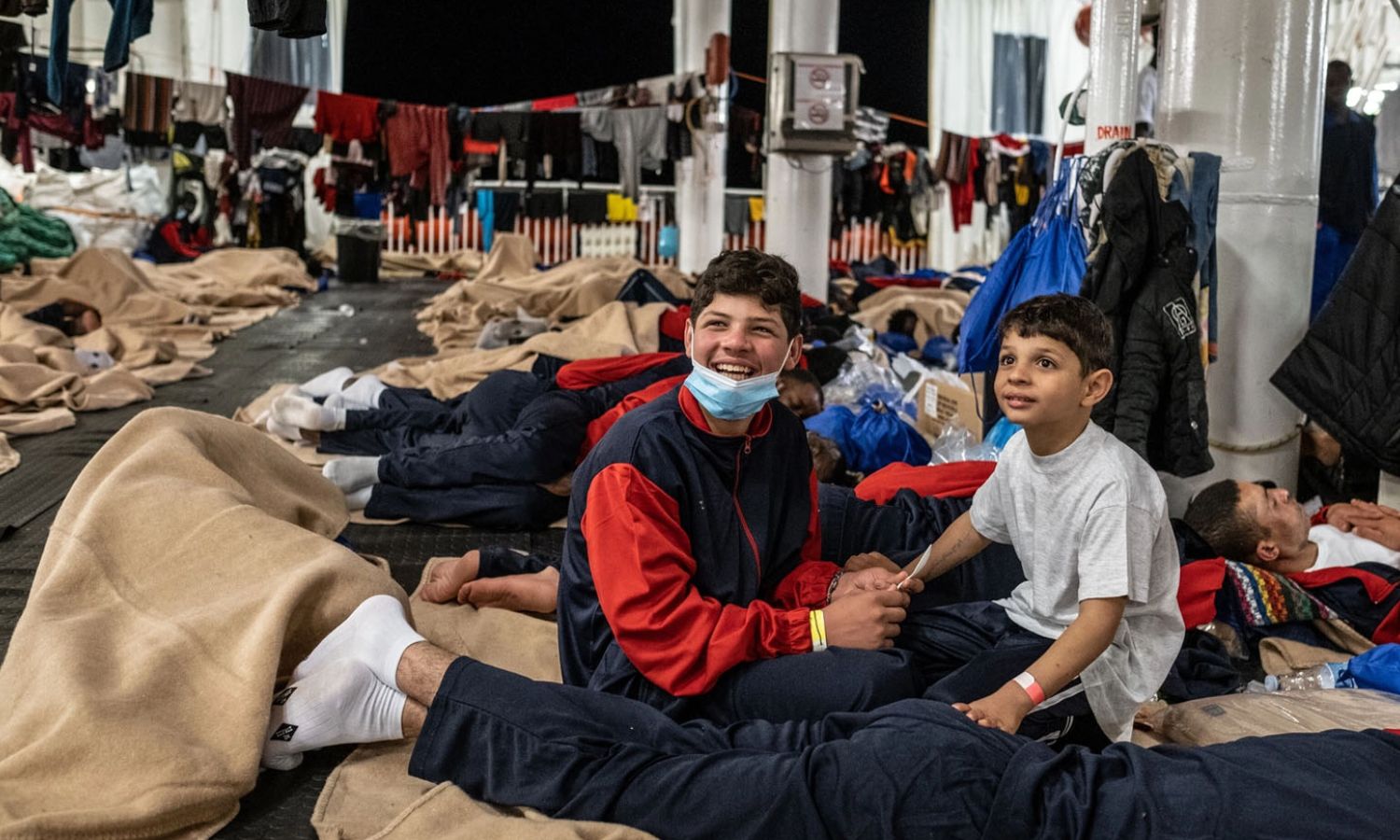 Enab Baladi – Fatima al-Mohammad
On their way to Europe, some Syrians took Libya as a transit corridor, where the division of power and the absence of tight security on the eastern coasts contributed to the spread of human trafficking and irregular migration across the Mediterranean.
According to information obtained by Enab Baladi from Syrians who took the road to Libya, the beginning of the road to Europe through Libya begins with Facebook accounts, as smugglers promote their services through them, and include all stages from entering refugees into Libya until transporting them by sea to Italy.
Insults and exploitation
Abd al-Salam, who refused to reveal his real name for security reasons, described to Enab Baladi his journey from Daraa to Italy, starting from the Syrian cities towards Lebanon, from there to Libya by air, and finally towards Italy by sea.
Abd al-Salam and a group of people set out from Daraa governorate towards the Lebanese border through a Syrian mediator, and he entered through the smuggling crossings, as he is wanted for compulsory military service.
In coordination with the mediator, who owns an office to organize his work in Daraa, he booked airline tickets to secure the group's arrival to Libya, by air, from Rafic Hariri Airport in Beirut.
The amount agreed upon was six thousand dollars for an adult and half of the value for children under six years old. When we arrived in Libya, we were surprised by the bad situation, and a long and arduous journey began, full of humiliation, mistreatment, and cash extortion.
Abd al-Salam, a Syrian refugee who crossed from Libya to Europe
During the time he spent in the eastern regions of Libya, Abd al-Salam felt that he was arrested or kidnapped, according to what he told Enab Baladi, as smugglers placed him in large warehouses where the total number of residents was close to 400.
In the Tobruk region in eastern Libya, where the warehouse is located, "the conditions were not suitable for human life," and it may only be suitable for animal husbandry, as the food "was very bad, and they used to take many times its price," according to Abd al-Salam.
As one of a group of hundreds, most of whom were of Arab nationalities, Abd al-Salam stayed for ten months in the warehouse waiting for his turn, as the smugglers used to organize the queue according to the seniority of the residents, and there were those who had been waiting for their turn for months since the warehouses were full.
Long waiting
Around two o'clock after midnight, and after ten months of waiting, Abd al-Salam was transferred with another group to a new warehouse near the beach, where what is known locally as "al-Jarrafah" is waiting for them, which is a fishing boat waiting far from the beach, to which travelers are transported via small boats supervised by Libyan human traffickers "under beatings and insults."
The entire store was filled, there were 400 of us, sitting close to each other due to the lack of space, as they distributed the passengers on two floors, the first for families, which is a closed place usually used in such boats to store fish, and the second for men, and the crew of the boat was Egyptian, as are the majority of the passengers. 
Abd al-Salam, a Syrian refugee who crossed from Libya to Europe
The journey lasted four days, full of seasickness and insults, as the smugglers threatened anyone who objected to the insults by throwing him into the sea, Abd al-Salam said.
With each passing day, the sea waves increased, and the situation became more dangerous. On the last day, the boat experienced a storm until Abd al-Salam and his companions felt that they were about to drown.
The screams and cries of women and children drowned out the surrounding sounds, but the voice of a smuggler negotiating a lifejacket for 100 euros with a passenger was evident throughout the journey.
Abd al-Salam returned to his place, waiting for the European rescue ship, as he refused to pay 100 euros, like the others, to obtain a life jacket, as the refugees made a distress call to the Italian Coast Guard, and after a while, a rescue ship came, gave the passengers a life jacket and transported them towards the coast. 
Human traffickers in Libya
Awad, 22, (pseudonym), also arrived in Europe via Libya, and because members of his family remained in Libya waiting for their turn to cross, he preferred to refer to him by this fictitious name so as not to expose them to the danger of smugglers.
The young man, originally from Homs countryside, told Enab Baladi that the living conditions he suffered with his brothers in Jordan prompted him to think about traveling to Europe, as he could not find a job that would enable him to meet his family's financial needs in Jordan.
After the encouragement he received from his friends who had previously crossed the sea from Libya to Europe, Awad was encouraged to go the same way, and he started coordinating with smugglers via Facebook to take his first step.
He contacted a Facebook account named Abu Tala, a Libyan trafficker, and agreed with him on an amount of seven thousand dollars divided into installments, as he would pay part of the amount at the completion of each stage of the road.
Awad booked the travel ticket with the assistance of Abu Tala, who was able to secure security approval allowing the young man to enter Libya via Jordan.
Awad did not wait long, as he stayed for 20 days with about 200 people in the overcrowded waiting warehouse, including Syrians, Egyptians, Pakistanis, and Bangladeshis.
The storehouse was a prison in the literal sense, guards carried weapons and used drugs openly, preventing any sound from being made, confiscating the phones of the refugees living in the warehouses.
I have never seen humiliation in my life as much as I saw inside the warehouse, the guards were insulting people in various ways, cursing with the ugliest words, and sometimes physical harm.
"Awad," a Syrian refugee who reached Europe through Libya
During the difficult waiting period in the warehouse, the guards beat the men from Bangladesh, and they also fired bullets close to them after they seized a mobile phone from one of them. Then they took the owner of the phone outside, beat him, and then brought him back inside, covered in his own blood, Awad told Enab Baladi.
They do not see us as human beings, we are just dollars. Their treatment of us improves if we give them money, and sometimes it gets worse to the point where we feel that they are not human if we do not give them some money.
"Awad," a Syrian refugee who reached Europe through Libya
The number of migrants across the Mediterranean has reached 74,419, according to statistics issued by the International Organization for Migration on June 18.
During the first quarter of 2023, 441 migrants were killed in the central Mediterranean, and the number of missing is expected to be much higher, according to the IOM report.
UNHCR comments
The spokeswoman for the United Nations High Commissioner for Refugees, Melissa Fleming, said that there are many reasons for Syrians to migrate to Europe, including the lack of signs of an end to the war in Syria, as conditions are getting worse.
She indicated during an interview with The Guardian that the Syrians who sought refuge in neighboring countries, such as Turkey, Jordan, Iraq, and Egypt, had difficulties finding work, paying house rent, and even meeting basic needs for survival.
Children's studies were also another reason for asylum in Europe. In Jordan, there are about 90,000 Syrian children without formal education, while 20% of school-age children have left school to seek work.
Neighboring countries imposed new restrictions on the refugees, considering that they have increased their burdens, especially since they are already suffering from "difficult" economic conditions, according to Fleming.
Europe indifferent to migrant deaths
On June 14, at least 79 migrants drowned, and hundreds more were missing after their overloaded boat capsized and sank in open seas off Greece, in one of Europe's deadliest shipping disasters in recent years, Reuters reported.
An aerial photograph of the battered blue vessel released by the Greek Coast Guard showed about 750 people covering practically every inch of the 200-passenger deck.
"Smugglers are taking ever greater risks to evade patrols. They are increasingly operating in international seaways with the aim of dropping off their human cargo in Italy rather than heavily guarded Greece," according to The Guardian.
Italy lied about its role in a shipwreck that killed 94 people – including 35 children – and the EU border agency Frontex helped cover it up.
The investigative Lighthouse Reports website revealed on June 2 that during the early hours of February 26, 2023, a wooden pleasure boat crashed close to the shore in Cutro, Italy. On board were nearly 200 people, mostly refugees from Afghanistan.
"At least 94 of them died, including 3 5 children. The deaths, which took place so close to the shore, shocked Italy and Europe. But Frontex and the Italian authorities deflected blame onto each other."
A joint investigation by Lighthouse Reports and its partners reveals that both the Italian authorities and the Frontex leadership were aware that the boat was showing signs of distress when the ship was first spotted six hours before the wreck but nevertheless decided not to intervene – and later tried to conceal how much they knew.
"Lawyers for some of the families of the victims are planning to take a case to the European Court of Human Rights, arguing Italy should be held responsible for the "irremediable violation of migrants' right to life," according to the Lighthouse Reports.
if you think the article contain wrong information or you have additional details Send Correction