Used iron turns "acceptable" alternative and popular trade in Daraa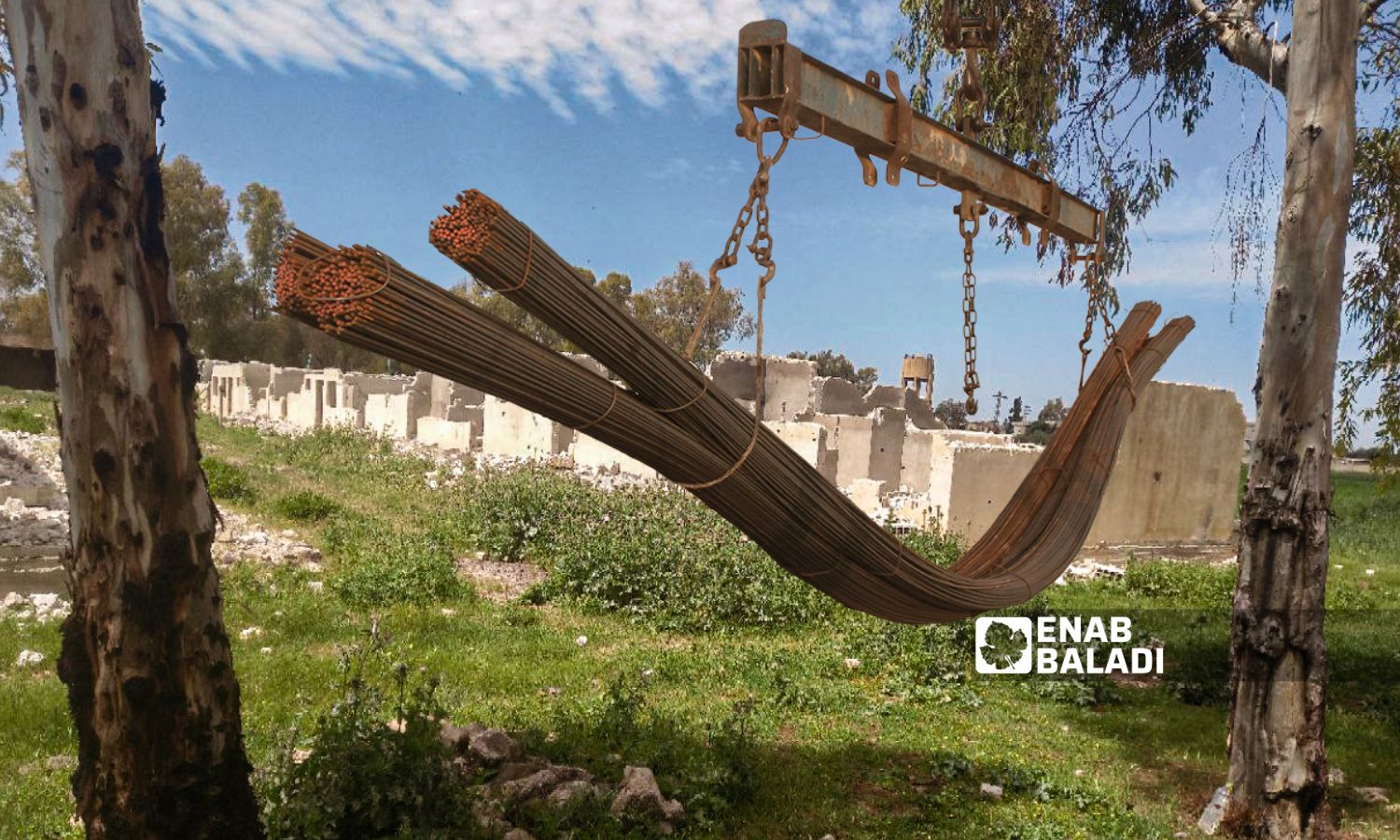 Enab Baladi – Daraa
The frantic increase in the prices of building materials prompted the residents of Daraa to buy used iron extracted from the rubble of demolished buildings as a result of the bombing of the southern region during the past years.
The price of a new ton of iron has reached eight million and 375 thousand Syrian pounds (about $950), while a ton of used iron ranges between 2,527,000 and 3,370,000 (from $300 to $400), as its price varies according to its quality and age, Enab Baladi monitored.
Despite the popularity of selling used iron in Daraa, even through social media, there are no government statements about the trade of this type of iron, its conditions, and its risks.
Acceptable alternative
After calculating the cost of building three rooms in the western countryside of Daraa using new iron, Nabil, 35, went to search for an alternative that would enable him to start construction at the lowest possible cost, according to what he told Enab Baladi.
Nabil said that he has been working for years to secure the cost of building a small, separate house in which to marry, but the cost of building with new iron is, at a minimum, about 50 million Syrian pounds without cladding.
Although he realizes that new iron is safer and more durable, Nabil found buying used iron an acceptable option, which prompted him to go to a scrap dealer and buy a ton of iron for $300 after he would have had to pay $900 for the same amount of iron.
Daraa-based contractor Mohammad says that using recycled iron is not a good option from a technical point of view and for future construction safety, especially in light of the use of iron extracted from buildings destroyed by the bombing.
The use of used iron in Daraa at the present time is focused on non-floor rural houses, with caution against using it in multi-floor buildings, according to the contractor.
Source of livelihood
The demand for buying used iron to restore demolished buildings prompted many people to work by collecting iron from the rubble of buildings and selling it to scrap dealers.
Abdulhadi, 25, began working to collect iron from demolished buildings about two months ago, during which time he was able to collect about 250 kilograms, he told Enab Baladi.
Abdulhadi used to collect iron from the destroyed public buildings in the western countryside of Daraa and sell it on a daily basis to scrap dealers at about 2,000 Syrian pounds per kilo.
He said that the work in extracting iron is arduous and dangerous, as the possibility of the collapse of the remaining walls of buildings is high, but unemployment and lack of job opportunities are sufficient reasons to take these risks.
Scrap dealers in Daraa buy used iron from iron workers or from rubble owners and determine its price based on its quality, one of the merchants (who declined to be named for security reasons) told Enab Baladi.
The merchants collect the quantities in a special place and subject the extracted iron bars to adjustments on a special machine, according to what the merchant said, pointing out that the entire amount of iron is sold inside Daraa to residents who are unable to buy new iron.
Some merchants buy used iron from homeowners who are unable to restore it or remove its rubble in light of the high cost of removing the rubble, according to what the scrap dealer said.
Looting affects building materials
Those working in collecting and trading scrap collect iron from public buildings or destroyed homes whose owners have been forced to flee or seek refuge, Enab Baladi's correspondent in Daraa reported.
The phenomenon of collecting used iron from demolished buildings is not limited to Daraa, as campaigns of looting affected building materials for many demolished buildings in various areas whose residents were subjected to mass displacement.
The Syrian regime forces are accused of many looting operations for the benefit of prominent merchants, especially in the Eastern Ghouta suburbs and the Palestinian Yarmouk refugee camp in southern Damascus.
Looting has spread since the first year of the revolution against the Syrian regime, and in an interview with the head of the Syrian regime, Bashar al-Assad, in late 2016, he said that the "Syrian army" has practiced many violations in this field, especially in central Homs governorate, Damascus, Daraa, and Aleppo.
This phenomenon resulted in the deaths of dozens of people in various regions as a result of the collapse of the remains of buildings during the looting operations.
---
Enab Baladi's correspondent in Daraa, Halim Muhammad, contributed to this report.
if you think the article contain wrong information or you have additional details Send Correction