Daraa residents concrened over Syrian regime forces' looting operations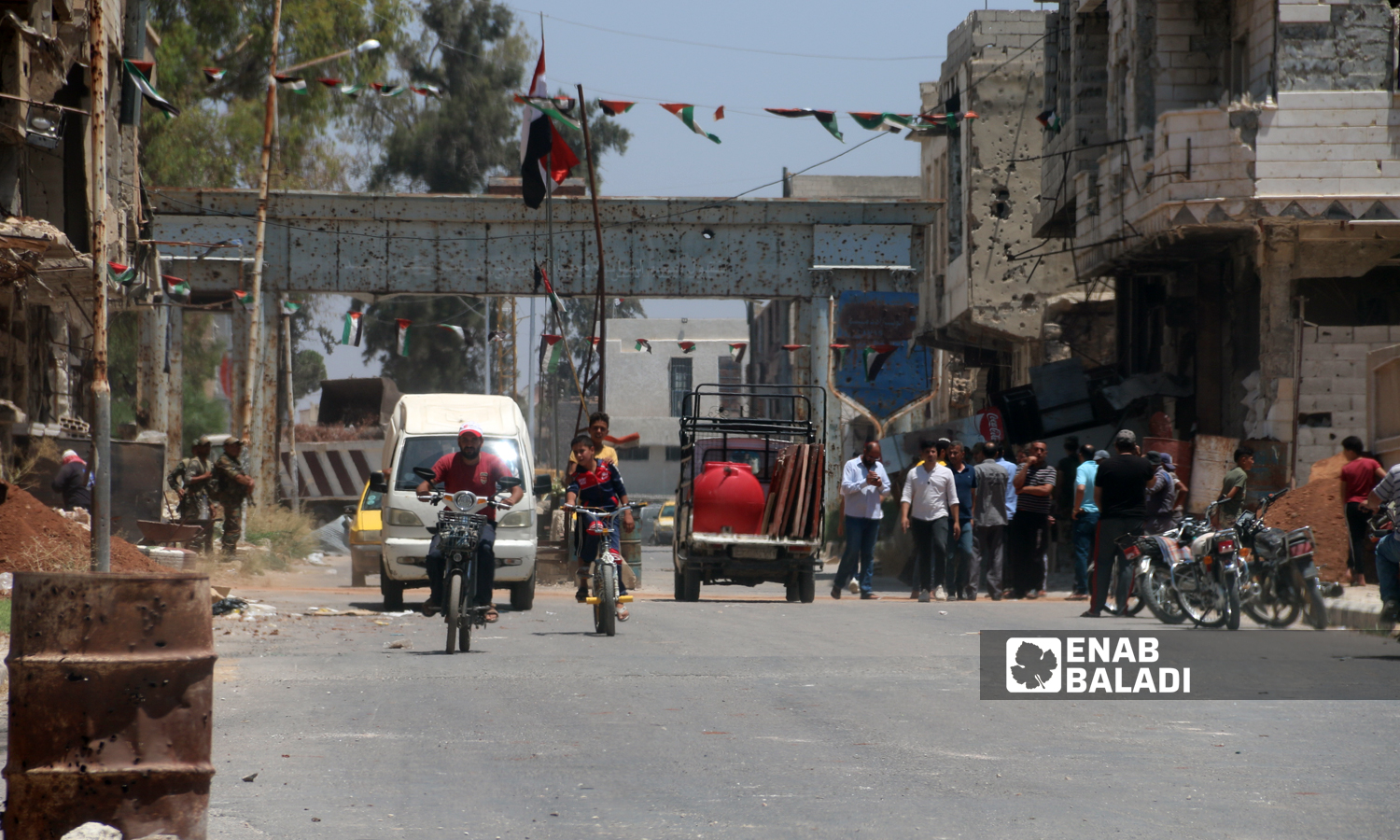 Daraa – Halim Mohammed
The Syrian regime forces have been carrying out systematic tafish (looting) operations against civilian houses in every opposition-controlled area they targetd with military campaigns. This has installed fear among Daraa governorate's residents  for their possessions in case of break-ins by regime forces to Daraa al-Balad or areas across the governorate's suburbs.   
Thirty-three-year-old Nadim, a resident of Daraa countryside, told Enab Baladi that he fears his house will be looted if he left it. He added, if the house remained intact despite mortar shells and missile attacks on the area, its contents would surely be robbed by the regime's army.  
Nadim said that every time the situation escalates in the region, he worries that his house's possessions would be robbed, recalling when members of the regime's army looted his belongings in 2018 after storming the area. 
Nadim's worry grows worse by electric appliances' high prices, as new refrigerators are sold for nearly 500,000 Syrian pounds (SYP = 152 USD) while washing machines cost not less than a million Syrian pounds (SYP = 305 USD).    
Mohammed al-Khalil, another resident of the region expressed his fear for his cattle, particularly after his friend's entire cow herd was stolen from his farm when the Syrian regime broke in the Yarmouk Basin area. 
"Regime forces would not spare a thing. They will even loot electric wires inside walls," al-Khalil said. 
Fatima Abdul Rahim said that she lives in fear for her house safety in the al-Yadoudah area in Daraa's western countryside, which she was forced to leave due to repeated bombing with Elephant missiles. 
"I fear for my house. The bombing forced us out of our house, leaving everything behind. Our houses were looted before, and we fear they will be looted again," Fatima said.
The houses of Daraa al-Balad's residents were the first to be looted by regime forces after they started a military campaign against the region on 25 July. The regime elements robbed many houses of their belongings in the Daraa suburb to the west of Daraa governorate when they were positioned there. 
A former leader in the opposition factions spoke to Enab Baladi on the condition of anonymity for security reasons and said that military reinforcements that stormed the region in the past days have broken into civilian houses and taken Daraa suburb at the center of the governorate as their headquarters.  
The former leader mentioned that military elements have entered different shops in Daraa suburb and Daraa city and taken whatever they wanted without paying.  
A former media personal in opposition factions told Enab Baladi that regime forces have occupied the mosque of Daraa suburb and transformed it into a headquarters after they looted several houses. 
He added that regime forces had robbed civilian houses in Daraa's suburbs before the recent military escalation when the regime mobilized its forces to break into Tafas city in January.
Daraa's suburbs have become a military zone used by the regime as headquarters at every military advancement towards Daraa governorate, forcing locals to leave the area, the former leader said. 
"Reinforcing security": Regime forces' mission in Daraa
Daraa's police commander Brigadier General Dirar Dandal, stated on 25 July that some 1,000 soldiers of regime forces had arrived in Daraa to guarantee the implementation of the reconciliation agreement reached between the regime's security apparatus and Daraa Central Committee (DCC).   
Dandal said that these forces' mission will be limited to consolidating security throughout Daraa governorate, not only in Daraa al-Balad, to create a suitable climate for fair reconciliations, arms surrender, and settlement of wanted persons' status. 
The Horan Free League (HFL) that reports news of Daraa governorate on its Facebook account has mentioned that the 4th Divison's militias have stormed Daraa al-Balad and that regime forces have looted many houses on the outskirts of Tareeq al- Sad neighborhood and Daraa al-Balad. The forces have also set up a roadblock on the al-Shayyah well and fired ground-based anti-aircraft heavy machine guns against plains and farmlands surrounding Daraa al-Balad.
On 25 July, the Syrian regime and DCC reached a settlement agreement allowing the regime to set military posts in the outskirts of Daraa al-Balad. However, the regime thwarted the agreement by storming the city of Daraa al-Balad and clashing with its residents.
Soon later, the regime intensified its military attacks, killing 12 civilians by bombing different parts of Daraa city.
As a response, locals of Daraa city's eastern and western towns and villages attacked the regime forces' security checkpoints and controlled them, benefiting from the fact that the majority of these checkpoints are operated by former fighters of opposition factions who have settled their conditions during the settlement agreement between the Syrian regime and the region's dignitaries under Russian auspices in 2018.
Altafish phenomenon
The Altafish phenomenon (looting) started in most Syrian areas in 2012 following popular protests against the regime. In an interview with the pro-government local newspaper al-Watan in late 2016, the head of the regime Bashar al-Assad admitted that some elements of the Syrian army had looted civilians' houses in many areas, including Homs and its countryside, Damascus countryside, Horan region, and Aleppo.
Al-Assad stated back then that the Altafish phenomenon cannot be controlled because it is up to soldiers' ethical restraints. He added that there is no role for official control in heated battles, including police services or oversight institutions. 
A corrupt person will be deterred by nothing, but a good person will refrain from harming people, al-Assad said.
if you think the article contain wrong information or you have additional details Send Correction