Daraa residents halt reconstruction works under current military escalation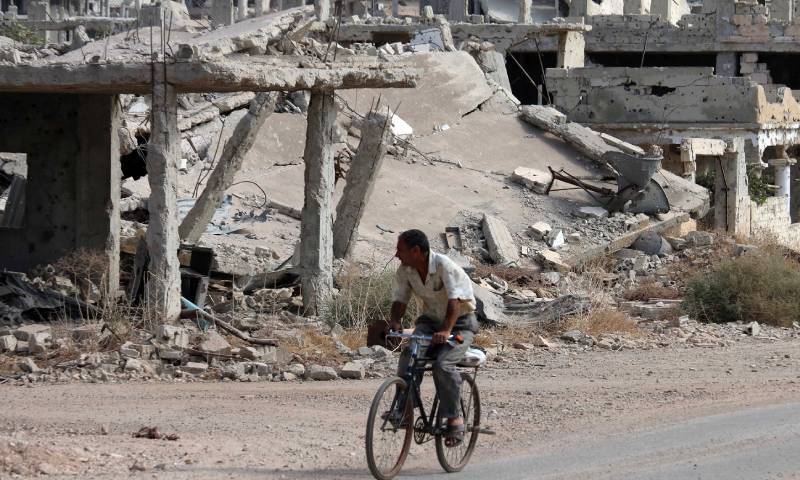 Enab Baladi – Daraa
Sixty-five-year-old Mohammed al-Ibrahim intended to reconstruct his son's house destroyed by previous offensives in Daraa city, southern Syria; however, he decided to halt rebuilding works under fear of the current escalation in the city and until the security situation is re-established.  
Al-Ibrahim told Enab Baladi that reconstruction within the existing circumstances is a waste of money as it would cost up to 50 million Syrian pounds (SYP = 15,000 USD) with the risk of destruction by artillery shelling any time.     
Residents of Daraa city were hesitant to rebuild their houses damaged by military aircraft before the 2018 settlement agreement came into force. Their hesitation grew bigger after the latest military campaign on Daraa governorate and the cordoning of Daraa al-Balad since early June in the absence of any role by any side to bear the reconstruction costs.   
Security concerns impede reconstruction in Daraa
Residents of Daraa who were restoring their houses destroyed before the reconciliation agreement between Syrian regime forces and former opposition fighters under Russian auspices had to leave them due to recent military escalation in the region. Other residents were wiser and decided to repair parts of their damaged houses to temporarily shelter their families, while some preferred to rent either because of financial inability to undertake reconstruction works or for fear of extensive military operations that would destroy any new building. 
Since last July, the city of Daraa witnessed military escalation by regime forces after the failure of negotiations between them and representatives of Daraa al-Balad residents.  
The escalation led to clashes and break-ins in Daraa city.
In March 2019, the United Nations Institute for Training and Research (UNITAR) published the "Syrian Cities Damage Atlas" report in cooperation with the REACH Initiative. The report mentioned that there are 1,503 damaged buildings in Daraa governorate, of which 224 buildings are completely destroyed, 498 buildings are severely destroyed, and 781 buildings are moderately damaged. 
 The report defined the damage classifications as:
A completely destroyed building: all or most of the building structure is collapsed (75% – 100% of the structure destroyed).

A severely damaged building: a significant part of the building structure is collapsed (30%- 75% of the structure destroyed).

A moderately damaged building: limited damage observed to the building structure (5%-30% of the structure damaged).
Nowadays, the construction cost of a house in Daraa city is not less than 50 million SYP (nearly 15,000 USD). The price of construction sand is 40,000 SYP (about 12 USD) per square meter, and the price of a ton of cement is 250,000 SYP (about 80 USD). A ton of steel is sold at two million and 800,000 SYP (nearly 900 USD), while a single brick's price is 900 SYP (about 30 US cents).
According to Daraa governorate's civil records, nearly 50,000 persons live in Daraa city, distributed in 10,700 households. 
Conflict-affected residents reconstruct houses at their expense
The relative stability established in many regions in Syria did not seem to promote organizations engaged in the reconstruction file to help destroyed properties owners rehabilitate their damaged dwellings, whether in liberated areas or those under the regime's control.  
In Daraa, after reaching a settlement agreement that re-established the regime's control over Syria's southern regions, the majority of homeowners reconstructed their conflict-affected properties at their expense. International organizations authorized by the regime's government to operate in the region offered timid contributions in the rebuilding matter, a member of a relief commission in Daraa told Enab Baladi.   
The relief commission member who requested to remain anonymous for security reasons added that the regime's government was not involved in the reconstruction process of destroyed houses in Daraa al-Balad city. He said a French organization undertook rebuilding works for about 100 houses, while a Danish organization supervised the reconstruction of almost the same number of houses in the city. 
The largest number of reconstructed houses reached 3000 houses undertaken by the residents themselves. 
Some residents had to sell properties to afford the reconstruction cost of their other destroyed properties. Others sold their gold or relied on remittances sent by their relatives in the Arab Gulf States or Europe. 
The relief commission member, a local voluntary entity linked to the tribal council in the city, said that the reconstruction of residential properties was not completed as rebuilding works were partial solutions to provide temporary shelters.   
Enab Baladi surveyed the opinions of some Daraa city locals, who said that organizations' involvement in the reconstruction process is mostly limited to removing the rubble, while residents bear the total costs of reconstructing.   
The locals added that their security and stability demands were not answered by the previous settlement agreement breached by the regime's recent military escalation. The regime never participated in the reconstruction of bombarded civilian houses; instead, it continued its offensives against Daraa and started clashes with former opposition factions who refused to surrender their individual small arms to the regime, leading to more destruction, displacement, and loss of property rights. 
This lack of action on the regime's government in reconstructing destroyed houses and buildings in many Syrian regions jeopardizes property rights and leads to future real estate disputes in an unknown fate awaiting Syrians amid a complete absence of any political solution by key actors in the Syrian file.
The cordoning of cities, similar to what is happening nowadays in Daraa, and the destruction or removal of residential properties and services buildings by explosions or bulldozers were not part of the armed conflict in Syria but rather a systematic approach by regime forces against opposition areas.
The regime forces used residential neighborhoods, streets, farmlands, houses, hospitals, and bridges as battle scenes and headquarters for their military operations.  
if you think the article contain wrong information or you have additional details Send Correction