Uncommon crops enter northern Syria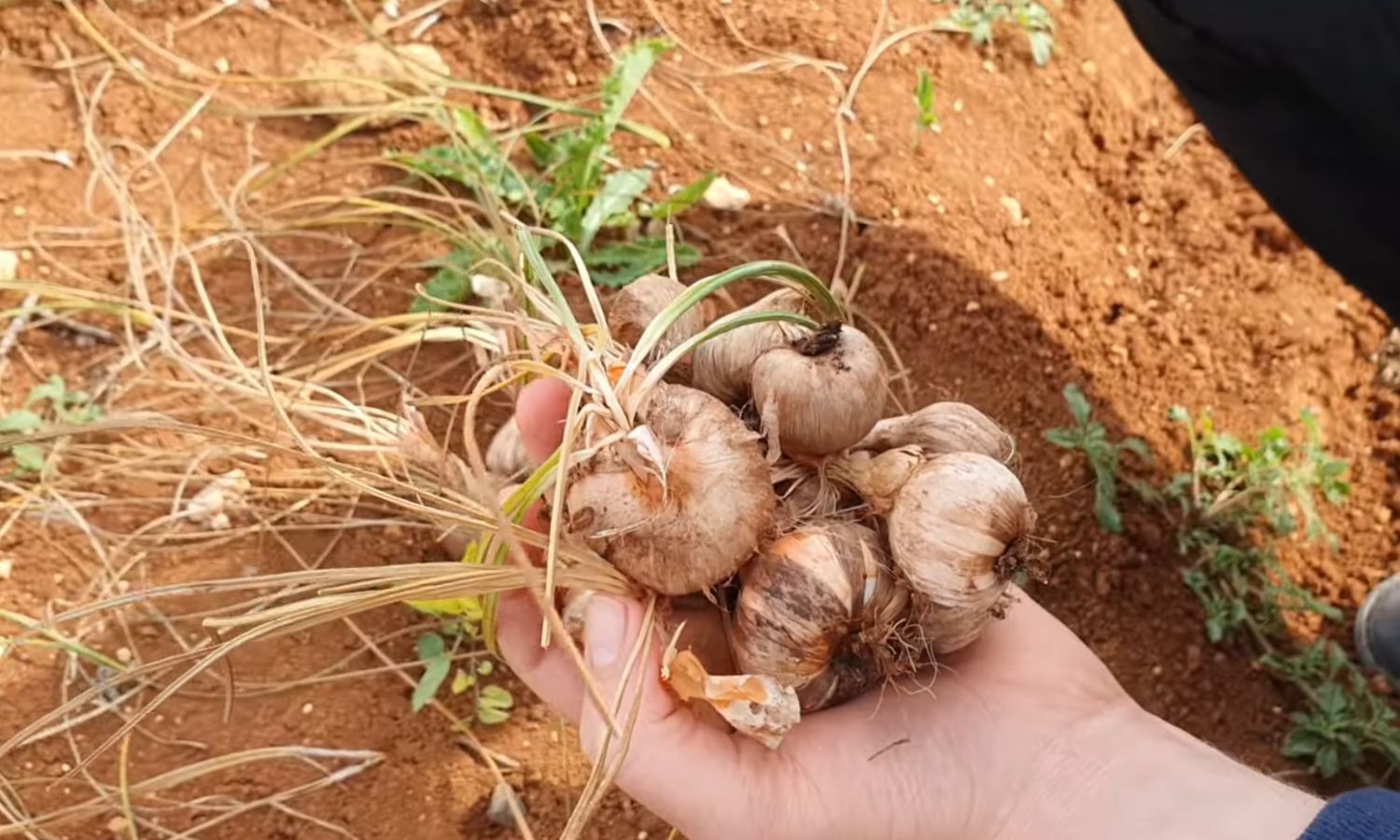 Enab Baladi – Idlib
New and non-traditional crops have entered the regions of northern Syria that farmers are not used to in order to achieve higher incomes amid deteriorating economic and living conditions.
Exotic crops on the soil of northwestern Syria, brought by the displaced or planted by the residents of the region, have turned from plants grown in home gardens into main crops in vast areas.
Saffron, low cost and high yield
The cultivation of roses has been active in northern Syria as a highly productive crop. It was transported by displaced persons who used to grow roses in regime-controlled areas, especially from the Eastern Ghouta suburbs near Damascus.
The rose harvest season lasts for seven months and is involved in many industries, such as jams and perfumes. It produces well, as farmers pick it every two days.
The most recent crop that has emerged in northern Syria as one of the "foreign" crops to the region is saffron.
Its cultivation begins in September, and it is preferable to buy saffron bulbs two weeks before planting them. The production of a dunum reaches one kilogram two years after its cultivation, according to agricultural engineer Mousa al-Bakr.
The flowering of saffron onion in the first year of cultivation is weak, and work is focused on multiplying it and enlarging its size, and good flowering begins in the following year.
Al-Bakr explained that saffron needs medium to light watering and is considered a perennial crop for six years. The price of a kilo of saffron crop ranges from $3500 to $20,000.
The price of a kilo of saffron onions ranges between 25 and 35 dollars, and it contains 100 to 130 onions. A dunum requires about 125 kilograms of medium-sized onions, and the larger it is, the greater the quantity produced, according to al-Bakr.
Natural saffron can be distinguished by the fact that it gives a yellow color when placed in lukewarm water, and if it gives an orange color, this indicates the presence of dyes and is considered unnatural. It is not possible to judge the product's disposal in northern Syria, but it is like any exportable product.
Environmental conditions and knowledge
Al-Bakr told Enab Baladi that farmers have started to become more interested in new crops and are looking for more production and a higher price for the crop.
He added that the cultivation of chamomile during the past year was limited to small areas in meters, while its cultivation began this year in large areas in dunums.
Among the other crops that entered northern Syria and were popular with farmers, and were not used to them, are sagebrush, rosemary, and other aromatic medicinal crops.
The agricultural engineer explained that introducing any new agricultural project to northern Syria must have two things.
The first is suitable environmental and climatic conditions, and the second is knowing the mechanism and method of cultivation and taking care of it, and limiting new crops to one of the two things is not enough.
Al-Bakr gave an example that chestnut cultivation cannot succeed in the north, as it needs acidic soils that are not available in the northern region.
Problems push for profitable farming
Farmers met by Enab Baladi in the northern and western countryside of Idlib, and the countryside of Aleppo, expressed their desire to try new crops when the planting season begins to reduce the costs of fuel, fertilizers, and medicines required by traditional crops.
Mohamad al-Sattouf told Enab Baladi that he wants to grow saffron in three dunums of the 28 dunums he owns in the eastern countryside of Idlib as an experiment that does not bear much cost and loss, and in the case of production, the price per kilo is very high compared to local crops.
For his part, Hussein al-Ahmad grows vegetables using greenhouses in the village of Sheikh Yusuf, west of Idlib. He currently wants to grow saffron, in only two dunums of his land, as an experiment because he does not want to occupy his entire land with a crop needing two years to grow.
Farmers in northern Syria are facing organizational problems, a lack of financial capabilities, and the use of agricultural machinery, in addition to the high prices of fuel used in the work of equipment and means of transportation.
In the case of using greenhouses, farmers face more difficulties because the cultivation has its own peculiarity and requires care and specific environmental conditions.
if you think the article contain wrong information or you have additional details Send Correction