Farmers relocate their crops to their new areas of displacement in northern Syria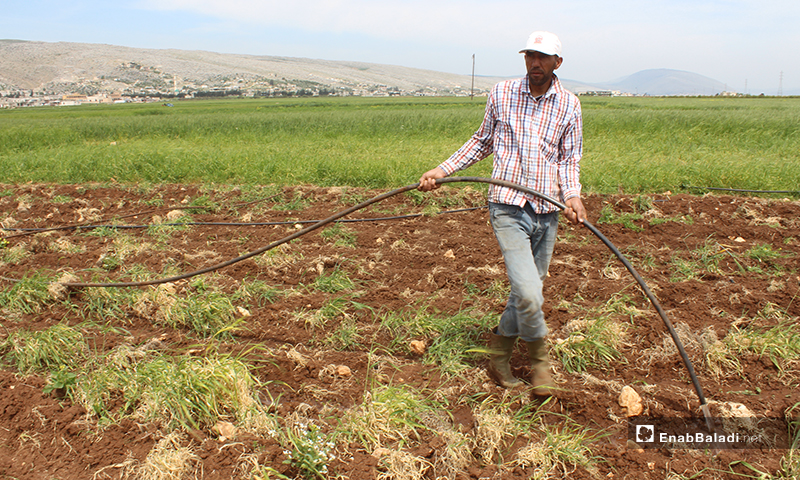 Enab Baladi – Iyad Abd al-Jawad 
Military operations carried out by the Syrian regime forces, with the support of the Russian air force, have driven most people from their homes in the northern and western countryside of Hama and the southern countryside of Idlib, which fell out of the opposition control.
After the internally displaced people (IDPs) resettled in the Syrian north, many farmers resumed their agricultural activities, and they were also able to transfer some crops to their new areas of displacement.
Among these crops is the Safflower plant, which was cultivated in southern rural Idlib, and now is grown in Harem and Barisha Mountain areas in the western countryside of Idlib.
Displaced farmers also transported the kidney-shaped broad beans crop that was planted in al-Ghab Plain, but now it is planted in Aleppo Countryside, mainly in the Afrin region, such as Jindires town and others.
Besides, other vegetables and potatoes were transferred due to irrigation water availability in Aleppo Countryside.
New experiences with new challenges
Ahmad Ramah, a displaced farmer from Naqir village in southern Idlib countryside, who is currently living in Harem areas, said to Enab Baladi that he planted last year 25 dunums (25,000 m2) of his land with safflower; however, he was unable to harvest it, due to the bombardment on the area, before the regime regained control on it.
Ramah added that he had to buy the seeds of safflower this year after his displacement, at double prices that reached about 500 Syrian Pounds (SYP – around 0.3 USD) per kilo, whereas the kilo was sold before for 150 SYP (0.11 USD).
He pointed out that the lands in the southern Idlib countryside are distinguished from those in Harem areas by the abundance of artesian wells that provide irrigation water. 
Ramah said in the southern Idlib countryside, vegetables of all kinds were grown in light of the availability of labor force, sheep, and cows' manure, which is considered a natural fertilizer.
As for now, Ramah says that he only depends on winter agriculture, such as growing the Safflower plant.
Ramah also commented on the difference between planting safflower in the southern countryside of Idlib and Harem areas in the northwestern countryside of Idlib.
He said, "in our areas, we used to care for agriculture and crops in terms of supplying the soil with animal manure and spraying the crops with pesticide and other materials to boost agriculture, but now we only plant the land with seeds of Safflower, and we are satisfied with that until the harvesting season."
Ramah pointed out that the area to which he was displaced, has not been cultivated by the Safflower plant before, explaining that buying its seeds was being made by farmers who brought them out with them upon their displacement.
Nevertheless, the scarcity of seeds forced the farmer to buy them at high prices, and then he rented an agricultural land of one-dunam valued at 20,000 SYP (15 USD).
Raed al-Ghabi, another farmer from the al-Ghab Plain, told Enab Baladi that after the regime forces controlled the villages and towns of the southern part of al-Ghab Plain, he fled to Jindires town in the northern countryside of Aleppo.
Al-Ghabi added that he is only good at agriculture; therefore, he rented an agricultural land in the countryside of Jindires, in an area called "Hajlar," which is 21 dunums _ 21,000 m2 _(a dunum is worth 5,000 SYP = 3 USD) and planted it with the broad "kidney" beans that have not been planted in this area before.
Al-Ghabi bought bean seeds from displaced farmers in the areas of Atma and Kah areas in rural Idlib, at the price of 2,000 SYP (1.50 USD) per kilo.
As for the soil quality in the countryside of Aleppo, it is much less than the quality of agricultural land in al-Ghab Plain, according to al-Ghabi.
He pointed out that the production of one dunum (1000 m2) of beans in the countryside of Aleppo is equivalent to 300 kilograms, while in al-Ghab Plain, the production exceeded 700 kilograms per dunum.
As for irrigation methods, al-Ghabi said that irrigation water is available in Aleppo Countryside, which encouraged him to farm, thanks to "Midanki Dam" on the Afrin River, where every agricultural land has a water channel opened when needed to irrigate the land.
Helping factors for cultivating these crops
Agricultural engineer Anas Abu Tarboush pointed out to Enab Baladi that safflower is grown as a rain-fed crop, indicating that it spreads in areas in northern Syria that have not previously cultivated this plant.
He added that safflower is a medical and aromatic plant, whose crop is affected by the quality of soil and climate from one region to another, which is reflected in the success or failure of its agriculture.
Abu Tarboush indicated that southern rural Idlib is famous for this plant because of its fertile soil, which is different from the one in the agricultural lands of the border areas with Turkey, such as Harem and Salqin areas where safflower has been cultivated recently.
Considering the cultivation of potatoes, vegetables, and broad "kidney" beans, which were planted by IDPs from the countryside of Idlib and Hama in the countryside of Aleppo, the agricultural engineer said these crops, mainly potatoes, were the strategic crops of northern rural Hama.
Institutions were supporting the cultivation of these crops, which would lead to crops of high quality, and free from seed-transmitted diseases, Abu Tarboush said.
Abu Tarboush concluded that supporting institutions relied on selling agricultural inputs with long-term installments, which had also contributed to their proliferation, together with the accumulated experience of farmers over the previous years.
if you think the article contain wrong information or you have additional details Send Correction