IDPs call for changes in relief operations in Idlib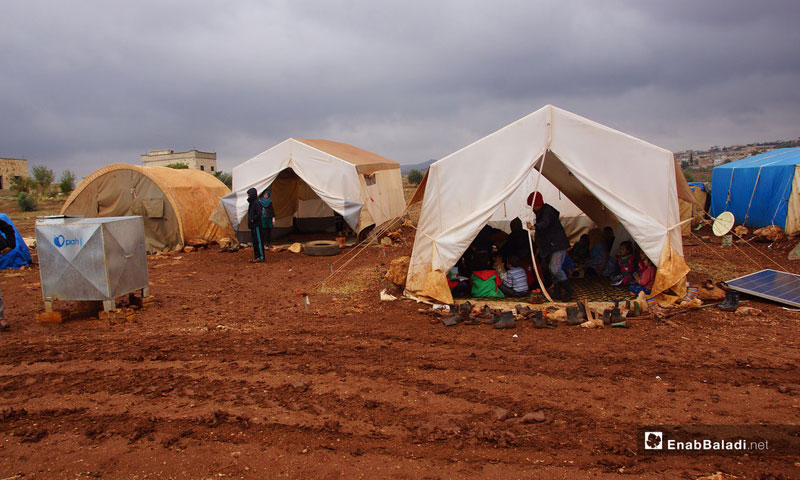 Hama countryside – Iyad Abd al-Jawad | Displacement, camps and food baskets… These three words summarize the suffering of Hama countryside people, who were forced to move to the camps of Idlib countryside, sleep outdoors and stay in camps. They were hoping to return to their homes, from which they were displaced after the Syrian regime forces' shelling of cities and towns of Hama countryside since the beginning of this year.
Relief organizations rushed to help displaced people through food baskets, awaiting progress in the field-level, but the escalation of shelling and ongoing displacement prolonged reliance on the aid fund every month.
The northern countryside of Hama and southern Idlib witnessed bombardment and military campaigns by the Syrian regime and its ally Russia that have increased since April 26, leading to the displacement of about one million people sporadically.
On November 18, according to the statistics of the "Response Coordinators," more than 42,000 people have been displaced from the region since the announcement of a "truce" that has been under continuing breaches since the beginning of last October.
"I sell the food basket and buy what I need"
 The reality of the current relief support has created a state of discontent among some of the displaced people, while the organizations do not support them with small projects that would spare them waiting for the distribution of food baskets.
Intisar al-Qasim, a displaced woman from Qaber Fidda village in al-Ghab Plain of Hama countryside, said: "My situation is very difficult. In order to get what I really need, I have to sell the food basket I receive."
In an interview with Enab Baladi, Intissar insisted that she hopes the nature of support will change towards the establishment of small projects or workshops, such as sewing, "which may be enough for the poor displaced families to provide for their livelihood".
Yusuf al-Hussein, another displaced in Idlib countryside, hopes to continue his basic job. He had a men's barber shop in al-Kareem village, al-Ghab Plain, but the targeting of Hama countryside forced him to flee to a camp near the Turkish border, "fearing his children would be harmed."
"I used to get a suitable income from my job, enabling me to ensure my family's needs. But I'm still receiving a food basket and I couldn't open a Barber shop that would replace my food basket," added Yusuf in an interview with Enab Baladi.
Priority for relief
In an interview with Enab Baladi, Iyad al-Naasan, the director of the humanitarian organization 'Ataa' relief in Hama countryside said that since the beginning of the war in Syria, relief work for the displaced people has started. "Relief took precedence in securing material and moral support for large numbers of displaced people," he insisted.
Commenting on the reasons behind the non-diversion of relief projects into large-scale support for small projects, al-Naasan explained that "relief work does not need long-term stability. But livelihood projects need a stable environment to ensure the non-recurrence of people's displacement, and great efforts that many of the currently working organizations lack. So, these projects target residents more."
"As part of our organization's previous and future plans, we have implemented a lot of livelihood projects, and funded productive families able to secure their livelihood. We also conducted training workshops in the professions of blacksmithing, carpentry, hairdressing, car mechanics and others, taking into account the desire of the beneficiary and the available opportunities," according to al-Naasan.
Obstacles in supporting small projects
Iyad al-Naasan pointed out that despite their importance, livelihood projects are still few. The support provided has not yet been enough, as a result of the growing number of needy people and arrivals in the opposition-controlled Syrian north, which puts great pressure beyond the means.
He also blames organizations that have not coordinated with each other, causing poor response, imprecise estimate of the right timing of campaigns, and distributing the abilities by organization.
Hassan Hanan, head of the Local Council in al-Enkawi town in Hama countryside, said displacement is the only obstacle to supporting small projects.
He asserted in an interview with Enab Baladi that all the farmers of his town have benefited from a farming project at least once, "but people's displacement to the camps in the north and providing them with employment opportunities have become the responsibility of camp managers rather than local councils."
However, according to Hanan, the local council continues to address organizations to support people with small livestock projects, given that they are familiar with livestock raising or various professions.
if you think the article contain wrong information or you have additional details Send Correction