Fertilizer prices hike in Daraa, crops affected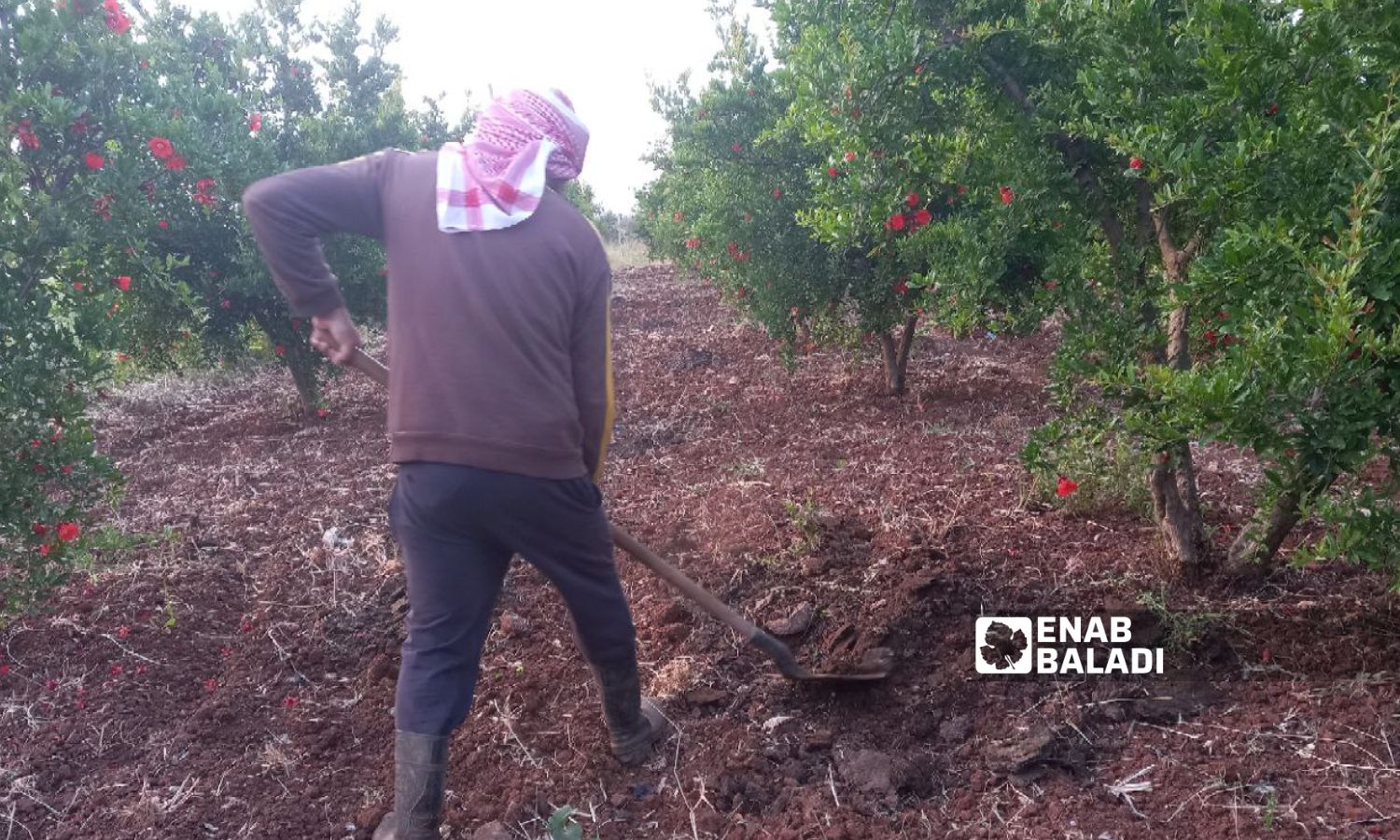 Daraa – Halim Muhammad
Prices of conventional organic fertilizers are almost double what they were last year in the southern Daraa governorate, southern Syria.
Peasants in Daraa rely heavily on animal waste as organic fertilizer to nourish the soil when growing vegetables, and with the onset of the season of fruit trees, the high prices of natural fertilizers prompted some of them to economize on using them or taking them out of their accounts when dealing with their agricultural seasons.
The price per cubic meter of laying-hen waste has reached 350,000 Syrian pounds, and the price per meter of "broiler" chicken waste has reached 250,000 Syrian pounds, while the price of a cubic meter of cow and sheep waste ranges between 85,000 and 100,000 Syrian pounds.
These prices naturally exceeded the prices of last season, when a cubic meter of chicken waste ranged between 150,000 and 175,000 SYP, while a cubic meter of "broiler" chicken waste amounted to 100,000 pounds, and a cubic meter of cow waste was about 50,000 pounds.
The main function of manure is to nourish the soil with organic matter, in addition to being a carrier of beneficial microorganisms and a source of materials that encourage plant growth, which positively affects the productivity and quality of vegetables and fruits.
Agricultural engineer Khaled Suleiman explained to Enab Baladi that manure plays a role in reducing soil bulk density and compaction, increasing its fertility, improving its properties, dissolving heavy grains in clay soil, in addition to increasing the cohesion of sandy soil, equalizing soil composition, and feeding it with calcium, phosphorus, and nitrogen.
Suleiman added that organic fertilizers, most notably bird droppings, dispense with chemicals and give a crop free from the interference of chemicals.
The agricultural engineer noted the necessity of plowing the land with a light-to-medium-depth soil plowing machine in order to reduce nitrogen loss and facilitate the delivery of useful elements to the roots of plants or trees for absorption.
These materials can be used for trees with the onset of spring and before planting for vegetables.
Reduced quantities, damage
Zuhair, 28, used to allocate 10 m3 of chicken waste to use for his 10-dunam pomegranate farm in the western countryside of Daraa before the start of the flowering season in April of each year, but this season he only bought 4 m3. (Dunam is about 900 m2)
Zuhair told Enab Baladi that the high cost prompted him to reduce the quantities, despite his conviction that reducing them will reduce the production of his land season.
Faisal, 45, says that potato production on his land (13 dunams) has declined during the current season due to his poor ability to feed the land with organic fertilizers.
The production of one dunam at Faisal was only about one ton, compared to about one and a half tons during last year's season, and the price per kilogram did not exceed 1,500 pounds, which he considered a heavy loss.
In the same context, Nabil, 38, a farmer in Daraa countryside, refused to cultivate his land with summer crops for the current season due to the high cost and prices of fertilizers of all kinds and agricultural medicines.
Chemical fertilizers too
The rise in organic waste prices was accompanied by a similar rise in the prices of chemical fertilizers.
The price of a bag of "urea" fertilizer (50 kilograms) reached 400,000 Syrian pounds, compared to 210,000 SYP less than a year ago, and a bag of "Nitrogen 26" fertilizer reached 275,000 SYP, while the price of "superphosphate" fertilizer reached 200,000 Syrian pounds in the same period.
Some merchants of traditional organic fertilizers (animal waste), who were contacted by Enab Baladi, attributed the high prices of these fertilizers to the scarcity of breeding farms following the departure of many breeders from the profession.
Sami Abu Dan, director of the General Organization for Poultry, explained in April that 80% of laying hen breeders have left the profession and that the number of workers in poultry farming does not exceed 25% of what it was previously, according to what was reported by the local pro-regime al-Watan newspaper.
Livestock breeding also declined in the southern governorate due to the increase in fodder prices and medicines, which negatively affected the amount of animal waste. In addition, the increase in transportation fees and fuel prices was also a prelude to an increase in manure prices.
if you think the article contain wrong information or you have additional details Send Correction