Daraa farmers face a "disastrous season" after fertilizers' prices hike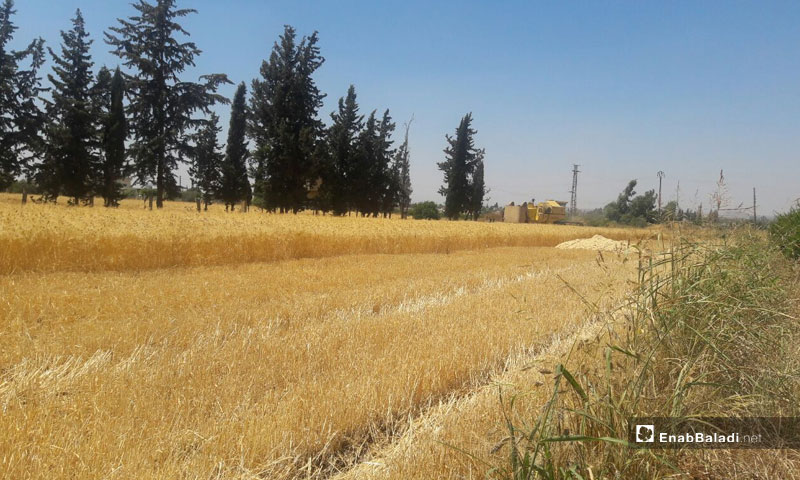 Enab Baladi- Daraa
Amid the decline of the Syrian pound, Daraa farmers, in southern Syria, fear to leave their vast lands uncultivated and yielding poor quality and quantity production. Their fear has grown increasingly with essential fertilizers' price hike in varying proportions between 41 to 100 percent increase.
The Syrian regime's government issued a decision to raise the price of basic fertilizers, on 3 March of this year, whereby a ton of "superphosphate" went up from 151,000 SYP (116 USD) to 304,000 SYP (233 USD) with an increase exceeding 100 percent.
The organic fertilizer "urea" had an average price of 175,000 SYP/ton (134 USD), to reach 248,000 SYP/ton (190 USD) today after the increase, while ammonium nitrate raised from 108,000 SYP/ton (83 USD) to 206,000 SYP/ton (158 USD)
According to many opinions monitored by Enab Baladi, Daraa farmers, consider this decision a "heavy blow" that will affect agriculture sector, one of the main pillars of the Syrian economy, due to the substantial material costs of purchasing good quality fertilizers, an essential factor in the production process.
Some farmers will not be able to cultivate their lands, which in turn reduces the number of planted areas, in conjunction with their expectations of low production quantities and a significant decrease in crops' quality.
Rami Mohammed, a farmer in Daraa's countryside, complained to Enab Baladi of the "harshness of the decision" and its financial results, stating that it would overburden farmers' budget through paying additional costs.
The head of the Damascus and Rif Dimashq Agricultural Union, Mohammed Khallouf, on his part, said that the effect of this decision would be "terrible" for farmers after raising production costs and their inability to keep up with the increase, according to the local newspaper, "al-Watan," on 3 March.
According to Khallouf, this will lower agricultural production rates, which goes in contrast with the government promises of supporting the agricultural sector and growing productivity.
 An increase contradicting all expectations
The minister of finance and economy of the "Syrian Interim Government" (SIG), Abdel Hakim al-Masri, asserted to Enab Baladi, that this is not the first time the regime's government has raised necessary fertilizers' prices, recalling the massive increase in those prices by about 300 percent in 2018.
As for the new decision, it raised the price of "superphosphate" by 102 percent and that of "urea" by 46 percent, while the price of ammonium nitrate went up to 91 percent.
The government's decision was against expectations, as Daraa farmers hoped for a reduction in the fertilizers' costs since their production now depends on gas instead of electricity.
Al-Masri explained to Enab Baladi, that after Russia started investing in the fertilizer plant in Syria, the regime sought to use gas instead of electricity due to its lower cost, to cut production expenses, and sell fertilizers to farmers at a subsidized price.
Al-Masri estimated farmers' loss due to this decision in millions, as all crops need fertilizers starting from grains, vegetables, and fruit trees. He added that high production costs would force farmers to sell their production at prices preventing losses.
Consequently, customers will have to pay more to cover their needs for vegetables and fruits, especially amid unemployment widespread and Syrian citizens' low-income rates for less than 40 USD per month.
Al-Masri thinks that this loss in the agricultural production process will make engaging in crop cultivation in Daraa province a "risk" this year, which may lead to an " economic catastrophe."
Fertilizers are indispensable
Farmers cannot stop using fertilizers because of their importance in growing both the productivity and the quality of agricultural crops.
In an interview with Enab Baladi, an agricultural engineer from Daraa (who preferred to remain anonymous for security reasons) said that fertilizers constitute the main part of the farming process. Thus, crops must be supported by "superphosphate" at the beginning of the season, where each donum (1000 m2 ) needs a minimum of 25 Kilograms.
The "urea" fertilizer, which contains 46 percent nitrogen, affects vegetative growth positively and produces high-quality crops.
The engineer said that applying fertilizers depends on the type of vegetables or fruits. For example, a donum of potatoes needs 50 kilograms of "Superphosphate" and 75 kilograms of "Urea," which is very expensive, especially with the recent hike in fertilizers' prices.
Daraa farmers' suffering does not end with the increase in processed fertilizers' prices. Enab Baladi monitored a price hike in organic fertilizers (animals' waste) that reached 18,000 SYP (13 USD) per cubic meter, which means an additional crisis for farmers.
if you think the article contain wrong information or you have additional details Send Correction