Fireworks, crackers disturb festive joy in Aleppo countryside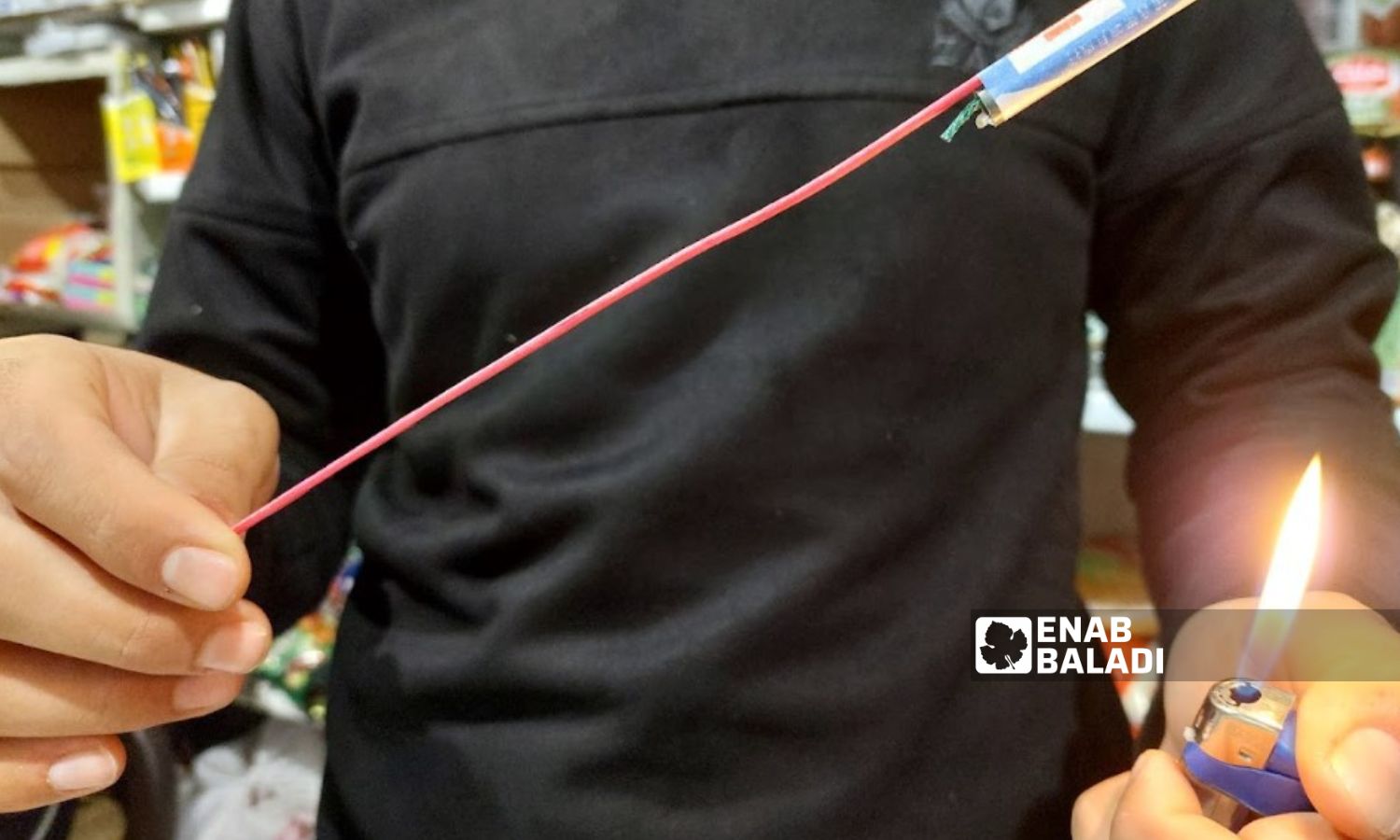 Enab Baladi – Aleppo countryside
Fireworks and firecrackers have been present since the last days of Ramadan and till now, within a space of little use, which escalated and appeared evident during the Eid al-Fitr.
The case has become a matter of concern, inconvenience, and intimidation for some people amidst the children's desire to buy and the absence of decisions that prevent the sale of materials of this kind due to the danger they pose and the potential physical and psychological effects.
These crackers, which are made from a mixture of chemicals, give off colors, loud sounds, and different smells when ignited. There is no official text prohibiting their use in the northern countryside of Aleppo, which threatens a state of chaos that may disturb the people's joy of Eid.
Ali al-Nahar, the owner of a mini-market in Azaz, told Enab Baladi that using these games gives children a special space to entertain themselves and have fun.
Al-Nahar explained that the practice of rituals of this kind has its temporal associations, as it does not occur throughout the year and is limited to specific times of celebration. In his opinion, there is no objection to giving this opportunity to children to enjoy, considering that fireworks do not pose risks to children when playing with them.
Concerning the level of sounds left by fireworks and the fear of people who might believe when they hear their sounds that a problem has occurred or that a weapon is being used, the seller justified that the sounds made by the crackers are not compared to the sounds of bullets fired by people at parties and weddings.
This point of view contradicts the opinion of Majida al-Mohamad, a mother of two children, who is afraid of these toys and prevents her children from buying them because she is convinced of the dangers they entail after a previous experience that one of her two children had, as crackers caused him second-degree burns that required a period to fully heal.
Not cheap, no control
In light of the deterioration of the living situation in Syria in general, and the northern Aleppo countryside in particular, the prices of some crackers in Azaz range between seven and 20 Turkish liras, given that the area that constitutes a ground of Turkish influence deals in the Turkish lira.
According to what Enab Baladi's correspondent reported about workers in the fireworks trade, the fireworks, and crackers reach the countryside of Aleppo after being smuggled from Turkey to Idlib and then towards the countryside of Aleppo.
Lawyer Alaa al-Hussein, who resides in Azaz, told Enab Baladi that selling fireworks is a negative phenomenon that is not subject to legal controls and that it is an unlicensed trade that has no control over it.
Al-Hussein explained that these materials would cause terror, chaos, and panic among the people and create quarrels and disputes because of the damage they could cause at the level of individuals and property, as they may cause fires at times.
The lawyer emphasized the need for ethical and legal controls that do not cause inconvenience or harm to others by setting control standards by the security services to prevent the arrival of dangerous types, for example, and specifying places and methods for children to deal with firecrackers, provided that they are limited to light types with the least impact.
State of terror, threat of disability
"My feet couldn't carry me," Azaz-based Nour al-Sheikh expressed her feelings upon hearing the sounds of firecrackers, especially since they come suddenly and are very loud, causing a state of panic and extreme fear for the woman.
"Last Eid, a child lit a cracker on the road, and out of fear, I lost control of myself and threw myself on the road," al-Sheikh added to Enab Baladi.
In addition to societal harm and the state of chaos and terror, fireworks have medical risks that may lead to permanent disability or harm to the body.
Adam Abu al-Khars, a general physician in Azaz, told Enab Baladi that firecrackers are a potential gateway to skin and corneal burns due to the heat accompanying their ignition.
Also, injury to the eye and exposure to high temperatures directly, or the entry of a foreign body into it, such as sparks that are emitted as a result of the ignition of these materials, may cause retinal detachment and may lead to complete loss of vision.
Hearing loss is also a medical possibility based on the intensity of the sounds emanating from the explosion of firecrackers and the possibility of a foreign body entering the ear, which may damage the eardrum and cause it to rupture, in addition to suffocating from smells in children with chronic respiratory diseases.
The doctor suggested wearing something to protect the eyes when using firecrackers, such as the ones used when swimming or shooting in designated clubs, with the need to stay away from firecrackers as soon as they are lit.
He emphasized that the best option and the shortest way would be to refrain from using them in the first place.
On April 15, the Ministry of the Interior of the Salvation Government, operating in the city of Idlib, issued a decision banning the sale and storage of fireworks and crackers of all kinds under penalty of legal accountability.
It also called on parents to educate children about the need to refrain from purchasing these materials and urged them to assume social responsibility and to report shops that sell and promote these materials, in a step that the Interim Government did not take in the areas under its control, until the publishing of this article.
if you think the article contain wrong information or you have additional details Send Correction