Free Eid haircuts for children at Azaz's IDP camps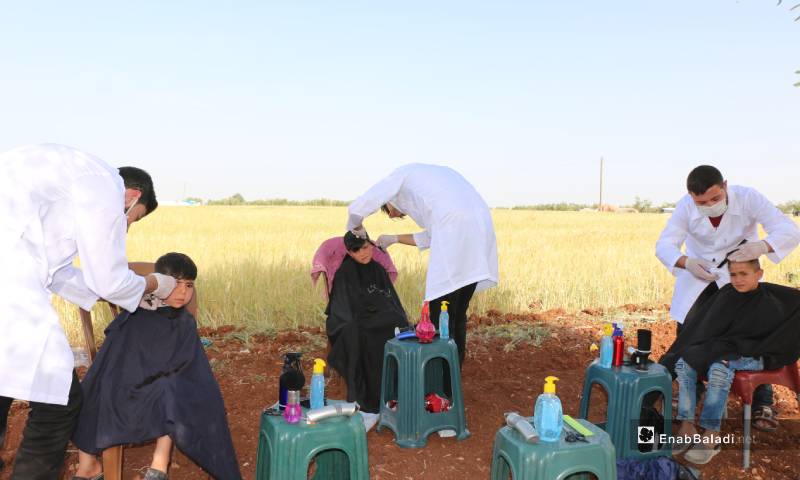 Enab Baladi – Aleppo countryside
As Eid al-Fitr approaches, some Syrian hairdressers have launched a voluntary initiative in Azaz city, northern Aleppo province, to cut and style the hair of the displaced children in the camps situated near the city.
In an interview with Enab Baladi, Muhammed Ismail, a volunteer hairdresser in the initiative, said that 15 hairdressers from Azaz city worked together to initiate this voluntary campaign.
According to Ismail, the initiative was designed to cover the needs of the informal IDP (internally displaced persons) camps, whether near or far from Azaz city. 
Ismail added that the organizers of the initiative chose camps around the city that lack hairdressers so that other hairdressers would not be affected financially.
The initiative also sought to bring joy and happiness to the displaced children with the advent of  Eid- al-Fitr, and to help them sense the thrill of the Eid preparations that they lost after being displaced with their families for several times, and having to live in camps, Ismail said.
According to Ismail, the first days of the campaign covered more than 200 displaced children and will continue its activity throughout the current year, by allocating a specific day of voluntary work in the camps every 15 days.
The hairdressing union in Azaz city has set the price list of hairdressing in the Turkish lira due to the instability of the Syrian pound's exchange rate and its continued devaluation against the US dollar. The SYP hit a record low against the US dollar (USD) to reach 1,600 SYP per USD.
Meanwhile, the IDPs in north-western Syria suffer from a lack of basic humanitarian needs. The Syrian Response Coordinators Group (SRCG) estimated the magnitude of the shortage in the essential needs of the IDPs in opposition held-areas in north-western Syria. 
According to the SRCG, the food security sector's shortage is 64 percent, while it reached 82 percent in the drinking water sector. In addition, the deficit rate was 79 percent in the health and nutrition sector, and 88 percent in the education sector.
A humanitarian needs assessment published by the "reliefweb" website, which relies on United Nations statistics, on 12 April, showed that about 49 percent of the IDPs and residents' communities eat three meals a day, while most residents of Atme, Afrin, and Kafroma have one meal per day.
According to the SRCG, the number of the camps' population displaced from Hama, Aleppo, and Idlib to safer areas has reached around a million and 41,000 persons after the Russia-backed Syrian regime's several military operations on these regions.
The IDP population is distributed over 1,277 camps, including 366 informal camps, which are sheltering about 184,000 people, as documented by the SRCG.
if you think the article contain wrong information or you have additional details Send Correction