Vehicles turn into makeshift shops in Idlib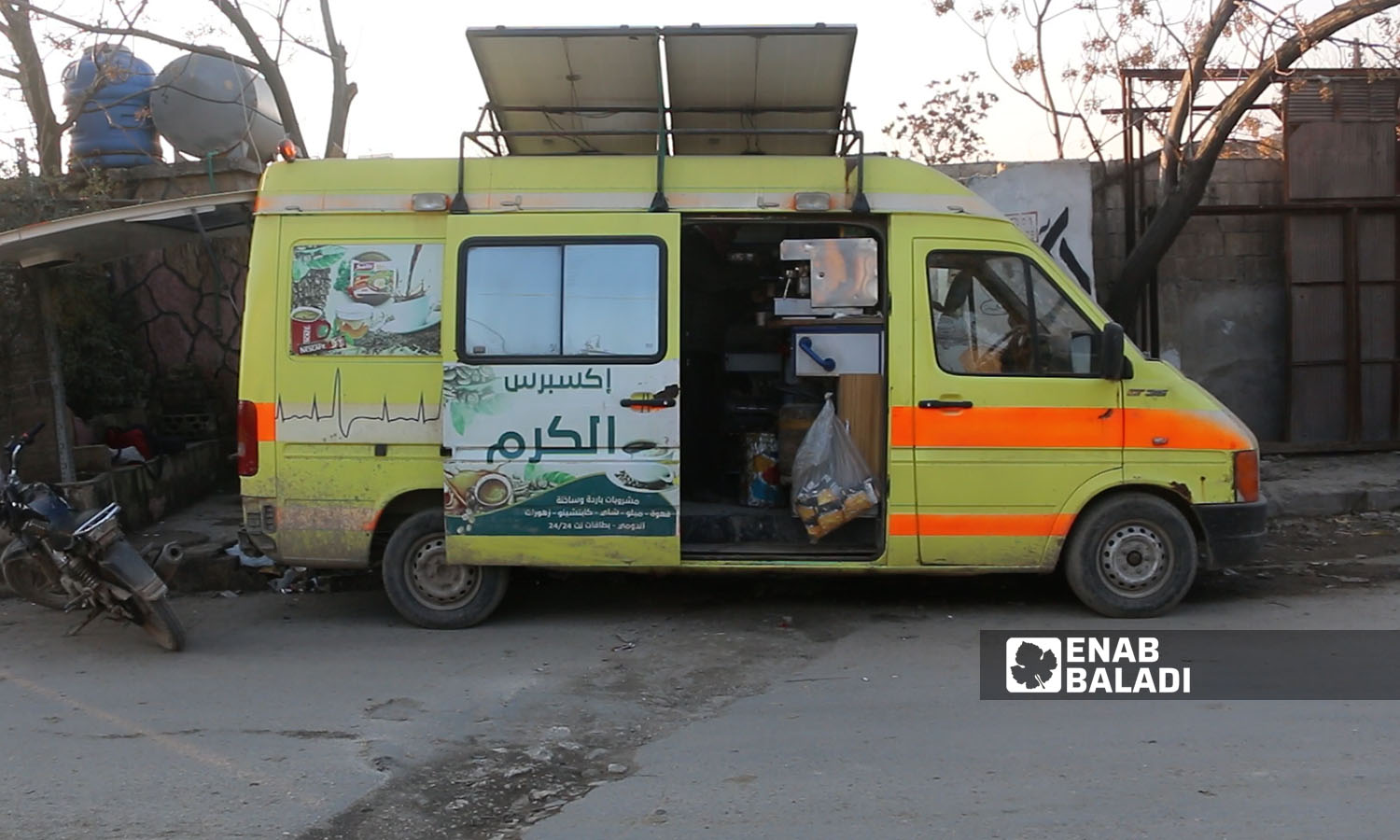 Enab Baladi – Anas al-Khouli
Moving through the streets of Idlib, the 42-year-old Hassan al-Issa spends his day in his car, which is equipped as a mobile café selling various types of drinks, after the municipality forced him to remove the stall he used to work on.
Al-Issa resorted to buying a car to transport goods and converted it into a mobile café after he was unable to find a commercial store with a rent suitable for his simple income, he told Enab Baladi.
Since the issuance of a decision to remove stands and stalls from the streets and sidewalks by the Syria Salvation Government (SSG) operating in Idlib and parts of the Aleppo countryside in May 2022, the vendors began a search journey for an alternative.
According to what Enab Baladi has monitored, car shops have spread widely over the past months in Idlib to practice various types of professions and trade, as many vendors have turned the trunks of their vehicles into workshops or shops selling various products or often becoming mobile eateries.
Source of income
Owning a mobile shop does not require huge capital, as it can start with $1,500 to purchase a suitable car, whose trunk is used to place work necessities, according to al-Issa.
He added that some of his relatives and friends suggested to him the idea of a "car shop" after the closure of stands and stalls by the local council in the city of Idlib.
He pointed out that through this idea, he was able to secure a source of income without bearing the burden of high shop rents.
In turn, Saleh Anis, 34, who works in the profession of car tire repair, resorted to converting a large vehicle into a workshop in which he practices his profession.
Anis' monthly income is about $70, which makes renting a shop an impossible option for him, according to what he told Enab Baladi.
Salem Mansour, 38, is also working on a car that he has equipped to sell sweets and some kinds of baked goods.
Despite the difficult working conditions, Mansour believes that selling on his car is the best option to secure a monthly income that covers his and his family's needs.
Obstacles and challenges
Mobile shop owners face many obstacles on a daily basis, on top of which are prosecutions of municipal council employees.
Al-Issa is forced to move between the streets of Idlib as soon as he receives a warning that there is a municipal patrol near his location.
The owners also face harassment from shop owners, as they consider the car shops "illegal" and hinder their work, according to al-Issa.
Al-Issa complained about the high costs of auto repair and the impact of car breakdowns on him and on many sellers who rely on them as a primary source of income.
In turn, Mansour says that gaining regular customers for the mobile shops in light of the fact that vendors are forced to move between the streets to avoid the municipality's patrols is very difficult.
Abdulaziz al-Asaad, another mobile shop owner, was subjected to much criticism and ridicule from his relatives after converting his car into a blacksmithing workshop.
He attributed this to the specificity of the blacksmithing profession and other manual occupations that require large workspaces.
License is a condition for work
Firas Alloush, the official spokesperson for the Idlib City Council, told Enab Baladi that converting cars into mobile shops is illegal.
He added that the municipality is working to remove these cars and stalls and to secure alternative workplaces for their owners, pointing out that the fees imposed by the council on the shops affiliated with the Idlib municipality are "symbolic."
Transforming a car into a shop requires obtaining a license from the competent authorities, Alloush said.
The municipality does not take fees for issuing licenses, but licensing the operation of mobile shops requires approval in which a fixed place for the vehicle is located.
The decision to ban stalls and work to move them to designated markets, starting May 2022, angered their owners, who criticized the distance of the markets designated for them from the city and the weak sales movement in them.
This coincides with the continued rise in prices and the deterioration of the living conditions of the population due to the existence of a gap between income and the cost of living in the northwestern region.
According to UN estimates, the number of people in need of humanitarian assistance increased in 2022 to 14.6 million people, an increase of 1.2 million people compared to 2021, and this number is expected to reach 15.3 million people in the current year.
if you think the article contain wrong information or you have additional details Send Correction