Turkey-Syria earthquake: First commercial fuel shipment to enter northern Syria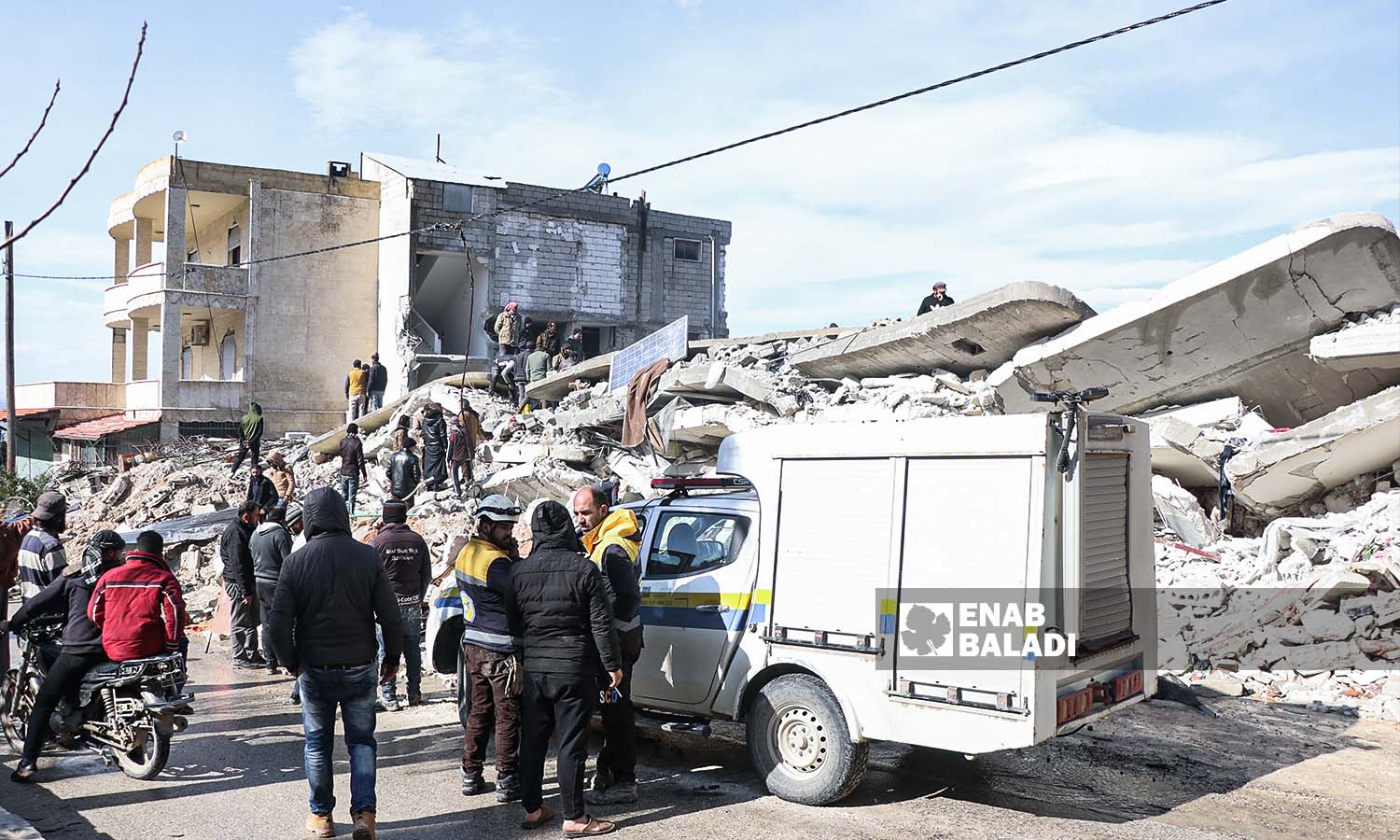 The press officer of Bab al-Hawa border crossing with Turkey told Enab Baladi that the first batch of fuel trucks will enter northwestern Syria on Thursday, the first-ever cross-border commercial diesel shipment since Monday's pre-dawn earthquake that killed over 17,000 people.
Mazen Alloush said these fuel trucks are commercial and contain European diesel, and they used to enter normally, but they stopped during the past four days due to the effects of the earthquake that hit southern Turkey and affected areas in northern and western Syria.
The fuel shipment entered through the import of European fuel materials by private companies in the northwestern regions of Syria, which is done on a regular basis to secure the region's need for these materials, and not within the framework of aid from any party.
Following the catastrophic earthquake, the northwestern region's needs for fuel materials doubled, with the aim of ensuring the continuation of rescue operations for those trapped under the rubble by means of heavy machinery and securing the needs of the various medical, relief, and food sectors, without external sources of supply for the region, within the framework of international aid until the time of publishing this report.
Also, the first United Nations convoy carrying aid to Syrians stricken three days ago by a deadly earthquake crossed from Turkey on Thursday, witnesses and a border crossing official told Reuters.
The convoy entered Syria at the Bab al-Hawa crossing, the sources said. Turkish authorities said they would open other crossing points in two days if security was sound.
The UN did not clarify whether this aid was directed to Syria due to the earthquake or whether it was scheduled in advance.
Death toll tops 17,000
After the earthquake and series of aftershocks hit Turkey and Syria three days ago, killing over 17,000 people, the rescuers pulled more survivors from beneath the rubble of collapsed buildings Thursday, but hopes were starting to fade of finding many more people alive more than three days, The AP reported.
The quake's death toll in Turkey reached 14,351 on Thursday, and aftershocks have continued for three days, with more than 1,117 aftershocks of varying intensity recorded.
In the latest statistics issued by the Syria Civil Defense (SCD) teams, the death toll from the earthquake in northwestern Syria has risen to more than 1900 deaths and more than 2,950 injured, with the number expected to increase "significantly" due to the presence of hundreds of families under the rubble and the lack of humanitarian support for ongoing relief work in the region.
In regime-held areas, the latest statistics of the regime's health ministry showed that the death toll reached a total of 1,262 while 2,285 people have been injured.
if you think the article contain wrong information or you have additional details Send Correction