Fish soaring prices remove it from Daraa tables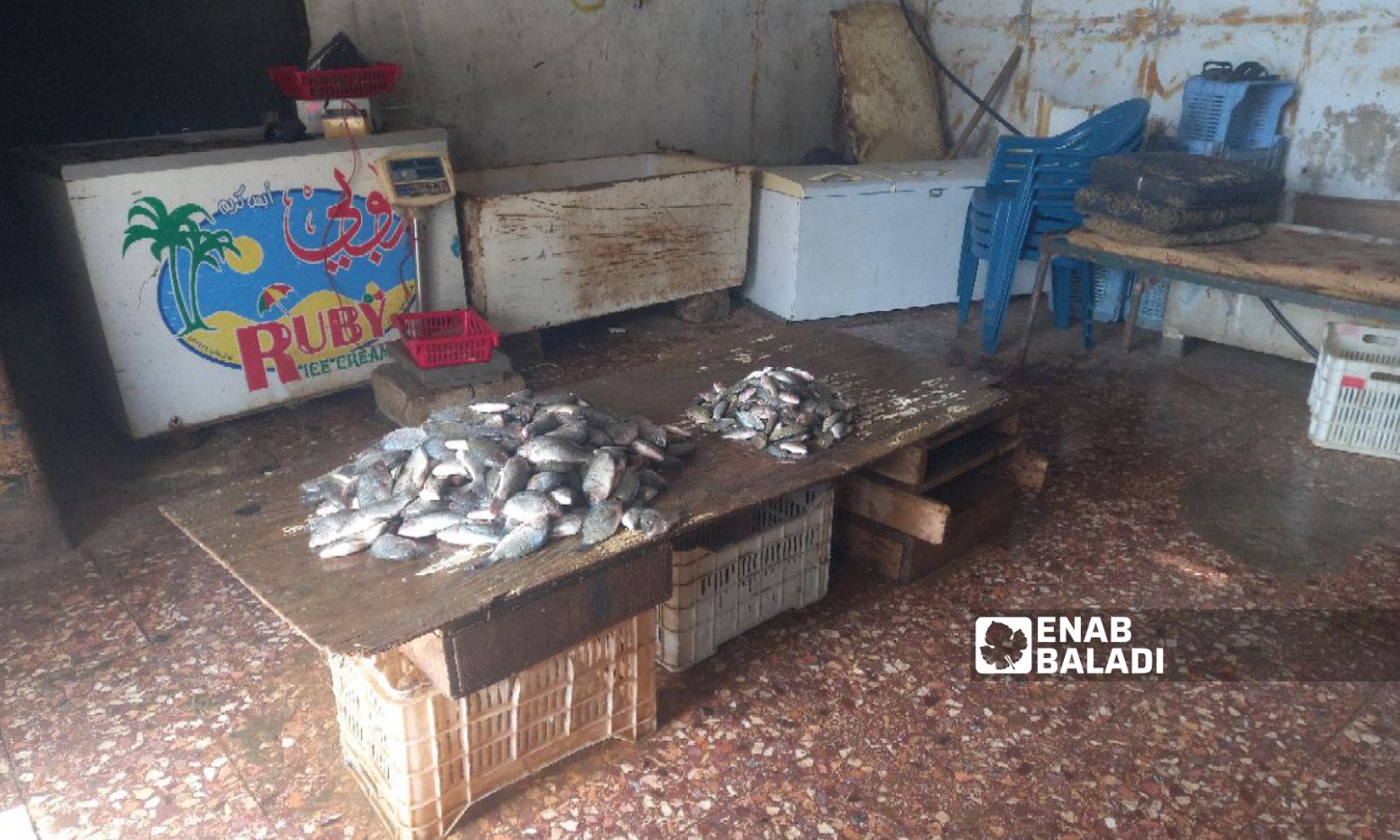 Daraa – Halim Muhammad
The people of Daraa depend on the dams spread between the governorates of Daraa and Quneitra to secure fish, in addition to fish from private farms and others imported from Hama and the coastal governorates.
Over the past years, fish meat has replaced chicken and sheep meat due to its slightly lower prices.
Since the beginning of this year, fish prices have risen, placing fish outside the purchasing power of Daraa's low-income residents.
According to civilians from the governorate who were interviewed by Enab Baladi, fish meat has become a "luxury dish" for most of the governorate's population.
The price per kilogram of live fish was 20,000 SYP, while sheep's meat was 45,000 SYP per kilo, in addition to 17,000 SYP per kilogram of chicken meat.
This price hike coincides with a significant increase in the exchange rate of the Syrian pound, reaching about 6,500 SYP per US dollar according to the parallel market in the last week of January.
Dams are a cardinal source of fish
Dams, especially the al-Wehda Dam shared with Jordan, are a major source of fish supply for the local market in Daraa governorate. However, the quantities obtained by fishermen are insufficient for the local market.
The governorate's residents procure fish from fishermen before they are even caught, as a buyer informs the fisherman that they need a certain number of fish (sold by weighing them) during their outing on a fishing trip.
During his trip, Ahmed (38), a simple fishmonger in Daraa, meets his neighbors and some of his acquaintances who order certain quantities of fish, he told Enab Baladi.
While fishermen are working to meet the population's needs, they take the remainder of their cargo to the fish market in the town of Hayt, overlooking the al-Wehda Dam in the western countryside of Daraa, to sell it there.
The al-Wehda Dam is an Arab dam shared by Syria and Jordan located on the Yarmouk River. It is 110 meters long, with a storage capacity of up to 115 million cubic meters (m3) of water.
Quneitra dams
Fishmongers also bring fish from the freshwater dams of Quneitra governorate, especially with the high transportation costs that have raised the prices of fish coming from the Syrian coast.
The prices of fish vary according to their different types, but the most popular ones in Daraa are Tilapia (al-Misht) and Carp (al-Karb).
Ahmed also told Enab Baladi that a kilogram of fish has jumped, since early this year, to 20,000 SYP, whereas it has not exceeded 13,000 SYP per kilo last year.
There are seven dams in Quneitra, which are Ruwaihinah, Koudna, al-Mantara, al-Hajjah, Bariqa, and Ghadeer al-Bustan.
These dams depend on rainwater and the melting snow of Mount Hermon (Jabal al-Shaykh). Fish farmers invest in these dams to grow and later harvest fish.
With less rainwater and more unregulated wells, most water bodies in Daraa have dried up, such as Lake Muzayrib, Lake Zayzoun, Oyoun (springs) al-Abed, and the Tal Shehab waterfalls, according to Ahmed, who said that these lakes and springs were a fisherman's destination and a major source of fish.
Private fish farms
Dozens of private fish farms are dotted in Daraa, which are ponds where "fingerlings" (fish eggs) are grown.
These farms rely on fodder to feed fish, but high prices of special fodder prompted farmers to feed fish chicken guts and some animal carcasses.
Abdul Aziz, 50, owner of a fish farm in Daraa, told Enab Baladi that there is no confidence in the fish of private farms, as some depend on feeding their fish on chicken remains and livestock entrails, and some throw carrion into the water.
Spoilt fodder supplied to fish generated poor products on the market, putting the population in need to investigate the fish's source before purchasing it.
"
Hama fish"
The "Hama fish" is one of the species available in Daraa. It is known in the rest of the Syrian governorates as "catfish." It is locally known by this name, as it comes from the Hama governorate.
Catfish is cheaper in comparison to other fish, as the price per kilogram is 9000 SYP, a price that did not exceed 6000 SYP until early this year.
Abdul Aziz added that catfish should be dealt with more cautiously than others, as it may come from small lakes that are not fresh or live in water mixed with sewage.
The annual production of marine fish in the Syrian territorial waters ranges between 2500 and 3000 tons.
Director of the General Authority for Fish and Aquatic Resources, Abdul Latif Ali, told the correspondent of the official Syrian Arab News Agency (SANA) that there are several factors that affected the quantities of production, namely the narrowness of the continental shelf, the lack of rivers that flow into the sea, and the marine currents that carry marine nutrients with them, in addition to the lack of bays and capes on the coast, which are considered a safe haven for fish breeding, in addition to the high production costs as a result of the high cost of equipment.
if you think the article contain wrong information or you have additional details Send Correction