In front of the factions' eyes, perennial olive trees are cut down in Afrin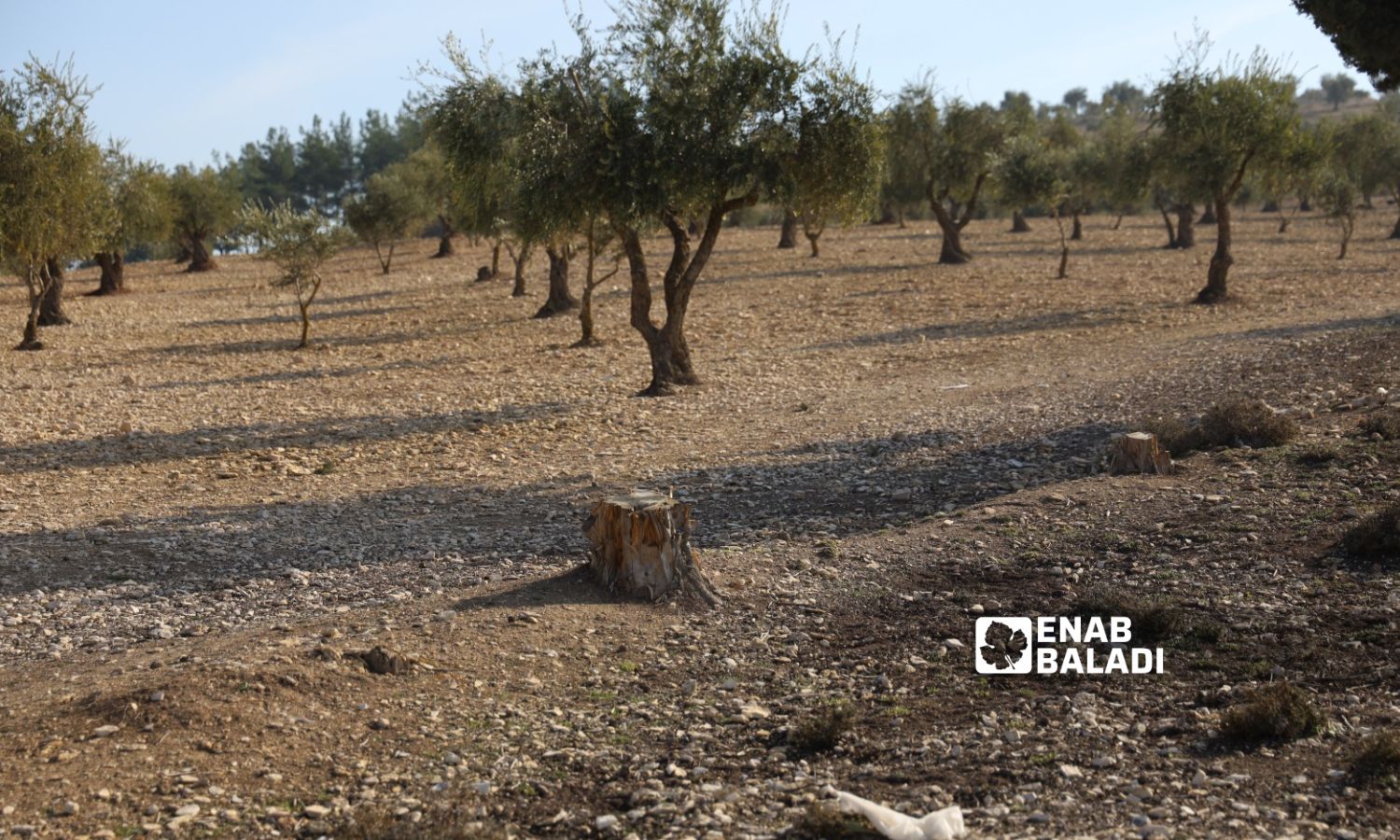 Enab Baladi – Afrin
"The olive tree takes years off our life, and when I see a tree cut down, I grieve from the bottom of my heart," Sobhi says as he sees an olive tree partially or completely cut down on his land in the Raju area of Afrin region, north of Aleppo.
The forty-something-year-old farmer told Enab Baladi that the value of the tree exceeds its financial yield as a source of livelihood, as it is older than him and carries the spirit of his grandfather and father and family memories.
It is also the legacy he leaves for his children, and he makes every effort to keep the olive trees perennial and generous in his land.
Ancestral inheritance
Sobhi confirms that he continues to work on his land and that he transfers the value of the land and its love to his children, although the olive fields do not cover 15% of the work effort in it due to the costs and financial burdens it requires, and because some military factions imposed royalties on the land.
Each tree bears a peculiarity for the owner of the land, who spends years of effort to grow his trees, as he applies to them what he learned from his father in terms of farming methods, such as plowing, fertilizing, and watering, and waits for the harvest time, and if he cuts it, it carries all these details and memories with it, Sobhi said.
Olive trees are being cut down by the hands of factions of the Turkish-backed Syrian National Army (SNA) and unknown people who are accused of belonging to military factions, especially in the Afrin region, which is famous for its perennial olive trees, which are divided into seven districts: Afrin, Sheikh al-Hadid, Maabatli, Sharran, Bulbul, Jindires and Raju.
On 11 December 2022, activist Ahmed al-Barho published a video recording that showed "excessive felling" operations in the vicinity of Raju region, pointing out that the number of felled trees increases on a daily basis, and some of them are 60 years old.
The number of olive trees in the city of Afrin and its environs is 14,225,000 trees, according to Ahmed Hamaher, director of the office of the head of the local council in Afrin.
The agricultural engineer, Suleiman Mohammad, explained to Enab Baladi that the olive tree can bear fruit if it is partially cut down, and in the event of planting new seedlings, it takes five to six years to become well-fruited, regardless of its varieties.
Logging continues
On 19 December 2022, Jwan (a pseudonym for security concerns) was surprised that 30 olive trees were cut down on his land. Moreover, 50 trees were also partially cut down out of the 300 trees he planted on his land near Afrin city.
Jwan told Enab Baladi that he informed a security office affiliated with one of the National Army factions, which has influence in the region, about what happened to his land, pointing out that the cutting operations "do not exclude" any farmer and that the farmers are afraid to speak, because "The charges of collaborating with terrorist parties" are ready.
Jwan mentioned that he told a military checkpoint on a road near his land about the process of cutting and logging trees, and their answer was that "they have nothing to do with his trees, and they demanded that he pay an amount to guard the land and arrest the thieves."
Akram Abu Ramzi, 80, of Jwaiq village in the countryside of Afrin, is in the same situation as Jwan. He was beaten by two masked men in military uniforms who were cutting olive trees on his land after he was surprised by their presence.
The old man told Enab Baladi that more than 17 olive trees were completely cut down from his land.
Logging operations are taking place despite the existence of decisions to prevent them, to hold any car loaded with trees accountable and to confiscate any car loaded with trees, and to arrest and hold the responsible party accountable.
With every case that appears to the public, activists demand to limit these operations and to hold the groups that supervise them accountable, with the publication of many pictures comparing green spaces in previous years and what they became after the logging.
The royalties are not new to the farmers of the region, as they were imposed by the factions of the Turkish-backed National Army after taking control of Afrin on 18 March 2018 from the Syrian Democratic Forces (SDF) in a major military campaign led by the Turkish army, called "Operation Olive Branch."
Human rights and humanitarian organizations have documented cases of royalties since the National Army took control of Afrin, and many local authorities and even military institutions have warned against logging operations in the region and its countryside under penalty of accountability and the confiscation of any car loaded with trees, and the arrest and accountability of the responsible party, but the ban decisions were not a deterrent as the factions keep denying that they had committed these abuses.
---
Enab Baladi's correspondent in Afrin, Amir Kharboutli, contributed to this report.
if you think the article contain wrong information or you have additional details Send Correction