Fear travels with Syrian asylum seekers to Britain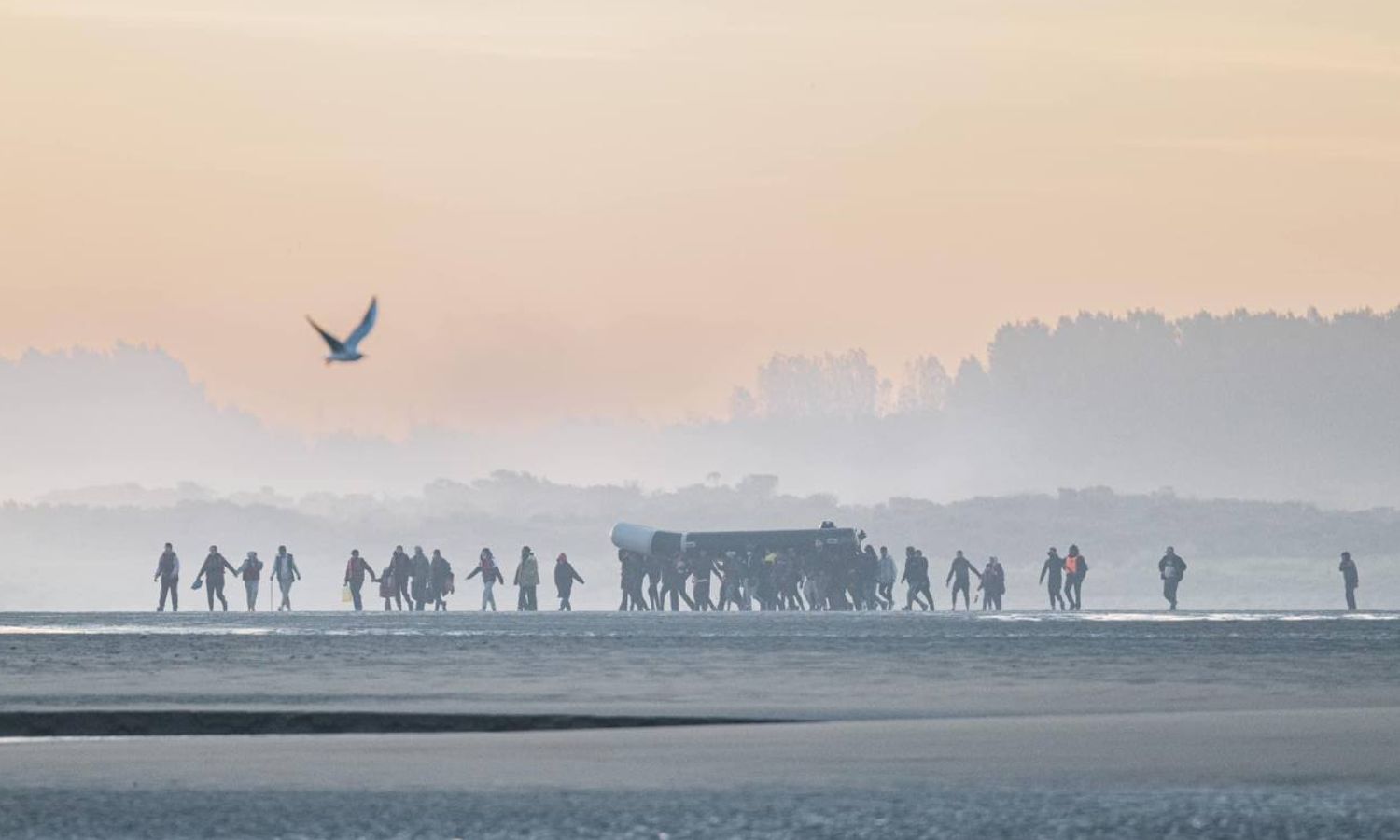 Enab Baladi – Lujain Mourad
After a four-month journey grueling with anxiety, the twenty-something-year-old Salem (pseudonym for security reasons) arrived in Britain in mid-2022 seeking the safety he had lost in his hometown, only to face another fear caused by the agreement to deport refugees to Rwanda.
A tale among dozens involving Syrian refugees in Britain who left their country to escape death, only to find themselves at risk of being denied their right to asylum guaranteed by international humanitarian law.
After months of living at the mercy of conflicting decisions and statements, the High Court of Justice in London's ruling issued on 19 December 2022 regarding the legality of the refugee deportation plan constituted a "knockout blow" for Salem and other refugees who are still awaiting asylum, the young man told Enab Baladi.
Temporary safety
Salem left Daraa early last year, towards the liberated areas, leaving behind his wife and children in challenging conditions that threaten the future of his children, as he put it.
Following a relatively safe journey, given that smuggling in Syria is linked to a common local saying, "everything is possible as long as there is money," Salem entered Turkey and then headed from there to Greece.
"We are doomed, but the children still have a chance at a better future," a phrase repeated by Salem in a Hourani accent (seeing that he is a Houran-native), reiterating his determination to pursue his journey despite its dangers.
Among many plans to crack down on "illegal" asylum trips to its territory, the British-French convention to prevent refugees from crossing the English Channel has repeatedly impeded young men's attempts to reach Britain.
After repeated attempts in which he risked drowning, Salem arrived at his destination, to which dozens of relatives had previously come and which, according to the young man, had long represented safety.
"Days after I arrived, I began to feel that safety had faded. I realized that I was facing a new threat", Salem continued, bemoaning the reality of Syrians who, in his own words, are carrying with them fear wherever they head.
While Britain's reversal of the deportation of the first batch of refugees in June 2022 following the decision of the European Court of Human Rights (ECHR) had given hope to some 40,000 refugees who arrived to British territory across the English Channel in the same year, they were robbed of that hope by London's High Court's decision.
Undetermined fate
Salem and other refugees await a fateful decision that could give them a chance at long-hoped stability or leave them to face an undetermined fate.
In the hotel rooms reserved for those with pending asylum applications, the young man spends his days searching for options to avoid the dangers of moving to "another Syria," the young man said in reference to Rwanda.
The forty-something-year-old Ghiyath (a pseudonym for security reasons) lives in similar circumstances, haunted by fears of a prison cell waiting for him in Syria, which he left to escape arrest.
Ghiyath suffered security prosecutions as a result of his work in unlicensed organizations, and he escaped by paying money to officials in the security services, he told Enab Baladi.
"I was subjected to financial extortion. I paid money for my safety, and the fact that my fate depended on such payment was reason enough to look for another country that could provide me with the safety I had lost. Britain was the perfect option for me", continued Ghiyath, who today faces a future that depends on government decisions that reject his presence.
Postponed plan
Salem, Ghiyath, and other refugees have the opportunity to file with the Court of Appeal if their asylum applications are rejected, which they plan to do.
In the event of repeated rejection by the Court of Appeal, asylum-seekers can submit their files to the High Court to obtain a final decision of rejection or approval.
Although the High Court's decision disappointed the refugees and represented a victory for the government, the prospect of initiating deportation flights to Rwanda ran counter to the prospect of further appeals of the court's decision. Moreover, the European Court of Human Rights (ECHR) order prohibits any immediate deportations until the completion of asylum-seekers' legal proceedings.
The Refugee Week 2022 ambassador in Britain, Sleman Shwaish, told Enab Baladi that the court's decision is not expected to be implemented soon, especially in light of the humanitarian organizations' rejection of the deportation plan.
In Shwaish's view, the deportation agreement to Rwanda aims primarily to warn those who intend to arrive in Britain "illegally" about the future ahead.
Humanitarian organizations have submitted several petitions to the Parliament of the United Kingdom to demand a reconsideration of the decision, as it includes violations of human rights and asylum laws, according to Shwaish.
Shwaish held international and humanitarian organizations responsible for protecting refugees.
"Illegal" deportation
By means of the 120 million GBP agreement it signed with Rwanda, Britain plans to transfer asylum seekers to Rwanda to await Britain's decision on their asylum applications.
The British government's statements continue to confirm its determination to implement the plan. Following the High Court's decision, British Secretary of State for the Home Department, Suella Braverman, said that the government is currently focusing on moving forward with the deportation policy as soon as possible and that the government was prepared to defend against any further legal challenges.
Article 33 of the 1951 Convention relating to the Status of Refugees states that "No Contracting State shall expel or return ("refouler") a refugee in any manner whatsoever to the frontiers of territories where his life or freedom would be threatened on account of his race, religion, nationality, membership of a particular social group or political opinion.
Under the said convention, Contracting States (including the United Kingdom) are not permitted to arbitrarily detain asylum-seekers in detention centers unless they commit crimes.
if you think the article contain wrong information or you have additional details Send Correction