Injuries and deaths, stray dogs threaten residents of northwestern Syria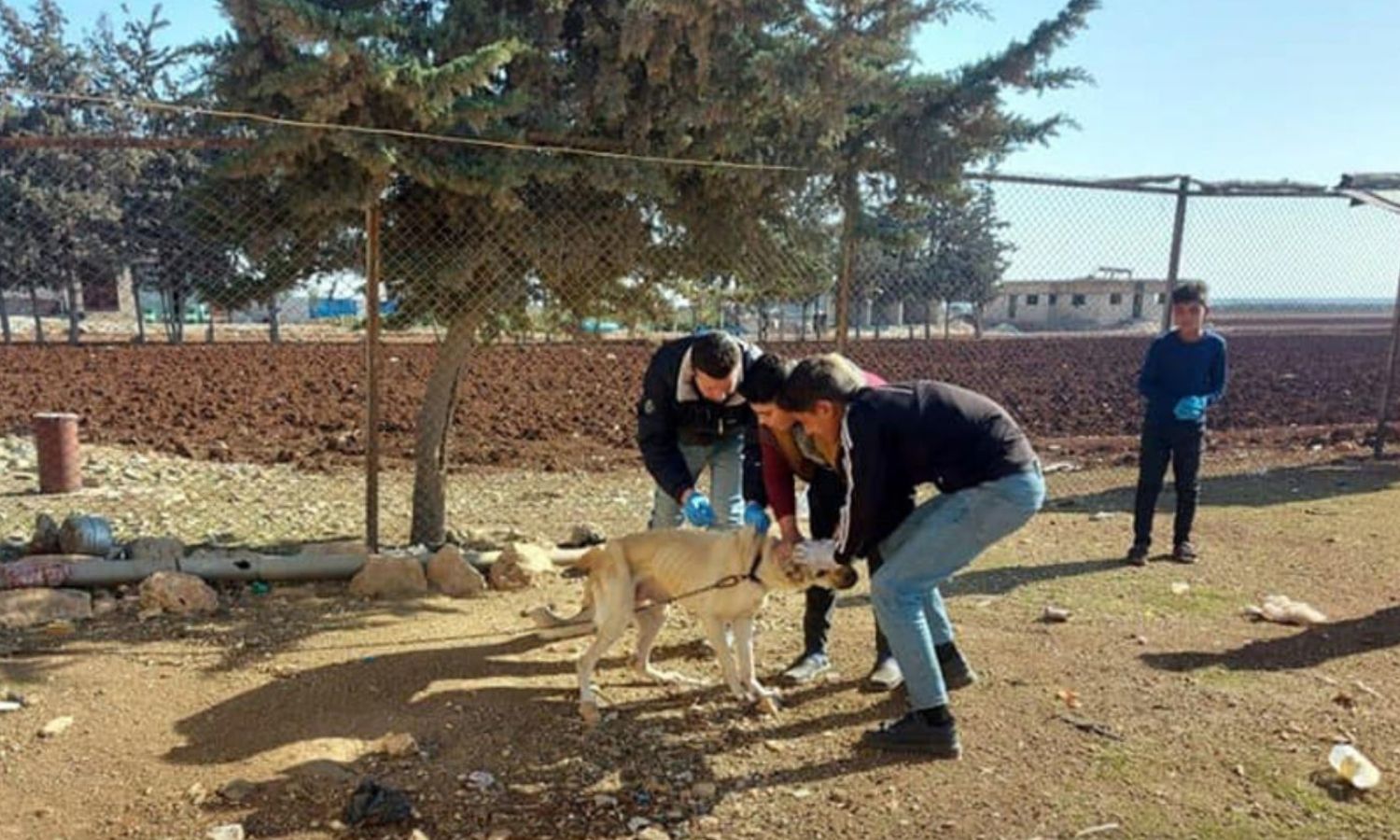 Stray dogs have become a phenomenon visibly prevalent in the neighborhoods and streets of cities and towns in northwestern Syria, causing panic among residents, especially children. These animals have become a source of nuisance and fear due to the pathogenic viruses they carry.
The spread of stray dogs was accompanied by the announcement of deaths and injuries to people as a result of exposure to bites, amid initiatives by local bodies and personal initiatives to limit their spread through vaccination campaigns or shooting these dogs in some cases.
Deaths and injuries
The most recent case of humans affected by stray dogs was announced by the Syria Civil Defense on 13 December, when it said that its teams had taken a child to the hospital to receive treatment after he was bitten by a dog in the al-Bir camp near the village of Batbo in the western countryside of Aleppo.
The Civil Defense stated on Facebook that the cases of exposure to dog bites have recently increased in areas of northwestern Syria, suggesting that their complications could lead to death.
Ali Zaazou, 42, died on 29 November after being bitten by a rabid dog three days earlier in the village of Trinda in Afrin, north of Aleppo.
On 2 November, a child was bitten by a rabid dog on a farm in the countryside of Jisr al-Shughour, west of Idlib. The Syria Civil Defense took him to the hospital for treatment.
Telegram channels (prevalent in the region) post almost daily incidents of people, especially children, being attacked by stray dogs. Victims are being taken to clinics close to where these accidents occurred.
Enab Baladi's correspondents polled the views of some people in the Idlib and Aleppo countryside. They expressed concerns about the spread of stray dogs that are attacking children, in particular, being unable to resist or escape from them. Some dogs attack motorcycles, causing numerous accidents and damages.
In each case, the Civil Defense recommends that parents pay attention to their children and not approach stray dogs and the abandoned places in which they spread to ensure their safety.
Campaigns for control and vaccination
The region's residents have increasingly demanded, through social media, that some departments and concerned authorities take action through campaigns to vaccinate stray dogs or even to put them down by shooting them.
On 26 October, the local council in the city of Darkush in the western countryside of Idlib launched a campaign to combat stray dogs, setting a curfew appointment after 11 p.m., given the large number of dogs in the late night hours.
A member of the Darkush Local Council, Mohammad Abdo, told Enab Baladi that stray dogs had spread heavily in the city's neighborhoods and streets, particularly in places where there is no high population density or large human populations.
The council received numerous complaints about the spread of dogs being harmful and striking panic and fear in the hearts of the people, in addition to fears of diseases resulting from them attacking people.
Abdo added that the local council's campaign included returning the dog to its owner if it was identified and recommending putting a leash on it, and killing ferocious dogs while burying them in a sanitary way that does not cause odors and diseases.
The Directorate of Agriculture and Livestock of the Azaz Local Council in the northern countryside of Aleppo launched a vaccination campaign for domestic dogs against the rabies virus to ensure their safe presence among the people after the spread of stray dogs in the city's neighborhoods and the existence of several cases in which these dogs attacked many residents.
The campaign launched by the Agriculture Office in Azaz has been ongoing since 23 November, and it also included stray dogs. A specialized veterinary team administers the required vaccinations to the animals to ensure that they do not develop rabies.
Fadi al-Ajlan, director of the Agriculture Office in the Azaz Local Council, told Enab Baladi that the main reason for launching the campaign is that children and women have been attacked by some stray dogs in the city's neighborhoods. Some of these dogs were found to have rabies and began transmitting the infection to other dogs.
The Azaz Local Council's campaign is based on administering an approved vaccine imported from Turkey to domestic dogs by a specialized veterinary medical team, pointing out that whenever a dog is infected with rabies, it cannot benefit from the vaccine given, so it is put down immediately.
Al-Ajlan added that a dog infected with rabies dies three to seven days after the disease contaminates its nerve cells and its brain. It is either quarantined until it dies, or it is shot and then disposed of and buried in designated areas.
Fatal diseases and prevention methods
With regard to diseases transmitted by stray dogs, the veterinarian, Rashid al-Junaid, previously explained to Enab Baladi that the most important diseases are Echinococcosis, Cystic echinococcosis, Giardia infection (Giardiasis), allergies in children, skin diseases, and Dermatophytosis (ringworm).
The most serious and widespread disease of them all is rabies transmitted to people by the saliva of the infected dog, whether by licking or biting. The virus does not die and is not affected by the use of topical antiseptics that are used to disinfect wounds.
The World Health Organization (WHO) defines rabies as a vaccine-preventable, zoonotic, viral disease. Once clinical symptoms appear, rabies is virtually 100% fatal. In up to 99% of cases, domestic dogs are responsible for rabies virus transmission to humans.
Yet, rabies can affect both domestic and wild animals. It is spread to people and animals through bites or scratches, usually via saliva.
Every year, more than 29 million people worldwide receive a post-bite vaccination. This is estimated to prevent hundreds of thousands of rabies deaths annually, says WHO.
Rabies is one of the Neglected Tropical Diseases (NTD) (a diverse group of 20 conditions that are mainly prevalent in tropical areas, where they mostly affect impoverished communities in tropical and subtropical countries). It predominantly affects poor and vulnerable populations who live in remote rural locations. Approximately 80% of human cases occur in rural areas.
The WHO mentioned three ways to prevent rabies: to get rid of it in dogs with vaccines, raise awareness about rabies, prevent dog bites, and immunize people before and after exposure to the disease.
The WHO published some facts about rabies; it is a vaccine-preventable viral disease that occurs in more than 150 countries and territories. The infection causes tens of thousands of deaths every year, mainly in Asia and Africa.
40% of people bitten by suspected rabid animals are children under 15 years of age.
Immediate, thorough wound washing with soap and water after contact with a suspect rabid animal is crucial and can save lives.
WHO leads the "United Against Rabies" initiative to drive progress towards "Zero human deaths from dog-mediated rabies by 2030".
---
Enab Baladi's correspondents in Azaz, Dayan Junpaz, and in Darkush, Mohammad Nasan Dabel, contributed to this report.
if you think the article contain wrong information or you have additional details Send Correction