Bicycles in Idlib substitute motorcycles and buses as fuel prices mount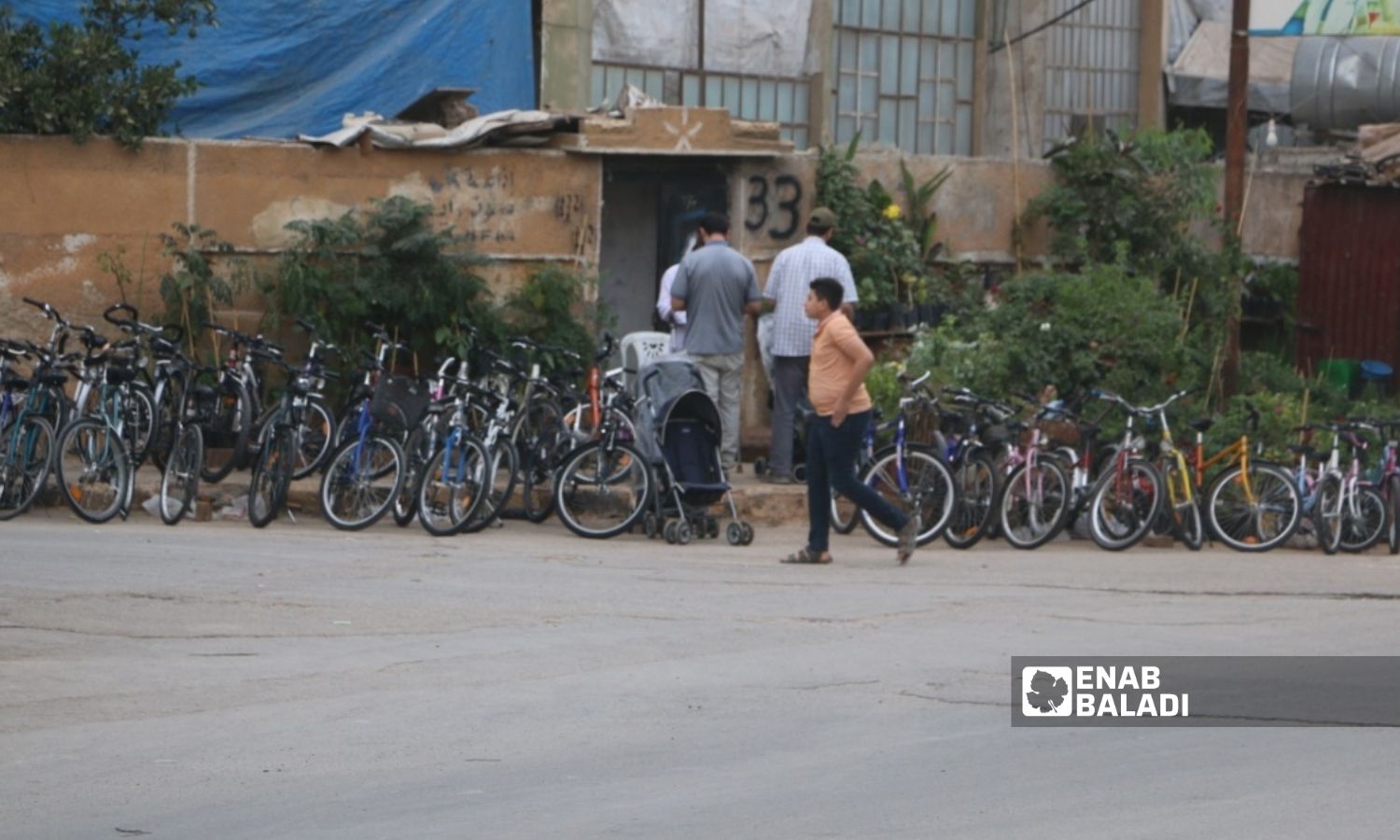 Idlib – Anas al-Khouli
The 28-year-old Ali Tarshan sold his motorbike, which he rides to work every day, as gasoline prices hiked in the northwestern city of Idlib.
Now, he bought a bicycle instead, Tarshan told Enab Baladi.
As a day laborer, Tarshan earns 60 Turkish liras per day, while he needs a liter of gasoline daily to operate the motorcycle to cover only the necessary movements in Idlib, which means he ought to pay 22 Turkish liras for one liter, which is more than a third of the wages he receives from his work.
"My family has the right to spend this amount on them," Tarshan asserted in light of the high prices, difficult living conditions, and lack of work he is facing these days," he said.
Tarshan considered that having a bicycle is a good and appropriate alternative, as it does not require special expenses such as fuel, and its maintenance is much less expensive than motorcycles.
According to what Enab Baladi observed, there are dozens of shops selling bicycles in Idlib today, after its presence was "almost non-existent" in the city.
According to the price bulletin issued by the "Watad" fuel company operating in the areas of the Syrian Salvation Government (SSG) in northwestern Syria, the price of a liter of good quality imported gasoline reached 1.65 USD (about 22 TL).
Fuel prices in northern Syria are affected by international oil prices and were previously affected by the many declines of the Turkish lira against foreign currencies.
Motorcycle theft is another reason
Bicycles provide more safety compared to motorcycles due to their lightness and the possibility of carrying and placing them inside the house, and their price is much lower than motorcycles in the event of their loss, residents say.
Jaafar al-Taybeh, 35, an IDP based in Idlib, told Enab Baladi that since his arrival in the city in 2017, three motorcycles, which he owned, have been robbed in a row, the total value of which is about 825 USD, which makes it better to own a bicycle.
Al-Taybeh added that stealing his motors was easy due to the lack of a safe place to keep them, as he had to leave them on the street in front of the door of the building in which he lives, with a chain and a lock that does not protect them from theft.
He explained that it is not possible to park motorbikes at the entrance to the building due to the large number of bikes that impede entry, whether for residents of the building or visitors to one of the families in it.
Ibrahim al-Issa, 31, an IDP based in Idlib, told Enab Baladi that the bicycle is light and does not take up much space, and it can be carried after the completion of its use and placed inside the house or on the building staircase adjacent to the door of the house in the multi-story buildings, without annoying anyone because of its small size.
Overcrowding pushes for alternative
"Al-Zajil" buses, a local transportation company, cover movement in some of the main streets in Idlib, and some see them as an alternative to motorcycles and private cars.
However, the streets covered by buses do not include all areas of the city, while residents of Idlib face difficulty in moving due to traffic jams, especially on the roads connecting markets and residential places.
The 41-year-old Ahmad al-Ahmad, an IDP from Damascus who resides in Idlib, told Enab Baladi that it is known that motorcycles were previously prohibited in cities and that citizens depended on buses or taxis for long distances for their movement within cities.
But for close distances, they relied on bicycles, which he considered the best solution that could reduce congestion and traffic accidents resulting from it.
Enab Baladi, in June 2021, published a lengthy report in which it discussed the reasons for the high rate of traffic accidents in northern Syria and discussed with officials the traffic situation in those areas, as well as the solutions and measures available to reduce road accidents.
if you think the article contain wrong information or you have additional details Send Correction