Amal Rantisi| Husam al-Mahmoud| Zeinab Masri
On a suburban road, with no traffic lights installed, a truck driver takes a turn, surprising another truck driver. In no time, that second driver turns and clears the way for the first. They both miraculously survived what could have been another tragic collision.
A surveillance camera captured the survival of the two drivers on the Bab al-Hawa-Sarmada road. The video then was circulated by activists and local media news pages on social media, all calling drivers to be alert and to uphold traffic regulations.
A second video documented a similar horrifying instant on the Darat Izza- Deir Semaan agricultural road, in the western countryside of Aleppo, with no traffic lights, warning signs, or even directions. This time a truck driver takes a sudden turn, crashing against the motor vehicle that was driving just behind him.  The motorcyclist was knocked to the ground.
Such crashes are increasingly becoming routine in the areas in northwestern Syria. Over the past three weeks, traffic authorities have been reported on 70 crashes, accounting for three crashes a day.
In this in-depth article, Enab Baladi investigates into the hiking rates of traffic fatality in northern Syria, discussing with concerned officials potential solutions and policies to reduce the rate of crashes on the region's roadways.
The reasons are various
Both authorities and civilians are to blame for road tragedies
Ahmad Ghanaymi and his friend survived a nighttime rollover accident. Their car swerved off the road and flipped over as they took a harsh turn. There was no sign to alert them such a turn existed and or warning that they needed to slow down.
"We got out of the car safe and sound, with minor material damages," Ghanaymi told Enab Baladi. He added that the larger percentage of crashes in northern Syria are the consequence of poor road maintenance and services. The big potholes in the main roads are neglected, so is the installation of road signs that help reduce collisions and regulate traffic.
Pedestrian lanes do not exist
Ali Hijazi, based in Azaz city, crashed into a light pole on one side of the Afrin-Azaz road. He rushed to swerve to miss hitting a pedestrian that crossed the road randomly.
"The roads are underserviced. There are no courtesy crossing areas or traffic signs. The lack of such measures has been significantly contributing to car accidents in northern Syria," Hijazi told Enab Baladi.
Hijazi added that there is a system of impunity. People breaking traffic regulations are not fined or given citations. They are creating a state of randomness on the roads and within the cities, which encourages drivers to be reckless and increases accidents.
Idlib: dangerous roads and reckless drivers
To the south of Azaz, in the city of Idlib, Ahmad al-Abdo was involved in a traffic accident this June on the Bab al-Hawa highway – Maarat Misrin junction, while he was riding a motorcycle.
Lamentingly, Al-Abdo said that traffic accidents are always blamed on drivers. This applies worldwide, not only to northern Syria.
He told Enab Baladi that the road he was taking was wide and paved and that it was not his mistake that one passerby decided to cross the road without any regard to safety measures or other people's right of way. He lost control over the motorcycle to avoid pumping into that passerby, who did not check the road before walking to the other side.
"I was driving within acceptable speed limits. But one car driver, out of the blue, appeared on the road.  This made me lose control over the motorcycle. The damage was more material than physical. The repair costs amounted to 32 USD," al-Abdo told Enab Baladi, describing the crash scene that could have turned deadly, involving three victims, himself, that second drive, and the passerby.
He added that the traffic regulations are enforced to protect drivers and passers-by, and any accident is a violation of these regulations.
Near the village of Ras Elhisn, on the Sarmada-Harim road, journalist Rania al-Akhras was about to lose her life last winter. The road, one of the area's most notorious pathways, is punctuated by several dangerous potholes, risking the lives of passers-by and drivers alike.
Al-Akhras told Enab Baladi that the road has a hard-to-tackle ramp. As I turned, the car spanned out of control and flipped upside down several times. If it was not for the airbags, Al-Akras would not have survived with bruised ribs only.
Road crashes' main causes
Crashes in northwestern Syria can be traced back to several reasons, notably the absence of traffic laws and regulations, that would set the vehicle activities into order, in addition to the lack of awareness and recklessness of young drivers.
Enab Baladi monitored this set of causes as among the most regnant, speaking to a group of car owners, including taxi drivers, in Idlib and the northern countryside of Aleppo.
Car owner Abdo Qintar has been driving for about 10 years. His father taught him to drive a dumper truck he works on. Qintar, however, does not have a driver's license because there are no departments to issue such documents in northern Syria.
He considers overpopulation in northern Syria as a key contributor to vehicle accidents, as nearly four million people live in a very small area.
He told Enab Baladi that anyone in the area can now buy a car and drive without obtaining a license and without knowing the rules of the road.
Qintar added that it is not enough to register vehicles and provide them with number plates.  In addition to this measure, drivers must be ordered to obtain licenses and underage driving must be banned.
He stressed that most people in northern Syria drive their cars without a license. Before 2021, most of the drivers did not even have their cars registered
Idlib-based Mahmoud Jaroukh is a licensed taxi driver, he obtained a public passenger vehicle driving license about 15 years ago.
Jaroukh attributed vehicle crashes to poor awareness among younger people, and also their negligence, in addition to lack of traffic lights and road signs, not forgetting the underperforming traffic authorities.
He stressed that it is necessary to establish traffic laws and install traffic lights on the area's roads, as well as set up bumps. He added that driving licenses are important and that awareness sessions must be held for younger drivers.
Jaroukh is also an advocate of driving lessons. He said that those who wish to drive in northern Syria must undergo training, pointing out that, to reduce crashes, he is willing to attend training programs should a driving school be established, even though he has been driving for over 15 years.
New road networks needed
Poor road quality has been one of the key reasons for spiking traffic accidents in northern Syria. The roads were rendered useless either by extensive shelling from Russian and regime forces or by overpopulation and hostilities-driven patterns of random housing construction. To escape shelling, people have been setting up informal tent camps or shelters in agricultural lands.
With the regime forces controlling different areas and cutting off major roads, people resorted to using secondary and mountainous roads, which are not equipped for specific types of vehicles or to serve large numbers of commuters.
Like the construction of any civil facility, roads building requires adhering to certain specifications and likely needs exorbitant costs, as well as continuous maintenance, and protection from sabotage and vandalization, civil engineer working in the General Directorate of Services in Idlib, Ahmed Daaboul, told Enab Baladi.
The engineer added that the "tragic" condition of infrastructure in northern Syria, especially the roads, needs a lot of restoration, maintenance, or complete reconstruction in many sites.
It is imperative, according to Daaboul, to connect the new residential centers that have been established in northern Syria with the existing ones to guarantee their access to services. For this purpose, a new road network must be constructed.
Pertaining to the traffic system in northern Syria, he said that it needs trained and empowered traffic police, and regulations that govern drivers' activities, including providing them with the specifications of the car or truck and weight of loads allowed on the roads. These regulations must be overreaching, covering all traffic-related matters.
Motorcycles: greater spread and higher risk
Threat to life and potential harm in traffic accidents vary according to the vehicle involved.  Motorcycles have been causing fatal injuries compared to cars since the motorcycle's driver's body is fully exposed, unprotected like in a car, while the motorcycle can easily lose balance and tip over at the slightest crash.
Enab Baladi interviewed several locals in northern Syria pertaining to the dangers posed by a motorcycle. The interviewees all agreed that parents are to blame for motorcycle crashes, for allowing their children to drive motorcycles at an early age.
The interviewees also noted that children driving cars and motorcycles on the main and secondary roads at high speed contributes to accidents and may result in injury to the driver or pedestrians.
They referred to the heedless stunts that car drivers and motorcyclists opt for, such as tashbib (wheelie)— a vehicle maneuver in which the front wheel comes off the ground due to sufficient torque being applied to the rear wheel— and Tashfitt, another maneuver, where a vehicle is driven at a high speed with driver's intention to do a sudden stop.
The interviewees demanded enforcing a strict traffic law that bans minors from driving and prohibits driving without a license, adding that it is important to establish a driving school and to get motorcycles registered to identify perpetrators in cases of violations of the law or crashes.
The low prices of motorcycles, with the ability to purchase certain models for 200 USD, contributed to their proliferation in northern Syria, where nearly four million Syrians live in a small geographical strip. Having millions of people crammed into such not so spacious area increases the rates of traffic fatality should crashes occur in densely populated neighborhoods or markets.
Inoperative traffic regulations
What role do local authorities play?
The judicial police, including officers and members of the Internal Security Forces, in Syria, is the body assigned issuing citations for those failing to comply with traffic regulations, as stated by the Traffic and Vehicles Law No. 31 for 2004.
The Syrian Traffic Law governs traffic and defines the technical rules involving vehicle registration and operation, driving licenses, and driver duties.
However, the law is not enforced across Syria, particularly not in opposition-held areas in northern Syria, including Idlib and the countryside of Aleppo. While it is not evident what laws govern traffic in Idlib under the Syrian Salvation Government (SSG), in Aleppo's countryside, the Syrian Interim Government (SIG) has been adopting Turkish traffic regulations and driving rules. Nevertheless, deterrent and unified traffic laws remain absent in both control territories.
SIG denies it is responsible, holding drivers accountable
Enab Baladi reached out to the SIG's media spokesperson, Mulahm al-Ahmad, inquiring into the role assumed by the SIG in Idlib, pertaining to establishing traffic laws, issuing driver's licenses, and penalizing law violators. Al-Ahmad said that the SIG prefers not to give a statement in that regard.
In one episode of Enab Baladi's interview-based program, Shu Mishkeltak? (What problems do you have?), the head of the Idlib Traffic Branch, Muhammad al-Khidr, considered younger drivers responsible for crashes on Idlib's roadways.
Al-Khidr said that 90% of young drivers are not familiar with traffic laws or driving rules. He added that this group of drivers often take right turns, violating traffic laws, driving above speed limits, without adhering to safety measures, such as alerting other drivers of what they are up to.
He added that most accidents are occurring due to the population's high density, which is an outcome of forced displacement, noting that most residents have cars and motorcycles.
Al-Khidr said that the SSG has passed a traffic law, applicable to several areas in northern Syria. Locals met by Enab Baladi, however, said that such a law does not exist and the traffic tickets are only "formal."
He added that SSG monitors roads by deploying patrols in and around Idlib, and has tight control over certain stunts, reckless driving and excessive speed, not using lights or driving with broken lights on main roads.
He highlighted that of the obstacles to regulating traffic in Idlib is that in the "liberated areas" streets are narrow and have not been designed to accommodate the significant number of road users and drivers.
Vehicle registration efforts
After it claimed control over the area, the SSG called vehicle owners to have their vehicles registered with the Directorate General for Transportation or any of its branches "to protect their possessions and help authorities boost security and regulate traffic in the liberated areas."
Registration and obtaining a number plate is a multi-phase process. First, the concerned vehicle is assessed, its type and commercial brand identified. Second, the VIN, the vehicle identification number, also known as the Chassis Number, is used as a tag for the vehicle's registration folder. Third, a registration booklet is issued. Finally, the Idlib Directorate of Transportation issues the vehicle a serial number, inscribed on the plate and attached to it.
The SSG proceeded with the registration process because most of the cars that arrived in northern Syria, across the Turkish border, are not brought in under contracts or with official documents. Vehicle owners replaced such documents with sales contracts that are corroborated by the testimonies of two witnesses. However, these contracts are easy to fake.
Measures addressing the situation
In an attempt to control traffic, and thus decrease the number of roadway accidents, last March, several entities launched a campaign to rehabilitate the roundabouts in Idlib province. For their part, the SSG announced the restoration and restructuring of the Sab'a Bahrat, al-Muftah and the Saad Mosque roundabouts.
The SSG's Ministry of Interior is establishing new traffic police centers, such as the Sarmada traffic police station, Salqin traffic station and Hazano traffic detachment, north of Idlib.
Last April, the Idlib City Local Council set up a nail speed bump in an area equipped with night lights to prevent congestion at the Orient Hospital intersection. Locals view such measures as stopgap solutions that fail to end traffic problems.
The Head of the Idlib Traffic Department, Major Ahmed Fawaz al-Hamwi, said, in January 2020, that the department consists of four key sections. The operations section is the department's core and is assigned two-thirds of the personnel. The operations unit is responsible for regulating traffic and addressing reported violations.
Maj. Al-Hamwi added that the department has a total of 100 policemen, deployed to said four units, which conduct specific duties. The majority of the department's elements are former policemen who defected from the Syrian regime departments, lending their expertise to the Idlib Traffic Department.
What about Aleppo's countryside?
In the opposition-held countryside of Aleppo, local authorities have been mainly carrying out licensing projects and issuing number plates, in addition to initiating driving courses. The courses are organized by education directorates, not transportation departments. Following the Turkish programs, once driving courses are completed, applicants are granted a driver's license.
The same mechanism applies to the SIG-held areas in Aleppo's countryside. Turkey backs services offered by the SIG through the local councils in the region's cities and suburbs.
In the SIG-held regions, people wishing to register their vehicles have to provide the identity documents (Ids) issued by local councils. To join driving lessons, trainees must provide a copy of the ID, a document confirming their addresses obtained from the Civil Registry Secretariat, a medical report, personal photos, as well as a document proving the applicant has completed elementary school or a document showing that they had attended literacy courses.
The local councils issue three categories of driver's licenses: Category A for motorcycles, category B for small cars, and category C for medium and large trucks. Driving courses fees amounts to 50 Turkish Liras (TL) for motorcycle, 100 TL for small cars, and 150 TL for trucks.
Head of the al-Bab City Traffic Department, First Lieutenant Anas al-Sharqat, told Enab Baladi that the department has put the traffic law into action nearly six months ago and is issuing tickets for drivers breaking the law, including underage drivers.
He added that sufficient measures are put in place to reduce crashes, pointing that the department has started working only a year and a half ago and is currently installing traffic lights across the road network.
Al-Sharqat said that officers from the department have conducted school visits, raising kids' and teenagers' awareness regarding safety measures and making sure that the street is empty of cars or motorcycles before attempting to cross to the other side and also stressed the necessity for using sidewalks.
He added that there are no driving schools in the city, but people wishing to have a driving license can undergo a one-month training, during which they are familiarized with the vehicle parts, and trained on first aid skills, as well as interpreting road signs. After the training, trainees are tested and those who pass are granted a driver's license.
The Syria Civil Defense handling roads
Enab Baladi obtained figures documented by the Syrian Civil Defense (SCD) demonstrating that traffic accidents since early 2021 claimed the lives of at least 27 people during 600 crashes in northwestern Syria.
In addition to deaths, 650 persons sustained injuries during these crashes and had to be hospitalized, including over 100, under-14 boys and girls.
These figures also indicated that 70 of these crashes occurred over the last three weeks of last May.
Earlier, the SCD also recorded over 370 crashes between early 2021 and early May. These crashes killed 14 people and necessitated the transfer of over 390 persons to hospitals and medical centers.
Compared to the SCD figures recording roadway accidents in 2020, crashes and traffic fatalities markedly increased in 2021, occurring on main and secondary roads.
In 2020, over 1,076 traffic accidents killed at least 35 people, at a rate of three crashes a day in the opposition-held areas in northern Syria.
Pertaining to awareness campaigns about the dangers of reckless driving, the SCD office told Enab Baladi that the SCD is addressing traffic crashes and fatality rates through in-person-awareness campaigns and social media platforms while taking measures within available resources.
The SCD teams carry out road maintenance and planning, and repair of some road signs as well. The teams invest larger efforts during bad weather conditions, with teams spreading across roads to caution civilians and road users against potential threats and to address emergencies.
The SCD told Enab Baladi that response to traffic-related issues is modest; however, civilians are showing increasing awareness of risks of driving in poor circumstances or recklessly, which usually causes casualties.
The SCD added that reducing crashes is an inclusive process, involving both civilians and drivers and their commitment to safety measures and traffic regulations. When civilians and drivers acknowledge their duty, the role of relative authorities starts, defining speed limits, banning underage driving, and rehabilitating and providing quality roadways.
The SCD stressed that drivers should avoid excessive speed and be cautious, especially on roads with a lot of turns, intersections and crowded knots, to preserve their safety and the safety of other road users. The team also reminded parents of the need to prevent their children from driving motorcycles, and to teach them traffic rules.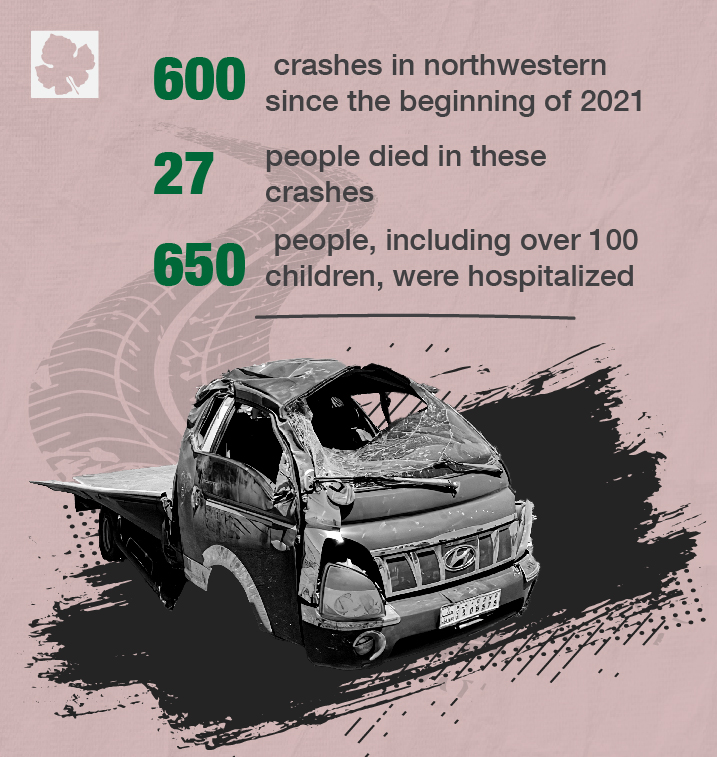 if you think the article contain wrong information or you have additional details Send Correction