Souq al-Haramiya, a haven for poor of Qamishli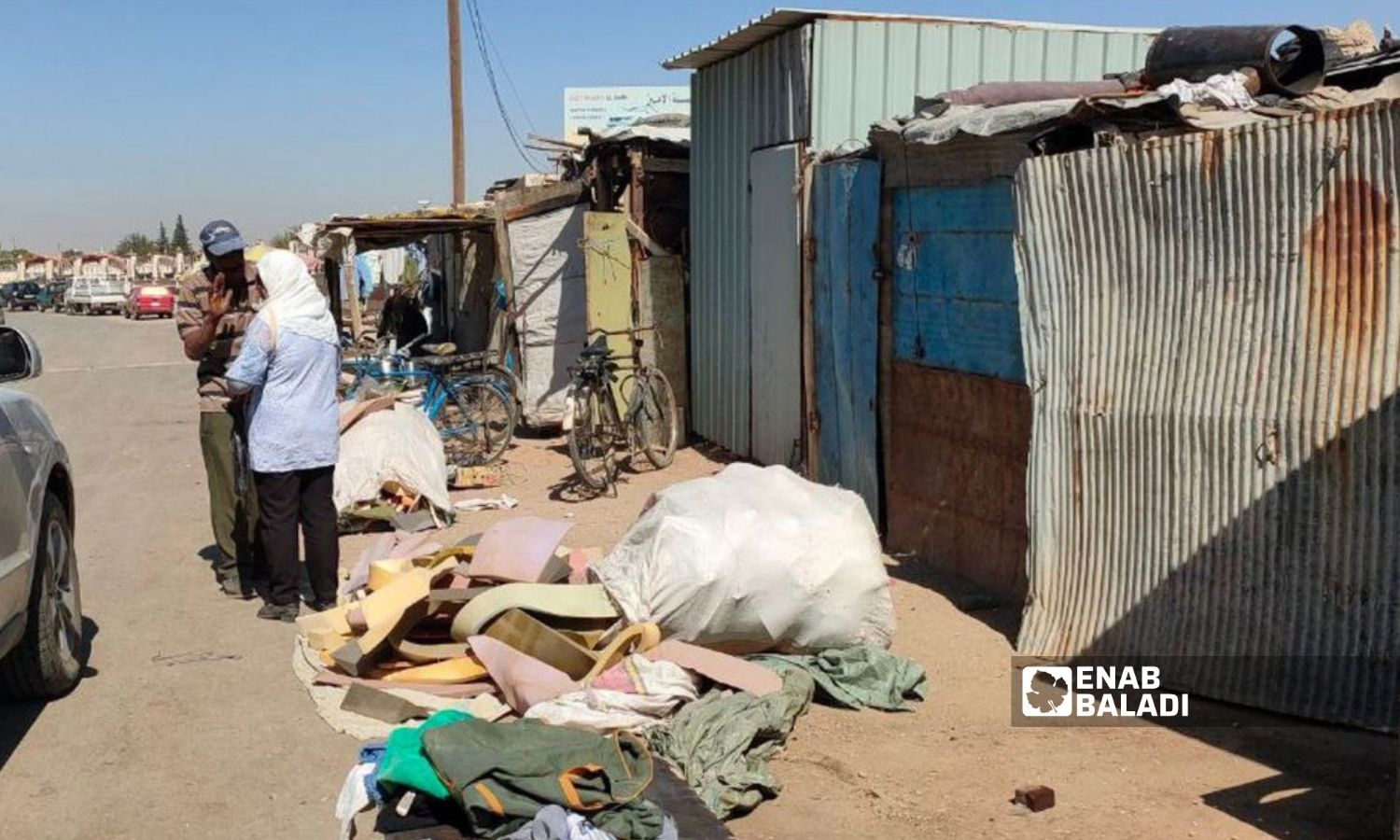 Qamishli – Majd al-Salem
Shops and stands are stacked along 200 meters in the "al-Haramiya" thieves market in the northeastern city of Qamishli, where the owners display everything that can be displayed, including furniture, household appliances, used, broken, and smashed hardware, mattresses and covers, even books, notebooks, and old pens.
Hussein al-Majul, 49, told Enab Baladi while searching in a pile of scrap for some screws, chisels, and a hammer that he needs in his work as a plumber, that the place has become a "market for the poor and needy," where he finds most of the tools he wants, away from the "exploitation" of shop owners outside this market.
He added that many of his colleagues in the profession head to the thieves' market on a weekly and sometimes daily basis to buy the necessary tools and used hardware that can be obtained for less than "half the price of new goods."
Al-Majul was able to buy a used hammer for 7000 SYP (about 1.5 USD) from the al-Haramiya market, while the price of new ones in the shops reached 30,000 SYP (6 USD), adding that he had previously taken several items "at a much lower price," because they were broken and needed to be repaired.
High prices push people towards secondhand items
Meters away from al-Majul, Muhannad Talaa, 33, scans a number of broken bikes to pick the best one.
He told Enab Baladi that he is a day laborer looking for a private and cheap means of transportation. He went to most of the stores that sell new bikes and was "shocked" by their high prices, which start from 400,000 SYP, so he decided to go to the al-Haramiya market after one of his friends advised him that he would find his request in it.
Talaa added that he had found a bicycle in a very good condition that needs some repair and whose cost will not reach more than 100,000 SYP.
According to what Enab Baladi monitored, the market is frequented by residents from different regions of the countryside and Qamishli city and those who work in a variety of professions.
Migration increases sale of used items
Majed al-Sufi, 50, who owns used home hardware and utensils stands in the market, said that he has customers from different "regions and professions." 
He added that recently customers' numbers have "significantly" increased as a result of "the cheap pricing of the offered goods and their acceptable technical condition," coinciding with the rise in prices and the deterioration of the economic situation of citizens in general.
Al-Sufi told Enab Baladi that the offered merchandise had increased significantly compared to the past, which contributed to lower prices as a result of competition, especially after many families, who decided to "migrate," put their items on sell "quickly" on the sidewalks of the market or in one of the shops in return for a percentage of the sales.
With winter approaching, the demand in this market is increasing, especially for diesel heaters, electric heaters, mattresses, covers, woolen clothes, and home carpets.
Strategic location multiplies customers
The market was previously located on the city's outskirts, and only a few residents used to pass through it or near it. However, after the municipality of Qamishli, affiliated with the Autonomous Administration of North and East Syria (AANES), moved the mini-buses station about two years ago from the southern to the northern end of the market, it has become necessary for people arriving from the countryside and others to pass through the market, which "increased its popularity," owners of several stands told Enab Baladi.
A number of market workers stated that they bring the goods through cooperation with dealers of scrap and used tools, who in turn have private cars or "carts" that roam the city's neighborhoods, and buy from the people everything used and salable, regardless of its "technical" condition.
These cars also sometimes roam the countryside, buying things at "cheap" prices that are resold in the market.
The market is also not free of "stolen" tools and items, such as household water pumps, air conditioners, televisions, satellite receivers, and others, according to the workers.
The deteriorating economic situation and the depreciation of the Syrian pound made secondhand markets throughout al-Hasakah governorate witness an increasing demand, as shops selling used furniture and European clothes and shoes have spread.
if you think the article contain wrong information or you have additional details Send Correction