Political science: Do Syrians in Diaspora invest in their specialization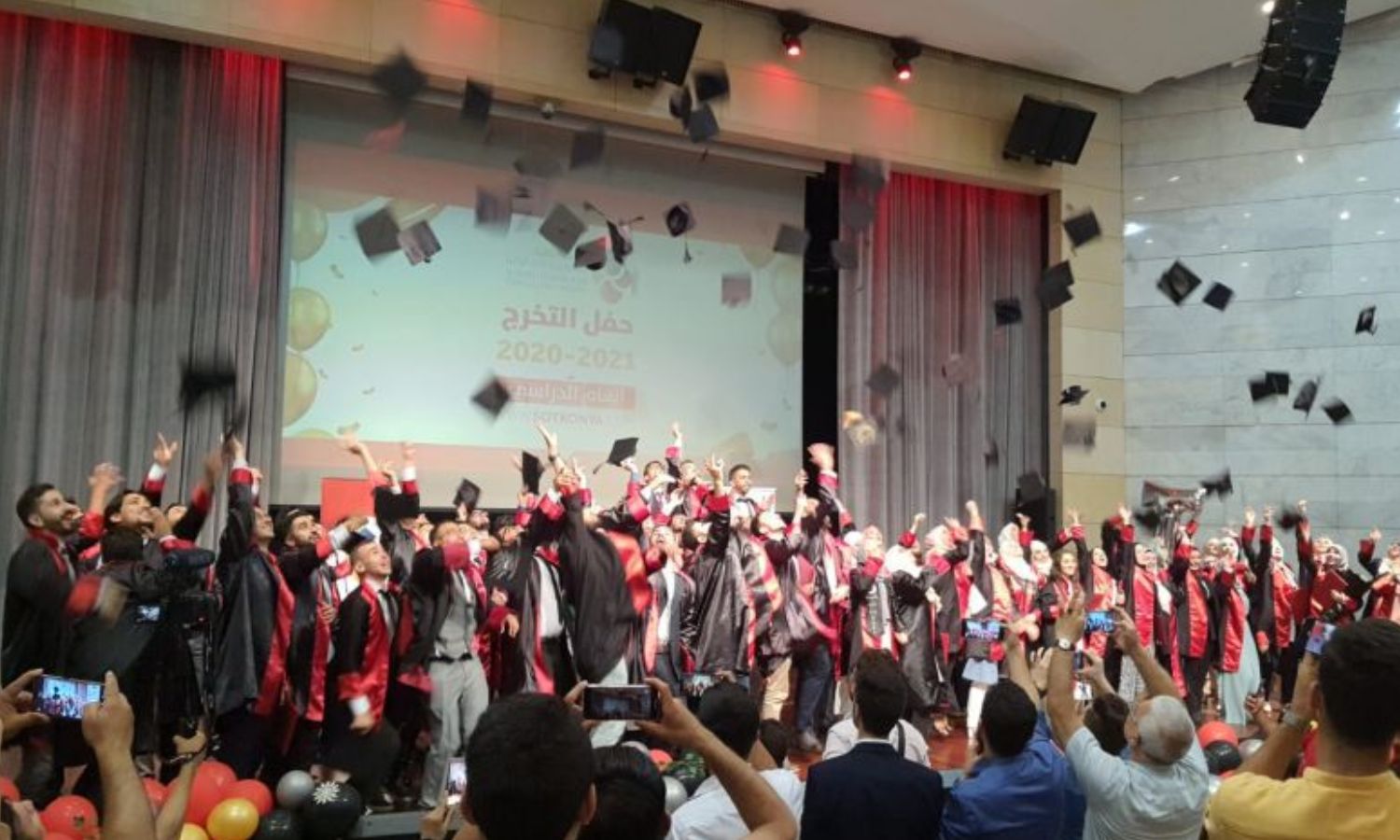 Enab Baladi – Diya Assi
Many young Syrians of the diaspora have entered the world of decision-making and influence, aiming to specialize in political science at various universities. Many were unable to invest this major in a job or career, as certain countries' regulations do not allow foreigners, even those who have obtained citizenship, to engage in national politics.
In this report, Enab Baladi attempts to highlight the experiences of Syrians in Canada and Turkey, a model for two different countries in terms of state structure, to learn about the motivations, difficulties, vulnerabilities, and drivers of success.
Celine Kasem, 22, a young Circassian woman from the occupied Golan Heights in Syria, spent most of her childhood traveling between Saudi Arabia and the United States until she sought refuge in Canada in 2016.
Despite being beyond seas and oceans and previously being unable to visit Syria, the popular movement in Syria since 2011 has infused a "spirit of return" into her. Her physical distance did not prevent her from being there for her country during calamities.
After graduating high school in Canada in 2018, Celine found herself studying political science, graduating from the University of Ontario east of central Canada with honors this year.
The Syrian complex was the impetus for the choice of this major, as it occupied an important part of her mind for 11 years, according to her.
From study to work
Speaking about whether the university offers its students the possibility to have political experience through training periods, Celine told Enab Baladi that the university gave them the possibility of employment or so-called "Placement" in a sector related to the field of their study and in accordance with the person's desire.
Celine wished to spend the four-month recruitment period assisting new refugees arriving in Canada to be referred by the university to the Canadian Ethnic Studies Association (CESA), which specializes in providing support to new refugees with language education and events.
There are many organizations that offer employment or volunteer opportunities, such as the Syrian Canadian Foundation, which aims to enable and promote cultural exchanges for people from diverse backgrounds within Canadian society.
Celine is currently working with the Syrian Emergency Task Force (SETF) in Turkey alongside the organization's Director of Detainees Affairs and former detainee, Omar al-Shughari. She started working with the said organization as a two-month volunteer until she proved her skills.
Countries' conditions and laws
In Canada, the state's Municipal Government attracts students or new political science graduates and encourages them to engage in the local business system to find new and innovative solutions to the problems facing the state.
A foreigner who is not a citizen of the country can also work in Canadian government institutions, and they are equal to citizens, except for the right to vote.
Engaging in politics or entry to government departments in Canada is not linked to the provision of assessment tests, such as the Selection Examination for Professional Posts in Public Organizations (KPSS) test in Turkey, according to Celine; she confirmed that it is related to the qualifications of the persons themselves.
If the graduate does not find a vacancy, they can apply to the Job Center to help them find the most suitable job for their specialization.
In Turkey, engaging in political life is impossible. National states that were founded on the basis of one race, language, and religion do not allow those they consider intruders or "waste," as some Turkish politicians say, to integrate with them, posing a threat to national security from their perspective.
Abdul Kader Bajiko, 26, from Hama in central Syria, studied international relations and political science at Niğde University in southeastern Turkey. But one of the disadvantages of this major was that students were not provided with an internship, which trapped them in theories and political history.
Although Abdul Kader Bajiko, who graduated in 2020, obtained citizenship and performed military service in Turkey, he never thought of joining Turkish parties due to their large number and the complexity of their structure, he told Enab Baladi.
Abdul Kader does not know any Syrian specialists who entered Turkish parties. The work of his acquaintances who claimed they have joined a Turkish party was limited to accompanying one of the party members in an informal way, attending events and going to conferences, and eating "Simit" (Turkish bagels).
Sustenance versus ambition
Ambition plays a role in the desire of those who wish to study political science. However, it is necessary to arm oneself with the tools of knowledge and break the locks with gamesmanship.
"Only Allah knows the extent of the enthusiasm with which I entered the branch," said the young man, who is currently looking for any job to make a living after he graduated, asserting that he will not waste any opportunity in his field in the future.
The only obstacle to Abdul Kader, who missed the opportunity to go to Switzerland to attend a training course entitled "How to Deal with a Child during Wars," was mastering the English language, which was a prerequisite for attendance.
Nor did he even try to look at how to engage in Syrian revolutionary and opposition forces as it was limited to certain people, he said, considering that many political science students and graduates are more righteous than some of those involved in this process.
Abdul Kader now works in the shipping and logistics sector in Istanbul, which is far more important for him than politics at the moment, "For a living is made in sweat, blood, and tears," as he puts it.
Abdul Kader noted the possibility of foreigners to work in Turkish research and studies centers that had previously attracted Syrian political science graduates, such as the ORSAM Center for Middle Eastern Studies, the Migration Research Center at Koç University (MiReKoc), and the USAK Center for Middle Eastern and African Studies.
But it all depends on the abundance of good luck, good self-preparation, and sometimes the presence of a medium, according to him.
Professional requirements and tools
Celine believes that it is necessary to have many qualities to be successful in this field, the first of which is openness to other cultures, acceptance of others, and the ability to deal with all races without discrimination.
She justified this by saying that what the Syrian situation requires is the expansion of spheres of influence to convey the cause's voice and that this requires a smooth approach to achieve the goal.
Celine stressed the importance of mastering the English language for its importance in communicating the cause's voice to the largest segment of the world.
She also hoped for greater involvement of women in Syrian politics, noting that men had been the most prominent component in managing the Syrian file for 11 years.
She said that finding a new concept of the way of thinking and inventing the solution will be multifaceted, rendering women's voices heard and drawing inspiration from successful Western experiences and models.
This profession is not considered mere theorizing, according to Celine, who pointed out that it is not amicable. However diplomatic the policy appears to be, brutal battles are taking place.
She explained that graduates, in general, would not just stumble upon opportunities after their graduation because there is no specific description of what they could do.
Conversely, those who wish to pursue a career in this field must seize the opportunity with their own hands, not lean on their couches all proud of their university degrees, which are no longer relied upon to do politics.
Absence of a formative incubator
A member of the Youth Committee in the German Federal Government Program (Demokratie Leben) and a member of the Alliance 90/The Greens party, Mutassim al-Rifai, argues that the reluctance of Syrians to take political action is due, inter alia, to the general frustration and deliberate marginalization of young people by opposition Syrian political entities and the inability to employ practical and academic experience of Syrians in the diaspora.
The sensitivity of some countries to an organizing entity for Syrians to defend them and claim their rights played a role in Syrians' decline.
Al-Rifai stressed through electronic correspondence with Enab Baladi the need to organize Syrians in political and civil entities to defend their rights and to work to open channels of communication with their counterparts in host countries and even in those that oppose their empowerment in its societies.
Although practice was a cornerstone of political life, Celine noted the importance of studying the major at university and the fact that her four years of learning the basics of the profession were worth it to build a clear methodology in political consciousness.
if you think the article contain wrong information or you have additional details Send Correction