Due to "racism," Syrian children leave Turkish schools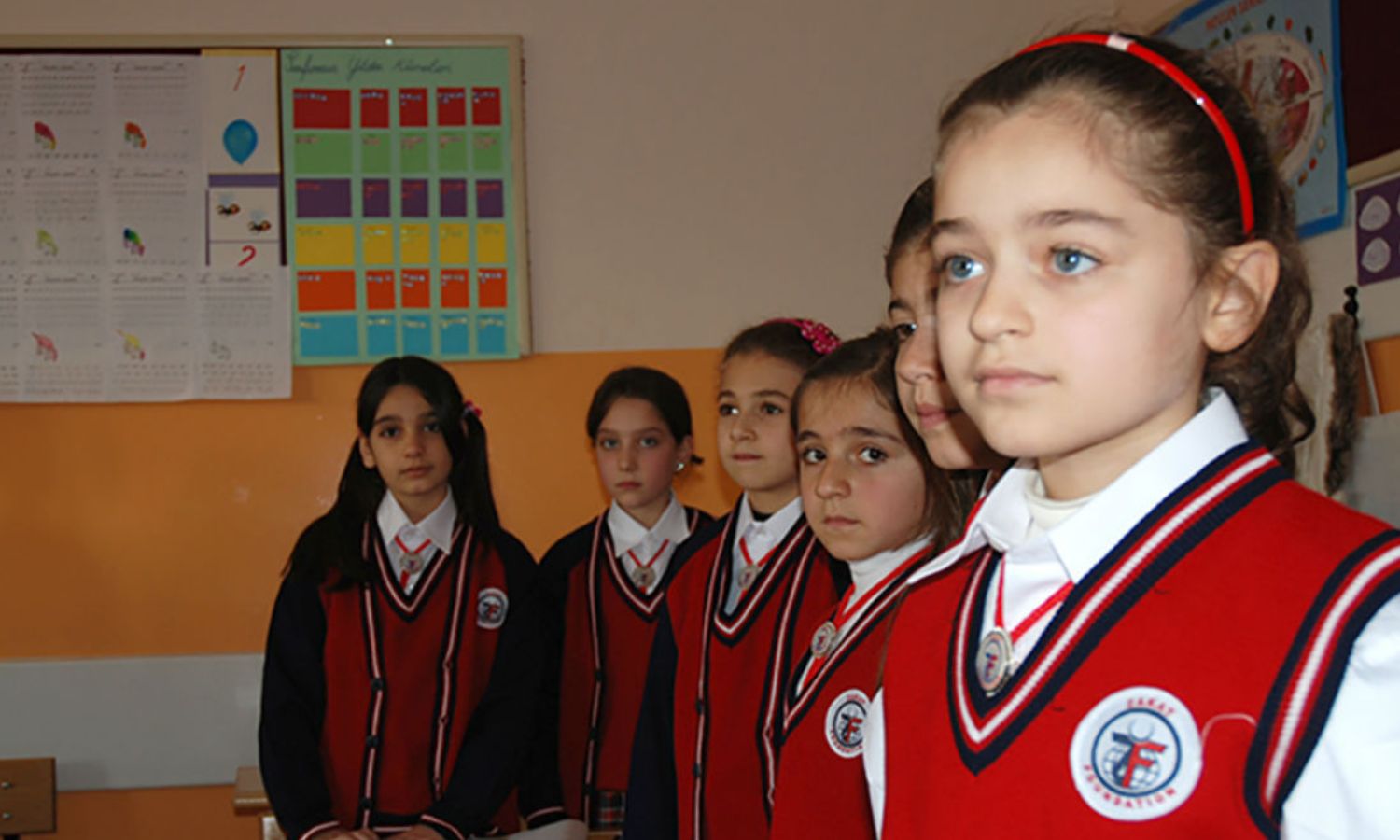 Enab Baladi – Khaled al-Jeratli
With the Turkish presidential elections approaching, the intensity of racist rhetoric against Syrian refugees in the country has taken an upward turn, with a section of Turkish politicians placing the issue of the deportation of Syrian refugees at the top of their promotional agenda.
Racist rhetoric has reached classrooms lately, even among elementary school children.
As it escalated, this problem gradually turned into a reason for students to evade Turkish schools, according to interviews that Enab Baladi conducted with the parents of some students, in addition to university students who said that they faced racist attitudes from their fellow students or teachers.
Numerous stories
A press conference held by a group of Turkish human rights organizations in Istanbul late last August, attended by Syrian university students and activists, touched on many cases of racism against students at different academic levels.
Some of these cases amounted to physical abuse, according to the activist in the field of refugee rights in Turkey, Taha al-Ghazi, who referred to the names of many Syrian students who had been physically assaulted by their Turkish peers.
Speaking at the conference, al-Ghazi expected that these attacks would escalate with the escalation of racist rhetoric as the next presidential elections in 2023 approaches.
During their speeches, some undergraduate students studying at Atatürk University in the Turkish state of Erzurum referred to another type of racism, with some teachers deliberately giving low grades to Syrian students in general and not to their Turkish peers.
Taha al-Ghazi told the story of Syrian students at a school in the Esenyurt district of Istanbul who had been transferred to the preparatory class on the grounds that they were not fluent in Turkish. When he visited them, he discovered that their Turkish was more than good.
Al-Ghazi tried to talk to the teacher to understand why the students had been transferred. Eventually, the teacher told him that he did not like having Syrian students in his class.
According to Turkish law, these discriminatory practices, especially in the education sector, are considered violations for which the perpetrators will be prosecuted. However, the Turkish government does not take these violating practices seriously enough, according to al-Ghazi.
Racism and school dropout
Racism prompted a segment of Syrians to refrain from sending their children to school in order to avoid problems, according to Syrians based in Istanbul who were interviewed by Enab Baladi.
Ali, 45, recounts to Enab Baladi the case of his eight children, some of whom refrained from attending school. As he tried to force the others to pursue their education, he found out that one of them was leading him to think that he was heading to school, only to change his route after his father was no longer in sight.
Ali has a child born in 2012, Mohammad, who was repeatedly assaulted by his schoolmates. The school became a "punishment" rather than an education center, as described by the father.
Ali has eight daughters and sons, all of legal school age. Some of them reached the fifth grade of primary school but refrained from attending school over time.
Racism was not limited to some students in the school, according to Ali. Teachers have attitudes towards Syrian children, as do their neighbors in the neighborhood.
According to Ali, the administration of his son Mohammad's school recently called him to inform him that his son was deficient in learning Turkish. However, he denounced this, arguing that it was the school itself that brought Mohammad to the fifth grade, even though his academic level had not changed.
This was due to teachers' temperament in dealing with students, as they believe that the Syrians "have no legal basis," he reckons.
Ali asked not to reveal his full name for fear of being attacked; his small shop in the Küçükçekmece district of Istanbul had previously been attacked by unknown persons after he spoke to a Turkish media outlet about the racism of his neighbors, he told Enab Baladi.
Risk to the child
Sociology specialist and researcher Safwan Qassam explained to Enab Baladi that the family has a role in following up with the child within his/her school through meetings for which schools call at least once a month.
The family must follow up on the aspect of racism or hatred that their children may face in school. A child must be asked on this subject repeatedly as it has implications for his/her future personality.
The school itself has an important role to play in controlling racist rhetoric or any hatred that may be directed by one party toward another, noting that there are means of communication available today to file complaints in the event of racist practices that a person faces in Turkey.
To see how to file a complaint in the event of a racist situation in Turkey, click here.
As stated by the researcher, there are also a number of ways to lodge complaints in this regard, to which the family must pay constant and continuous attention.
Qassam added that racism is generally considered an impediment to education for refugee groups in other countries and has risks to the future formation of the child's personality.
This type of practice against children can render them aggressive in the future, with a view to retaliating for what was practiced against them by society during their young years.
At the educational level, these impediments may lead to a child's regression and may reach the stage of school evasion or abandonment of the idea of schooling in general.
According to Qassam, the risk of dropping out of school is the likelihood that children will form "anti-social groups" in the future.
Government justifies
The Immigration and Education Department of the Turkish government's Ministry of National Education has prepared a report on foreign students in Turkey that included the numbers of students and their low school attendance in the past years.
According to 2021- 2022 data from the Presidency of Migration Management, there are approximately 5,013,631 million migrants in Turkey, including 1,365,884 million persons of school age (between 5 and 17 years old), according to the aforementioned report.
The proportion of foreign children entitled to education in Turkey was 68.51%, while the report considered 31.49%, or 430,153, foreign children deprived of their right to education.
Syrians constitute the largest number of school-age children, with 1,124,000 million Syrian children entering school age. However, 65%, i.e., 730,000, are attending school, and 35% are outside the educational sector.
While enrolment in primary and secondary schools increases, this number falls below 50% in preschool and secondary education among foreign students, according to the report.
The report justified the reasons for Syrians not enrolling in school by the fact that they are used to the Syrian educational system, which does not require them to attend pre-primary school between three and six years old, in addition to the fact that Syrian children prefer to contribute to the family budget after secondary education due to the "economic shortcomings" experienced by Syrian families.
The report also indicated that the thought of Syrian families to travel to a third country created "resistance to enrolling in schools," as well as the language factor and the prolonged dropout of some children.
Measures that increase school dropouts
On 15 February, the Turkish Presidency of Migration Management announced on its official website new decisions regarding residence permits for foreigners, including Syrians, which made it more difficult to obtain.
The decision stated that "foreigners who wish to reside in Turkey are required to submit a copy of the house lease contract notarized by the notary in their residence permit applications starting from 15 February 2022".
Moreover, "Leases must be documented by the landlord or lessor, not by the foreign national wishing to obtain the residence permit, and identification information must be included in the contract form."
The administration pointed out that it is mandatory to submit applications for residence permits through the electronic residence system from within Turkey, and applications for residence permits submitted from abroad will not be accepted.
If a Syrian refugee is unable to provide these documents, they will not be able to enroll their children in school because they do not have a clear residential address, and therefore their children's access to school is almost non-existent.
Since 2016, Turkish authorities have also required Syrian holders of the temporary protection card to reside in the state where their data and addresses are registered, and they are not allowed to move freely between Turkish states without obtaining a travel permit.
These conditions have led many Syrians to move to other regions and states illegally, leaving their children without their right to school education because it is almost impossible to obtain the necessary paperwork in light of the illegal settlement in a city where residence is prohibited.
if you think the article contain wrong information or you have additional details Send Correction