Idlib residents resort to family swimming pools as summer respite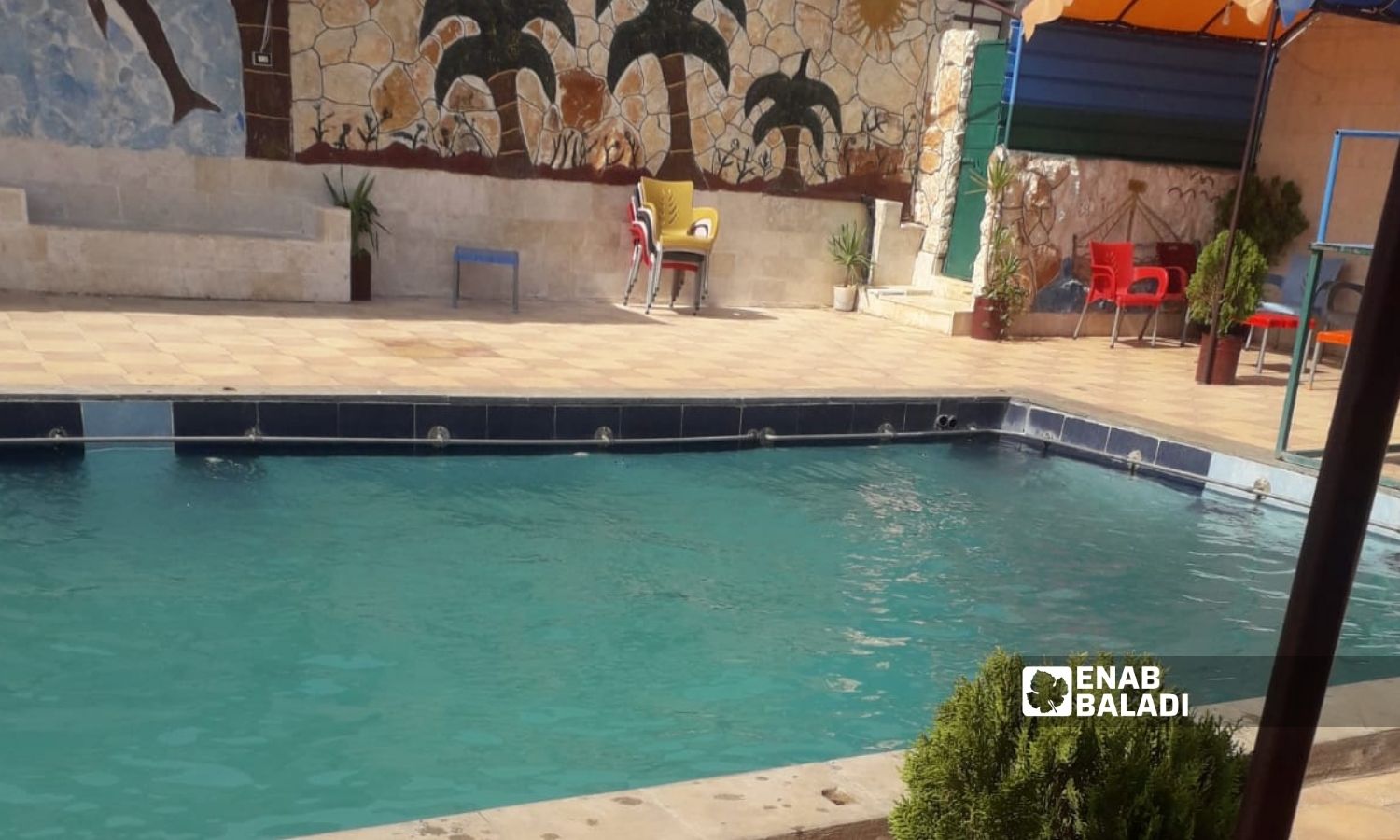 Idlib – Huda al-Kulaib
The child, Hassan al-Asfar, is waiting for a special day in the family pool near their place of residence in the Tal al-Karama camp, which his father reserves for 12 hours each year.
Hassan, 10, told Enab Baladi that he learned to swim during this annual outing, expressing his happiness when the day comes as he leaves his camp for a farm where he has a chance to swim for a long time.
While Idlib residents no longer find free recreational means to take their minds off the dire reality in which they live, some families go to family swimming pools (or farms) scattered in northwestern Syria in the summer in an attempt by the residents to relax and spend time with their families in safe places that preserve their privacy and provide means of entertainment and fun such as swimming and certain other games.
High costs
Rawan al-Berri, 30, takes pictures of her children enjoying swimming in the family pool near the city of al-Dana, northern Idlib, trying to forget how much she paid for a beautiful day with her children. "The pool rent is high compared to our difficult financial conditions, but the children's joy makes me forget the bitterness of dispensing with half a month's expenses in a day."
Al-Berri told Enab Baladi that she saved the cost of renting the private pool (500 Turkish liras, about 30 USD) throughout the year so that she could make her four sons happy with swimming.
Family pools are the only safe recreational alternative in the area, but they are limited to well-off people and, at times, those who can raise little money over months.
The fare for farms with private pools ranges from 40 to 150 USD and varies depending on the area or features it includes, as well as its size.
This cost is not easy to secure for most families living in Idlib, who are busy securing basic necessities amid poverty, price hikes, and lack of employment opportunities.
Escaping drowning
With the onset of summer, cases of drowning children in various regions in northwestern Syria are rising simultaneously with rising temperatures that push residents to swim in exposed rivers, lakes, and ponds.
Deaths as a result of drowning and rescue cases are frequent in northern Syria, becoming almost daily as a result of swimming in non-swimmable water bodies.
The Syria Civil Defense (SCD) repeatedly renews its call to the people not to swim in several water bodies and streams, as they are unsuitable for swimming and too hazardous.
On 22 August, a child drowned while swimming in the Afrin River in the northern countryside of Aleppo. Three days earlier, the Syrian Civil Defense teams rescued 12 civilians who had nearly drowned while swimming in Ain al-Zarqa, west of Idlib, and Maydanki Lake, north of Aleppo, and provided some of them with the necessary first aid.
Coinciding with World Drowning Prevention Day on 25 July, the Civil Defense reported rescuing 60 civilians who had nearly drowned since the beginning of this year while its teams rushed them to hospitals.
At the time, the World Health Organization (WHO) said in a statement that drowning was one of the leading causes of death of children and young people aged between one and 24 years globally.
The World Health Organization stated that an estimated 236,000 people drown every year.
These deaths are often associated with routine daily activities such as bathing, collecting water for domestic use, overwater travel in boats and ferries, fishing, as well as the effects of seasonal or extreme weather events.
if you think the article contain wrong information or you have additional details Send Correction