Syrian customers and merchants find benefit in Istanbul's second-hand market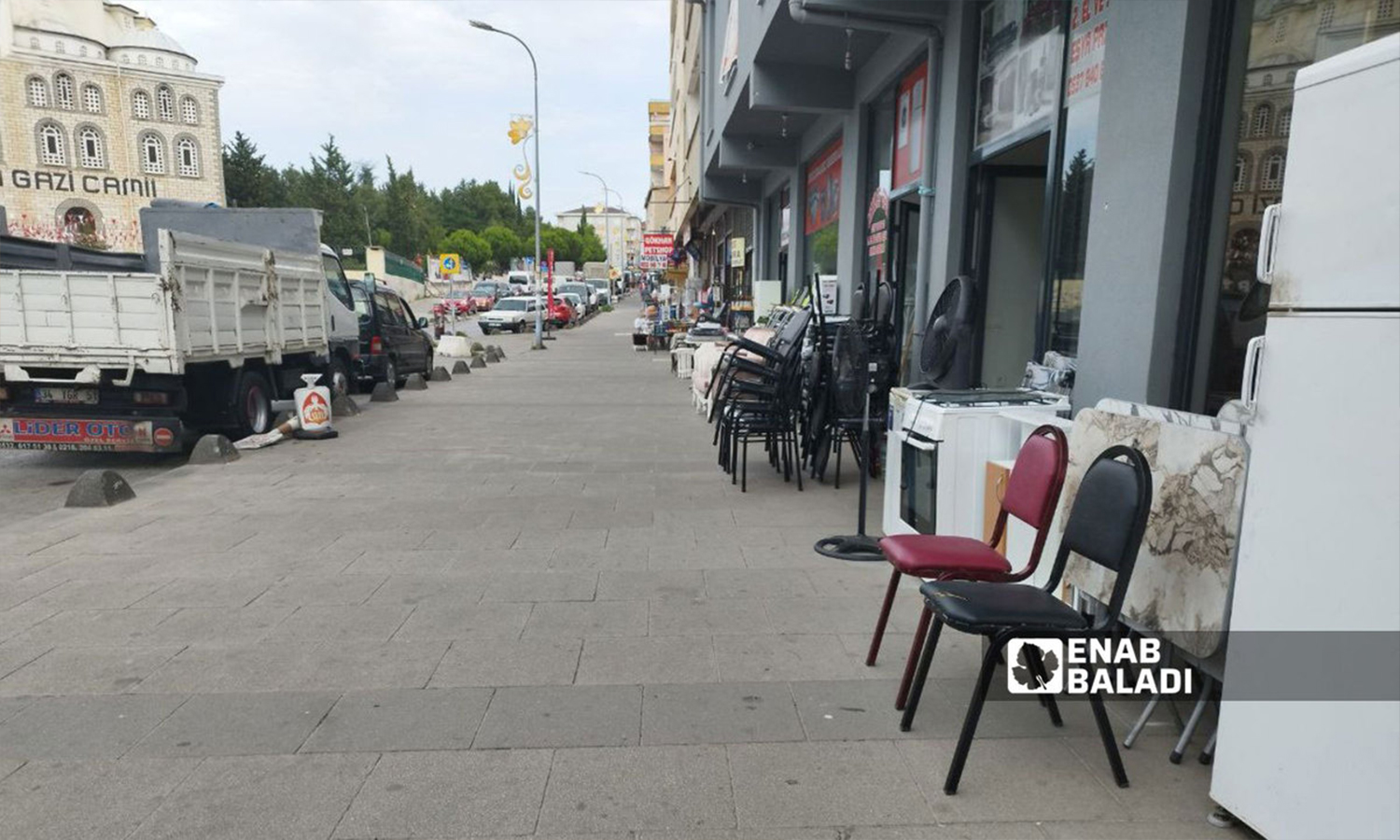 Enab Baladi – Mamoun al-Bustani
"We spend most of what we make in the summer during winter." With this phrase, the Syrian refugee Jumaa summed up his situation in selling used household appliances in the Turkish city of Istanbul.
Jumaa, 23, from the northern countryside of Aleppo, told Enab Baladi during a meeting in his small store selling used household appliances that he sought refuge in Turkey in 2016 and chose Istanbul because he has relatives living there.
The young man started selling used household appliances as a worker at a Turkish shop in 2018. After moving from one store to another, he was finally able to open his own in the Sultanbeyli area of the Asian section of Istanbul in 2020.
"I made the decision to open my own business after I learned Turkish, as I was able to speak and read well, while I could write reasonably well. I also mastered the profession, and I knew where and how to buy used appliances, and I developed my skills in dealing with customers", Jumaa said.
After he had his quick lunch (a falafel sandwich and a glass of yogurt-based Ayran), Jumaa continued to talk about the second-hand market in which he works in Sultanbeyli, which is composed of about 25 Turkish-run shops, while he is the only Syrian who owns a store in said market.
Jumaa has good relations with store owners in the market. While speaking with the author of this report, his Turkish neighbor entered and sat at a table in front of his shop, teasing him about his habit of drinking Syrian-style tea instead of Turkish tea.
"Those who have used appliances they want to sell, often Turks would come to the market to show it to store owners or would communicate with some of those they are acquainted with to inspect the goods at home. In this context, previous relationships play a role in going to a specific store owner instead of others. Purchase offers also play a role in obtaining the goods." This is the most common way to buy used appliances, according to Jumaa.
Jumaa referred to other sources for purchasing second-hand appliances, including stores located within neighborhoods and, in a very small percentage, online purchases (via Facebook and other websites).
What do Syrians and Turks buy?
The prices of used household appliances vary according to brands, the date of manufacture, and the intactness of the outer structure, according to Jumaa, who noted that the average price of a refrigerator, for example, is 1500 Turkish liras (1 US dollar equals 18 Turkish liras), and the price roughly applies to the washing machine. The price of a bedroom ranges between 5000 and 10,000 Turkish liras, while a guest room costs somewhat between 2000 and 5000 Turkish liras.
Customers entering Jumaa's store are both of Turkish and Syrian nationalities, he stated, explaining that Turks would buy electrical household appliances from him (refrigerator, washing machine, oven, TV set…), while Syrians buy everything available in general, from furniture to electrical appliances.
According to Jumaa, Syrians seek every used appliance they lack in their homes. "For example, a person who is about to get married would come, and the first thing on their mind is equipping their home with furniture (bedroom, guest room…), then electrical appliances, and then other necessities such as kitchen utensils".
The young man said that "Syrians with limited salaries do not have the financial ability to equip their homes with new appliances. Instead of buying a new bedroom at 20,000 Turkish liras, they would buy a used room in good condition at half the price of a new one".
Young single people are seeking inexpensive appliances. While a family would buy a large washing machine, a bachelor who lives alone would choose a small washing machine that costs less.
Unstable financial returns
The business of selling second-hand items does not generate consistent profits, Jumaa said, as it varies according to supply and demand. During winter, the sales are down, and "we spend most of what we make in the summer during winter."
Price hikes in Turkey (inflation) also affected sales that are no longer the same as several years ago. People have come to prefer to use their furniture and household appliances for longer periods than before; therefore, used goods for sale are no longer in the same abundance as before, i.e., when Turks used to replace their furniture almost annually.
Jumaa estimated the cost of buying used furniture for the home, including bedrooms, guest rooms, and electrical appliances, between 20,000 and 30,000 Turkish liras, while buying new furniture costs more than 100,000. He also pointed out that other small appliances, such as kitchen utensils, can also be purchased from markets selling used appliances scattered in different areas of Istanbul.
Entirely second-hand marketplaces
There are several ways to buy second-hand goods in Istanbul. In addition to flea markets known as İkinci Pazar, there are parallel online marketplaces, including Facebook shopping groups, as well as specialized websites such as Letgo and Sahibinden.
Khadija (38), a Syrian refugee living in the Samandra district of the Asian section of Istanbul, and mother of three, whose 40-year-old husband works in a textile factory, told Enab Baladi that she goes almost every Friday to the Uzunçayır district, where there is a large market for used tools, to buy appliances for her home.
She added that she is looking in the market for small electrical appliances (blender, electric frying pan, small oven…) and for all the necessary kitchen utensils, noting that she gets these tools at a much cheaper price than new ones.
The woman makes good use of a housework provided by her Turkish neighbor; she installs small electrical parts for certain workshops for 50 Turkish liras per day. She says she is saving money from her household expenses along with the proceeds from this business.
In 2016, Khadija arrived in Turkey with her family from Idlib in northwestern Syria. By means of the money she saves, Khadija acquires appliances that she does not have and replaces damaged ones from the second-hand market.
According to the latest statistics released by the Turkish Presidency of Migration Management's General Directorate on 21 July, some 3,650,000 Syrian refugees live in Turkey.
According to the same statistical data, Istanbul has the largest number of Syrian refugees compared to other Turkish states, with approximately 550,000 Syrian refugees living there.
if you think the article contain wrong information or you have additional details Send Correction