Turkey: Mounting security restrictions push Syrians to EU routes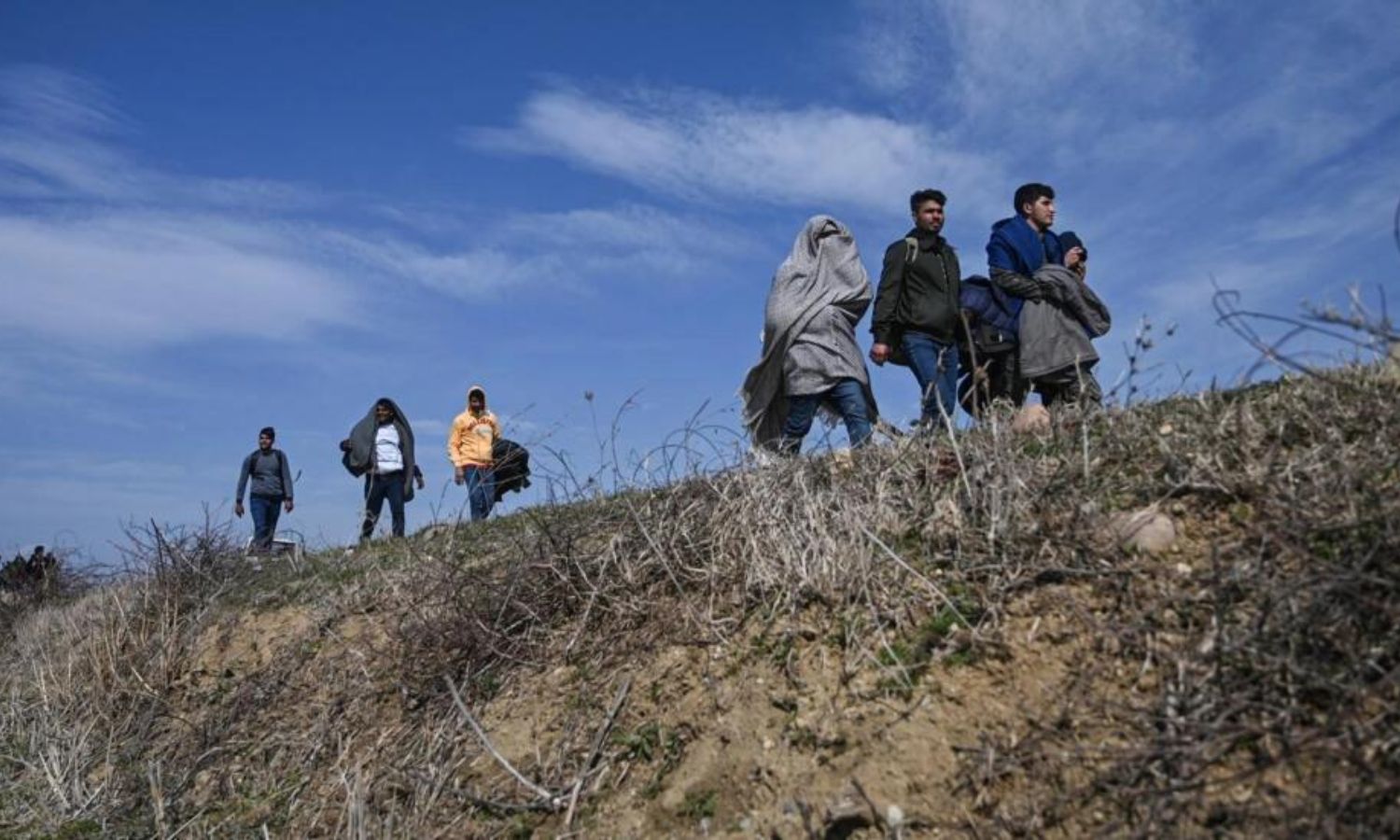 Enab Baladi- Baraa Khattab
Several weeks ago, the Turkish authorities launched a security campaign, which resulted in the deportation of refugees to Syria from several cities and states, including holders of the Temporary Protection Identification Document (Kimlik), which increased the refugees' search for ways to reach the European Union countries.
The campaign focused on Istanbul, which has the largest number of Syrian refugees among the Turkish cities.
Security measures have prompted many Syrians to decide to try to reach the European Union as a last resort.
The security campaign reached its climax in early July, coinciding with the statement of the Turkish Minister of Interior, Ali Yerlikaya, that Turkey is fighting irregular foreign immigrants, announcing instructions he issued to pursue irregular immigrants throughout Turkey.
EU destination to avoid deportation
The rate of illegal immigration has increased recently, and with it the work of smugglers is active in various ways in return for high sums of money, especially as refugees are trying to reach Europe by land amid fears of drowning at sea.
These sums amount to thousands of dollars and depend on various methods, including smuggling through trucks. However, these trips are the only refuge for some young people, according to what some of them told Enab Baladi.
Mohammad, a pseudonym for a Syrian young man waiting for his turn to head to Europe, told Enab Baladi that he had coordinated his travel route to Europe with a smuggler and was waiting for the moment of departure, looking for what he called "living a somewhat decent life away from the problems, racism, and security scrutiny that surrounds me in Turkey."
Mohammad owns a car and has a good job, according to him, and he has a "temporary protection" card issued by the state of Istanbul, but he does not want to stay in the country anymore, justifying that by "It is disturbing that we are under pressure, security scrutiny, and racism from the people of the country in which we live."
He considered that the option of returning to Syria is not available because it is not safe, and he does not want to endanger the lives of his children.
Mohammad's case is not the only one, as Jumaa, 26, also a Syrian young man who holds a bachelor's degree in business administration from the University of Mardin about a year ago, agreed with one of his friends to go through the migration route towards Europe, to escape the security restrictions they suffer from in Turkey.
Jumaa, who arrived in Germany about two weeks ago, told Enab Baladi that the smugglers portray the crossing as very easy, but the truth is the opposite, as the journey involves risks that may lead to death or more, and it could fail at any time.
He added that the cost of the trip from Turkey to Serbia via Greece is approximately 4,500 euros, and from Serbia to Germany is 2,500 euros.
Jumaa reached his destination after six attempts and said that those wishing to travel to Europe illegally ignore the risks they face in order to reach their final destination.
Borrowing in hope of reaching EU bank
Mazen Melhem, 33, comes from the al-Hasakah governorate in northeastern Syria. He told Enab Baladi that what drives young people to leave Turkey and choose Europe as their destination is "the ill-treatment of the people of the country and the accusations leveled against the Syrians."
Melhem came to the state of Istanbul about two years ago and did not obtain a "Kimlik" despite several attempts, according to what he told Enab Baladi, despite his repeated attempts in this regard.
He added that the matter was not limited to him only, as there are many young people who could not obtain a fingerprint in any of the Turkish states.
Despite the unstable legal conditions, Melhem goes to work every day, and from there, he returns home directly for fear of being arrested. However, after several years in this situation, he prepares himself to go to Europe because he does not want to return to Syria in light of the "difficult" conditions that it suffers from.
Melhem's family resides in the city of al-Hasakah, as he cannot move to live in northwestern Syria, where Turkey sends Syrians.
Three years after Melhem resided in Turkey, he said that he could not secure anything for his children because he was receiving the minimum wage (8,500 Turkish liras), which is not enough for a full month, as it fades between house rent and daily needs.
Melhem's family rejects the option of his return to Syria, given the deteriorating living conditions there, as they believe that it is difficult for anyone to live in Syria without a breadwinner abroad.
With the difficulties that Melhem's family depicted by refusing his return to Syria, he believes that staying in Turkey is more difficult in light of the security scrutiny and racism that Syrians are exposed to in the country.
Melhem borrowed the fares for his passage to Europe through smuggling routes, as the option of transferring his refugee status to Europe was not within his reach, according to what he told Enab Baladi.
In turn, the young Ibrahim, who is from Idlib, decided to travel to Europe, and he is now in a house run by a smuggler, along with 50 other people waiting for the departure date, and he is concerned about the security campaign launched by the Turkish authorities.
Ibrahim told Enab Baladi that he has no other choice but to leave Turkey, especially since his legal documents are issued from the state of Hatay, but he has been settled in Istanbul for about a year.
During the security campaign carried out by the Turkish authorities during the past year, Ibrahim tried to travel, but his attempt failed, and he returned to Turkey empty-handed after being arrested by the Greek border guards.
He added that many of his friends were deported from Turkey to Syria in the past weeks and could not return.
Security scrutiny
Despite the opposition's loss in the presidential elections, which built its electoral campaign on the expulsion of refugees, the Syrian file is still present in the corridors of Turkish politics, in addition to the approaching local elections that may increase the file's presence on the Turkish political table.
A number of official procedures and statements indicate a new phase that may be different from the previous one, which confirms that the file is still ongoing and is not conditionally linked to the previous elections.
Syrians represent the largest number of refugees in Turkey, with 3,395,000 Syrian refugees residing under the "Temporary Protection" system, the bulk of whom reside in the state of Istanbul, according to the latest July statistics of the Turkish Presidency of Migration Management (PMM).
According to the statistics of the Turkish Interior Ministry, there are 1,206,153 foreigners in Istanbul alone, of whom 670,988 foreigners hold a residence permit, and 531,381 Syrians are subject to the temporary protection system, including 3,784 applicants for international protection.
On July 9, the Minister of Interior, Ali Yerlikaya, said that he had issued instructions regarding the pursuit of irregular immigrants who reside illegally throughout the country and not only in Istanbul.
The minister added, during an interview with the Turkish Hürriyet newspaper, that the police, gendarmerie, and coast guard teams are participating in the campaign to arrest irregular immigrants.
The minister pledged to significantly reduce the number of irregular immigrants in all states within a period not exceeding four to five months, explaining that an irregular immigrant is a foreigner who entered Turkey illegally and continues to reside and work in it without an official permit.
Yerlikaya added that his country arrested 15,000 "illegal immigrants" last June and deported some of them without specifying the nationalities of the deportees.
Since 2016, Syrians have been prevented from leaving the states in which they are registered or residing in other states without a travel permit issued by the Turkish Immigration Service.
On October 24, 2022, Human Rights Watch (HRW) issued a report in which it said that the Turkish authorities had arbitrarily arrested, detained, and deported hundreds of Syrian men and boys refugees to Syria between February and July of the same year.
In its report, the HRW stated, quoting deported Syrians, that Turkish officials arrested them from their homes, workplaces, and in the streets and detained them "in bad conditions."
It added that they beat and abused most of them, forced them to sign "voluntary return" forms, took them to the border crossing points with northern Syria, and forced them to cross at gunpoint, despite having a "temporary protection" card.
For its part, the Presidency of Turkish Migration Management responded to the report, describing it as "scandalous and far from reality." It also described Turkish policy as "exemplary" in dealing with refugees.
At the time, the PMM considered that the "allegations" contained in the organization's report that the Turkish authorities had arbitrarily arrested, detained, and deported hundreds of Syrian men and boys refugees to Syria during the past few months were "unfounded."
On July 27, a number of Syrian civil society organizations issued a joint statement expressing their concern about the Turkish government's recent decision regarding the return of Syrian refugees to northwestern Syria, pointing out that violations continue in all Syrian regions, including northern Syria, and that they constitute a serious threat.
The Syrian Network for Human Rights (SNHR) stated in a statement that the decision is a violation of the principle of non-refoulement, which is enshrined in international law and reflected in the Refugee Convention of 1951 and its 1967 Protocol, which represents the cornerstone of protecting the rights of asylum seekers and refugees and is a customary principle binding on all countries, including countries that have not ratified the Convention.
if you think the article contain wrong information or you have additional details Send Correction