Displacement wave to Raqqa ahead of Turkey's military operation, no houses for rent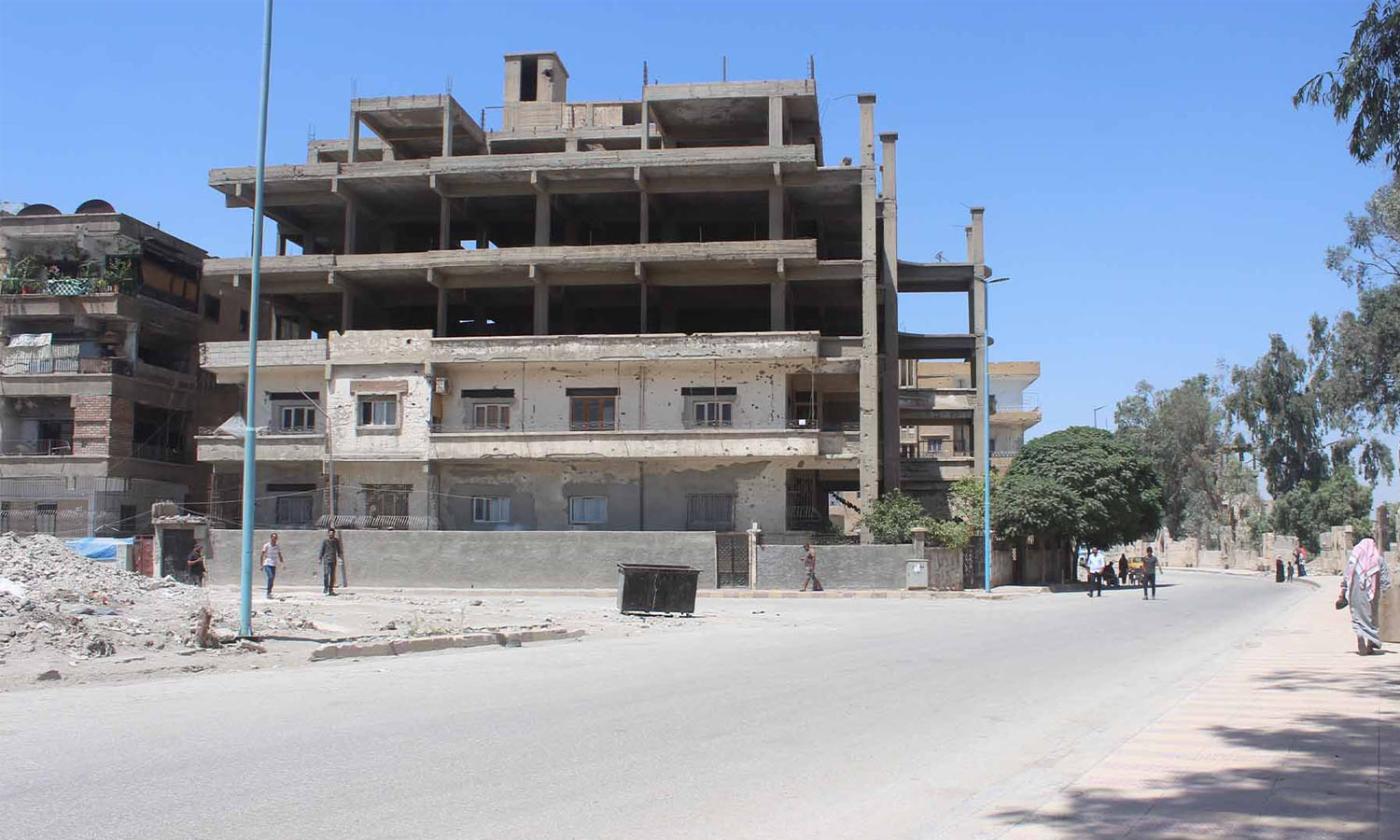 Raqqa – Hussam al-Omar
Khader Mohammed, 45, owner of a real estate office in Raqqa, hung a sign that read "There are no homes for rent" on the glass front of his office on Hisham bin Abdul Malik Street in the city center.
The man is now unable to meet the requests of the clients of his office who are looking for a house for rent, according to what he told Enab Baladi.
"Nil" became a standard answer because there are no more homes for rent. Seeking a house for rent has become like "looking for a needle in a haystack," he says.
Enab Baladi monitored an increase in demand for rental homes in Raqqa, while real estate office owners said that they had not had homes for rent for a long time now.
Problem deepened by displacement
About a month ago, Rabie al-Mashwar (a resident of the city) was wandering around looking for a house to rent after his landlord of the house asked him to vacate urgently because he had decided to give the house to a relative who would move from Manbij to come to live in Raqqa.
Al-Mashwar was unable to find a house to rent, although he reached out to several real estate offices and put an ad on Facebook. He is trying his best to convince the landlord to give him an extra month to find a new home.
Al-Mashwar told Enab Baladi that the landlord informed him of his relative's intention to move to Raqqa to escape a possible military action in Manbij or its countryside.
Turkish threats of military action in northern Syria against the Syrian Democratic Forces (SDF) caused an exodus from threatened areas to areas far from the northern border, according to what Enab Baladi was told by a member of the Social Affairs and Labor Committee of the Raqqa Civil Council.
The committee member (who asked not to be named because he does not have permission to speak to the media) did not specify the number of displaced persons who had arrived in the city. He stressed, however, that Raqqa was the most prominent destination for civilians from Manbij, Ayn Issa, and Ayn al-Arab city (Kobani), all of which were threatened by Turkish military action.
He pointed out that Raqqa was previously suffering from a shortage of rental houses due to the complete destruction of about 40 percent of the city's buildings, as well as a partial destruction of the remaining 151,000 buildings.
Some 800,000 of the city's inhabitants live in Raqqa, along with displaced persons who have left their towns and villages in recent years.
Actions that did not change the situation
On 6 July 2021, the Higher Technical Regional Committee of the Local Administrations and Environment Authority in the Autonomous Administration of North and East Syria (AANES) approved the zoning plan for the city of Raqqa.
During the committee's meeting, several files were put forward for discussion, including seven files related to the eastern countryside of Deir Ezzor, two files for al-Tabqa, and four files concerning Raqqa, according to an AANES statement.
Some of these files included a modification of urban organizational characteristics, while the zoning plan of the city of Raqqa and that of northern al-Hasakah were also adopted.
The last meeting was preceded by the granting of hundreds of permits to build new buildings over the past years, in addition to hundreds of permits for the rehabilitation of destroyed buildings, according to figures published by the Raqqa Civil Council on the third anniversary of taking control of the city. However, the growing population has kept the pressure on the housing sector.
The population crisis raised home rents to 50,000 Syrian pounds (11 US dollars) inside the city, depending on the home's location, shape, and the number of rooms. Certain landlords also charge in US dollars, with rents ranging from 50 to 150 USD.
Destroyed buildings
An atlas published by the United Nations Institute for Training and Research (UNITAR) in March 2019 indicated the proportion of destruction of areas previously held by the Islamic State (IS) group, as these areas were bombed by the International Coalition Forces (ICF).
The atlas monitored 12,781 damaged buildings in Raqqa governorate, of which 3,326 were completely destroyed, 3,962 were severely destroyed, and 5,493 were partially destroyed.
The total number of damaged buildings in the city of al-Tabqa was 487, of which 207 were completely destroyed, 128 were severely destroyed, while 152 buildings were partially destroyed.
An Action on Armed Violence (AOAV) report released in December 2019 put the number of artillery shells fired by the International Coalition Forces at the city of Raqqa at 30,000.
if you think the article contain wrong information or you have additional details Send Correction