Amid summer heat, fires turn a threat to residents of northern Syria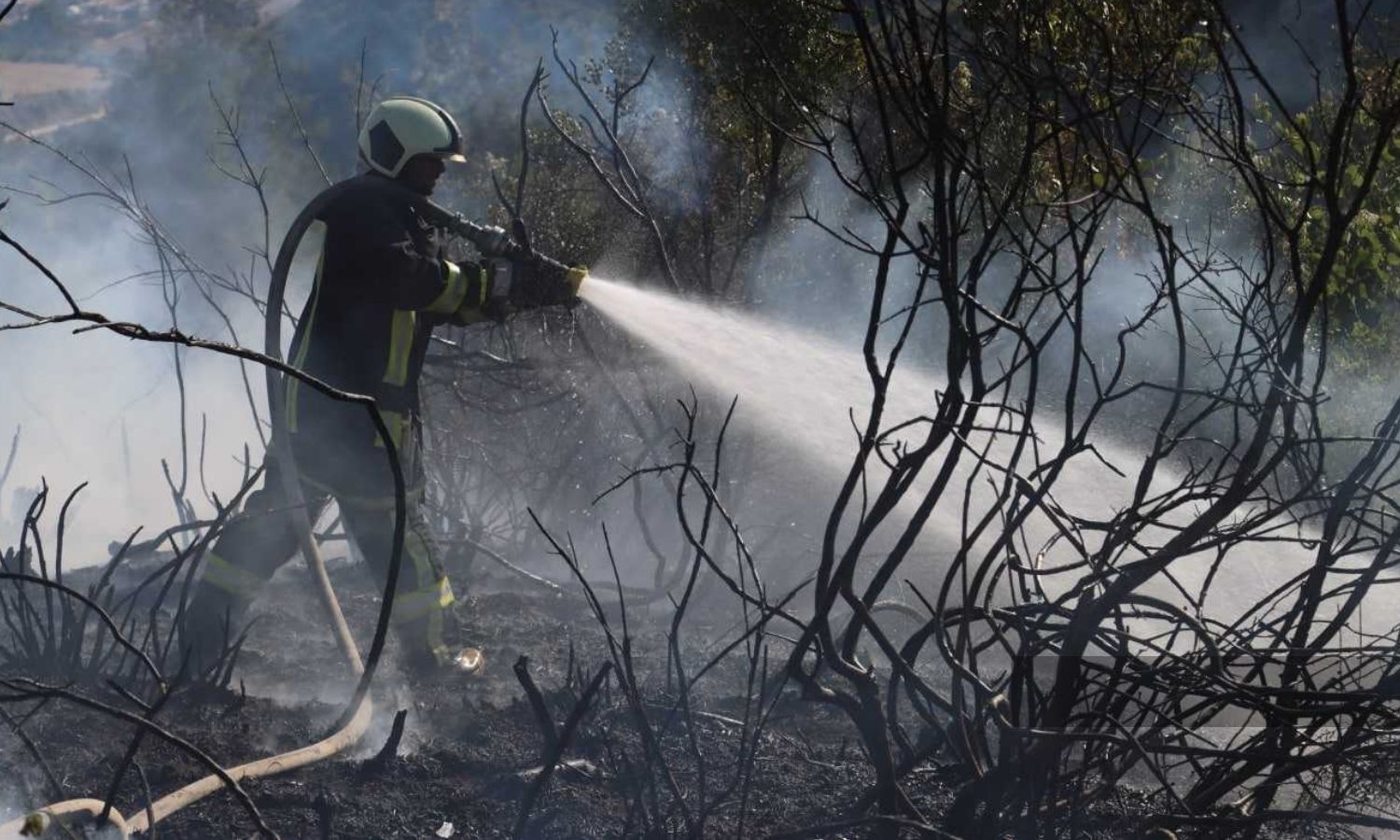 Each year, seasonal fires destroy natural spaces that are considered a getaway for the population amid fears of the impact of the loss of vegetation, particularly as the harvest season approaches, affecting the quality of life and air in residential areas and cities adjacent to forests that have been hit by fires in northern Syria.
During this July, the Syrian Civil Defense's fire fighting teams extinguished at least 25 fires in agricultural and forest land, while displaced persons' tents near these fires are random and not equipped with fire extinguishers, posing a real danger to residents' lives.
Most of northern Syria's 1,277 displacement camps, according to Civil Defense statistics, including 366 random camps housing about 1 million displaced persons, are overcrowded. Their residents are forced to use primitive materials to secure a thermal source for cooking, such as burning plastic and nylon, given the soaring prices of fuels and their deteriorating living conditions.
Awareness training
The Forests and Fires Monitoring Platform warned of a sharp rise in indicators of the severity of fires in northwestern Syria during July while advising against setting fires in the forests.
The fires in northern Syria cause hundreds of hectares of forest land to be lost, adding to farmers' concerns about preserving their crops. The season suffers significant losses in most regions as a result of reduced cultivated areas and low levels of rainfall this year, reflecting negatively on food security.
To address those risks, Civil Defense's fire fighting teams have developed training projects as part of a fire response plan.
The training, in which some camp residents participated during July, included a theoretical and practical explanation of fires, their types and causes, how to deal with them, and the safe evacuation.
Firefighting teams' awareness and training sessions mitigate fire damage in the northwest, particularly in camps. They raise people's awareness and enable them to deal with small fires before they spread.
New plan
The Civil Defense's fire fighting teams have also developed a new plan for the current year to tackle farmland fires.
According to the details of the plan announced by the firefighting teams last May, it aims to achieve rapid access and good coordination of responses in order to minimize the losses caused by crop fires and to take practical and awareness-raising measures to reduce their outbreak and rapidly deal with them.
The plan covers all areas of northwestern Syria at the level of the Civil Defense centers, commensurate with the distribution of these centers and the cultivated areas from Jabal al-Zawiya in the southern countryside of Idlib to Jarablus in the northeastern countryside of Aleppo.
The teams conducted a comprehensive study based on geographical surveys to identify the closest centers and cover cultivated spaces as major response centers.
Based on previous years' experiences and the collection of the necessary data, the needs of these centers in terms of equipment, materials, and cadres have been studied, assessed, and reinforced, according to the Civil Defense's official website.
Most fires occur during the dry season, especially in the months of August, September, October, and November. According to an analysis by the UN Food and Agriculture Organization (FAO), fires do more damage to forests than any of the other natural factors such as bacterial pests, insects, hurricanes, frost, etc.
if you think the article contain wrong information or you have additional details Send Correction